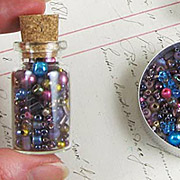 I was inspired by Lora Mahaffey's artwork featured today, so ENTIRE sections of little beads and sparkly bits (think glitter and stickles) like those Lora used to sparkle her shrine are ALL on sale at 50% off now through Monday night, June 27th! Those sections are: Miscellaneous Beads and Glitter, Tinsel & Rhinestones! That bead section alone has 107 items! Like the Violet Gypsy Bead Mix in Bottle shown at right. Or that close-up from 12x8mm Amber Glass Rectangular Beads in the sale graphic at left. And that close-up at far right is of Iridescent Glass Spheres!


Before seeing Lora's pretty mermaid shrine, we have an announcement!
Not only has Design Team Member Nichola Battilana been published, but she has also grabbed the cover of the esteemed Dollhouse and Miniature Scene Magazine! Woot!
You may remember The Wandry Room that is featured on the cover of the magazine; that is a fabulous fairylicious laundry room where fairies can get their clothes cleaned, and even their wings or wands repaired. Nichola's adorable little Wandry Room used a Corner Room Box and is chock full of anything that a fairy might need to get the job done. There's even a Wand Repair Manual for reference to use on particularly difficult repairs.

Design Team Member Lora Mahaffey was inspired by this month's Beneath the Sea Kit and has created a charming shrine (and its own mythic story) called Mermaids' Hidden Treasure.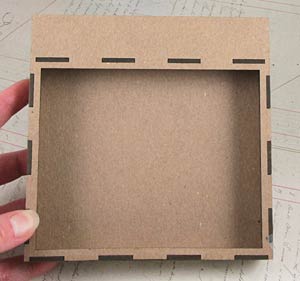 "Somewhere in the Atlantic ocean, an undiscovered island sits dozing in the sun. There is a stretch of coastline on this island that is very rough and dangerous, full of large rocks, treacherous tides and sudden undertows. No one would think of anchoring a boat there or heavens forbid, swimming that stretch of shore.
"Unless you are a mermaid.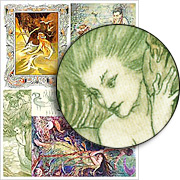 "Because under the water there is a hidden grotto that isn't even visible at low tide. The water reflects the dappled sunshine, lighting up this very secret place that the mermaids have chosen to hide the treasure they have collected over centuries.
They've got stashes all over the seven seas, (they are just as much magpies as us two-leggeds) but this grotto is special. This one has a large golden statue that the mermaids pulled from the wreckage of an old Spanish galleon. A relic from the past that the ladies have adopted as a sort of patron saint of mermaids."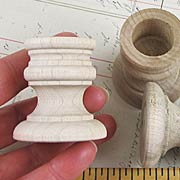 I'm happy to see Lora used that versatile Square Shrine Shadowbox as the starting point for her shrine. And I love all the little embellishments to the mermaids from the Sea Green Mermaids Collage Sheet: pumping up some colors with Copic Markers (or changing colors entirely like the mermaids' hair), and adding sparkly dots to hair with Waterfall Stickles.
I also like those pearl dots around the frame made from Liquid Pearls (see close-up on bottom of photo at left).
And don't forget all the seashells and pearls!
See all the goodies in the Mermaids' Hidden Treasure Supply List. Visit Lora's blog for more photos and details. (And see below to win most everything Lora used!)


Hooray for the Hidden Treasure Shrine Giveaway!
I picked out a bunch of items from Lora's Mermaids' Hidden Treasure supply list:
– Square Shrine Shadowbox
– Cream Pearl Assortment
– Mermaids #2 Collage Sheet
– Sea Green Mermaids Collage Sheet
– Candlestick Holder
– Tiny Real Seashells in Tin
Then these goodies:
– Tiny Tree with Pink Blossoms (not in this artwork, but back in stock!)
– Bronze Life Preserver Charm (not in the artwork either, but new — and you never know what a mermaid might grab for her stash!)
– Stickles Holiday Set (ooh… these were just put on clearance! plus a ton of kits and other paper pads were put on sale, too… see the 50% off clearance section here or the most recent items put on sale here.)

To enter the Hidden Treasure Shrine Giveaway drawing all you have to do is leave a comment BELOW on this blog post TODAY OR TOMORROW (the deadline is 11:59 pm PST, FRIDAY, June 24, 2016)! And tell me: What will you make with your Square Shrine Shadowbox?
Don't forget to leave your (hello! correct) email address, too, so I can contact the winner; your email address does not need to be made public. Note: I'm offering free shipping, too, but only within the USA. International shipping will still apply.
Please be patient! Spammers try to post crap here a lot so comments are moderated. So if you don't see your post in the comments section, be patient and check back in a few hours before re-posting it, please!
After midnight, I'll randomly pick the winner (via Random.org). So check your mailbox on Sunday morning to see who won and for the next Giveaway and Newsletter!
Hey, who won A View into a Summer Cottage Giveaway? That would be Nelda! Congratulations!
Posted by Leslie, June 23rd, 2016