Today we're moving from the Alice in an Altoids Tins to Cube Boxes with Alice in Wonderland themes. Three of our Design Team Members are all using the Cube Boxes to come up with their projects; one of the three projects just may inspire you to try making one of your own.
The Cube Boxes come in three different sizes; 1 Inch, 2 Inch, and 3 Inch. A lot of creative possibilities lurk with these adorable little boxes. Personally, I'd add wheels to them to making some sort of race cars driven by the Wonderland crew.

The Tweedles' Wedding Cake by Lora Mahaffey
How fabulous! Mr. Dee and Mr. Dum have decided it was high time they get with the 21st century and tie the knot!
"There is Alice trying to coax Humpty Dumpty down gently. Though goodness knows how he got up there in the first place.
Other members of the wedding party waiting patiently for the drama to end so they can get on with things and eat cake. Looks like the Mad Hatter might be giving useless advice.
Everyone had a grand time eating cake and drinking lashings of tea, but the Doormouse heard from the Cheshire Cat that the Queen was on her way to arrest everyone on trumped up charges, so they hid where she would never think to look…"
Lora covered her boxes with the very pretty House of Roses on the Porch Scrapbook Paper, then added some fancy-schmancy Fan Ivory Lace around the top of each box. Mini Pink Rosebuds, Curly Roses all cascade down the cake; making quite the impression any Queen would be envious of.
The Tweedles' Wedding Cake Supply List
Visit Cackle and Hoot for more photos and to find out where the wedding party ended up…

Alice in Wonderland Cake by Betsy Skagen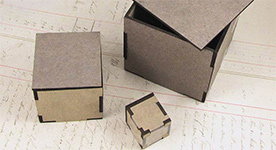 Betsy was also inspired to make a cake! (See the wide photo below.) As you can see, Betsy's cake is completely different that Lora's and would be a perfect centerpiece for a Mad Tea Party.
"The cake sits on a platform created from a 3 Inch Cube Box and decorated with pages from an old Alice in Wonderland book, assorted Alice in Wonderland Collage Sheets, mushrooms, dresden, and all sorts of fun Alice-themed goodies."
To see how Betsy built the cake that can be decorated in whatever theme tickles your Muse's fancy, visit Paper Calliope.

Alice Trinket Box by Kristin Batsel
Kristin put together a cute project that can be whipped up in no time for a last minute gift, or for some fun creative therapy.
"I took a 2 Inch Box a couple of great Alice in Wonderland Collage Sheets, Tiny Curved Hinges for the lid, and a brad for the front closure. and this is what happened: a little Alice Trinket Box. Alice was living a relatively boring life up until she met the rabbit, which is why I made the inner box bright and colorful within the black and white interior of the larger sized box. Wouldn't you want to follow that rabbit too?"
Alice Trinket Box Supply List. Visit Junk & Stuff for more photos and further details.

Hooray for the Alice & Tea & Cube Boxes Giveaway!
I pcked out some items used in all 3 projects (and some only used in each one of the 3):
– Cube Box 1 Inch
– Cube Box 2 Inch
– Cube Box 3 Inch
– House of Roses on the Porch Scrapbook Paper
– 3 Inch Tall Candlestick Holder
– Tenniels Alice Collage Sheet
– Tiny Curved Hinges
– Coffee Cups Buttons
– Polka Dot Resin Teapot
And not shown in that big grid at right:
– one of the Funny Mixies Collage Sheets
AND
– one of the Tiny Paper Theatre Blocks Collage Sheets (as the images on both of those sheets would also fit the new baby size 1″ cube boxes!)
To enter the Alice & Tea & Cube Boxes Giveaway drawing all you have to do is leave a comment BELOW on this blog post TODAY or TOMORROW (the deadline is 11:59 pm PST, MONDAY NIGHT, May 23, 2016).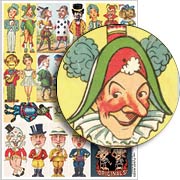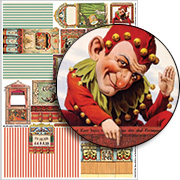 AND to enter the drawing, please tell me: How will you use the 3 sizes of cube boxes? stack them up? nest them like russian dolls? make 3 different projects?
Don't forget to leave your (hello! correct) email address, too, so I can contact the winner; your email address does not need to be made public. Note: I'm offering free shipping, too, but only within the USA. International shipping will still apply.
Please be patient! Spammers try to post crap here a lot so comments are moderated. So if you don't see your post in the comments section, be patient and check back in a few hours before re-posting it, please!
After midnight, I'll randomly pick the winner (via Random.org). So make sure to check back to see who won! And check your mailbox on Thursday morning for the next Giveaway and Newsletter!
And…. who won Thursday's An Alice Triptych Frame Giveaway? That would be Francine Perri! Congratulations! Check your email for more info.
Posted by Leslie, May 22nd, 2016