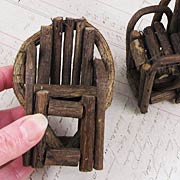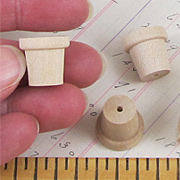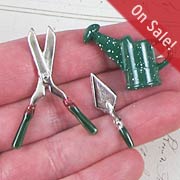 Quick announcement before the new items and spring-y woodland artwork: the Fairy Garden Miniatures sale includes lots of the goodies in Laura's artwork!
The 25% off Sale on ALL Fairy Garden Miniatures ENDS TOMORROW NIGHT (Monday, April 11th)!

Design Team Member Laura Carson is presenting a fantastical Woodland Tea Party that is sure to delight you with its whimsy!
"Deep in the forest under a moss draped tree, a tea party is set to begin; and it looks like the fairies have created a sumptuous feast for the woodland creatures.
Squirrels are already munching on a bowl of berries and birds are enjoying the sun while sitting on the roofs and ledges of their houses. Vine chairs make comfortable seats for the owls; and there's even a rabbit bouncing by.
You can see a little hedgehog waiting to dig in to the apples that are sitting in bowls (that are made from acorn caps). Speaking of acorn caps, the teapot is made from a tulip bead cap with acorn caps as the base and top of the pot.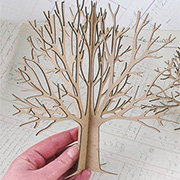 A 3-D tree made from a new kit oversees the scene with fluttering leaves amidst the moss. Even the smallest creatures, a snail and turtle are joining in on the party!
This happy scene is built into a Cottage Base that has been turned upside down. Pieces of Trailing Ivy Border painted two colors of green, and Metal Door Pulls are added on each side allowing it to serve as a tray; making it easy to lift and reposition."
Woodland Tea Party Supply List
For more photos, details and to find out how Laura made the moss covered logs, visit Artfully Musing (with one of Laura's always-generous tutorials).


Hooray for the Woodland Critters Giveaway!
I picked out a mix of items from Laura's Woodland Tea Party supply list to make this Giveaway (psst! that is a link to the supply list, with photos and links to all of the goodies used):
– Miniature Owl
– Miniature Vine Chair
– 3D Chipboard Tree – 8 Inch
– Tiny Bird Box
– Set of Miniature Squirrels
– Tulip Bead Cap
– Polymer Clay Kiwi Cane
– Into the Woods Collage Sheet
– Mini Oak Leaves in Bag
To enter Woodland Critters Giveaway drawing (both drawings) all you have to do is leave a comment BELOW on this blog post TODAY or TOMORROW (the deadline is 11:59 pm PST, MONDAY NIGHT, April 11, 2016). AND tell me: What would you make with your prize? What other goodies in addition to those at right would you mix in?
Don't forget to leave your (hello! correct) email address, too, so I can contact the winner; your email address does not need to be made public. Note: I'm offering free shipping, too, but only within the USA. International shipping will still apply.
Please be patient! Spammers try to post crap here a lot so comments are moderated. So if you don't see your post in the comments section, be patient and check back in a few hours before re-posting it, please!
After midnight, I'll randomly pick the winner (via Random.org). So make sure to check back to see who won! And check your mailbox on Thursday morning for the next Giveaway and Newsletter!
Hey, who won the Flower Cart Giveaway? That would be Carla!
Congratulations! Check your email for more info.
Posted by Leslie, April 10th, 2016