Design Team Member Nichola Battilana brings you a whimsical Room Box of Mr. McGregor's Garden.
"This month the Alpha Stamps kit is The Garden. Although the thought of a tiny a fairy garden did fleet through my mind, I decided to create a corner of Mr. McGregor's Garden instead.
If you need help recalling who Mr. McGregor is, he is the big old meanie who tends the garden that Peter Rabbit and Benjamin Bunny 'visit' in Beatirix Potter's books. That's Peter's jacket on the scarecrow. He lost it in the garden after his mother warned him not to go there.
This corner of the McGregor's Garden was created using a Corner Room Box as a base with a Stone Wall Chipboard Texture Sheet and plaster to achieve the wall. Although difficult to see, there is a brick path edging the soil. Can you guess what was used for the soil? Tea!

The clay pots scattered in the garden, like a Terracotta Wall Planter and the English Flower Box are super cute. I think they add a touch of extra colour which compliment Peter's blue jacket. And did you notice the brass buttons which Peter was so proud of in the story? They are 3mm Brass Flat-Back Studs."
Also worth noting in Mr. McGregor's Garden is a Mini Wrought Iron Fence that Nichola painted white and the super sweet flowers that she planted (made) with Flower Soft. You may remember that Nichola provided a tutorial on how to make the flowers, and just so you know they're very easy to make.
Mr. McGregor's Garden Supply List
Pay a visit to Mr. McGregor's Garden at Pixie Hill for more photos and to say hello to Nichola.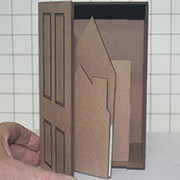 What? Another project? YES! And you know who made it? That busy like a bee Design Team Coordinator Miz Bella! Bella has made a set of bookmarks in a tea theme using the Odd Houses Add-On Kit — a gift for her niece who loves reading and having tea parties!
Down the road and up the hill is the Oddities Tea House. Full of unusual and somewhat eccentric patrons, there are always going-ons at the house. Dancing rabbits, thumb sized fairies, and high tea with the old Tom cat who likes to tell fantastical stories. (Stories that no one can quite figure out if he's telling the truth, or pulling their legs.)
There is a prized set of bookmarks in the house; kept in a very safe place as they've been known to help unlock the most magical of worlds in the minds of little people.

When not in use, the house-shaped bookmarks will be kept safe by the Tea House Curator, one Mr. Phineas S. Chick who has a penchant for fine pipe tobacco, dancing girls, fancy velvet hats and of course, tea. However, I must say that I am not responsible for any bad habits that one may pick up by using the bookmarks.
Tea House Oddities Bookmarks Box Supply List

Posted by Leslie, March 20th, 2016