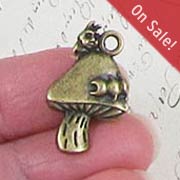 Fairy Garden Charms?! Yes! In honor of the Kristin's Fairy Garden artwork (and Betsy's cute tunnel book), I thought some extra little butterflies or fairies might be useful (or ladybugs, or bees… that is a broad section).
So: ALL Fairy Garden Charms are on sale for 40% off now through Monday night, March 21st! (A Mushroom & Caterpillar Charm and a Giant Bronze Bee Charm from the sale section are shown at left. And two more sale charms are in today's Giveaway below!)


Design Team Member Betsy Skagen has created an awfully adorable Bunny Tunnel Book inspired by The Garden Kit.
"I am not sure why I had never made one before, but I am here to tell you that making tunnel books are a whole bundle of fun. At first glance, the book appears sugary sweet — until you begin reading some of the quotes about bunnies. Intermingled with quotes from Winnie the Pooh and other sweet tales are some rather twisted views of Mr. Cottontail.
"To make the book, I used the door opening of the Album with Arched Door as a template for the rest of the tunnel book openings by creating arched holes in the subsequent chipboard pages that each decreased in size by 1/2 inch.
"To be honest, I had already adhered decorative paper such as the Frolic Friendship, Frolic Petits Moments, Adore Always Roses and Blush Charmed Scrapbook Papers to each of the pages; when I remembered that I should have added the binding first. (I turned to Laura Carson's Tunnel Book Tutorial for help with the binding.) Luckily, I was able to pull up edges and slide the binding into place.
"Once the doorway and the chipboard elements such as the Balcony Balustrade, Leafy Corners, and Vine Frame were painted and drying, an endless supply of roses and rabbits were fussy cut.
"To finish the book, I sought out quotations about bunnies and gardens and printed them onto clear label sheets. Throughout the book you will find Curly Paper Roses, Old Fashioned Roses, Mulberry Blossoms, a Terracotta Wall Planter, Twiggy Leaf Garland and loads of bunnies, butterflies, and what not."
Bunny Tunnel Book Supply List
For more detailed information and photos, please visit Betsy's blog.

If you are wanting to get out into the gorgeous spring weather, Design Team Member Kristin Batsel has some whimsical Fairy Garden inspiration for you.
"Fairy gardens are pretty popular right now, and my local nursery even had a table full of tiny plants specifically for fairy gardens. There was lots to choose from, including some that can look like bushes, and several varieties of tiny trees. My "tree" is a small boxwood. The grass is a lovely moss that will eventually bloom with tiny white flowers.
"What really makes the garden fun is the adorable accessories, scaled perfectly for a tiny fairy. This garden contains a White Picket Fence, a Stepping Stone Path, several clay pots, and a new bench for resting (since someone's been doing yard work, there are gardening tools sitting on that bench)."


Fairy Garden Supply List.
Visit Kristin's blog for more fairylicious details and photos of her Fairy Garden.


Hooray for the Bunny Tunnel Book Giveaway!
I picked out a mix of items from Betsy's Bunny Tunnel Book supply list to make this sweet Giveaway (psst! that link is to the supply list, with photos and links to all of the goodies Betsy used):
– Album with Arched Door
– Trailing Ivy Border
– Twiggy Leaf Garland
– Bunnies Collage Sheet
– Peter Rabbit Collage Sheet
– Winged Things Collage Sheet
– 1 Inch Curly Paper Roses – Pale Pink
– Adore Always Roses Scrapbook Paper
– Frolic Adorn Scrapbook Paper

PLUS (not shown in the photos at right) I'm including: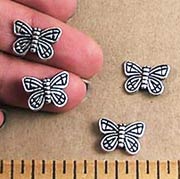 – A set of 4 Small Pewter Butterfly Beads
and
– a set of 5 9x13mm Ladybugs (both are part of the Fairy Garden Charms on sale at 40% off through Monday night!)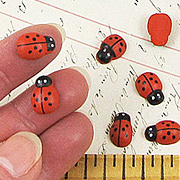 To enter the Bunny Tunnel Book Giveaway drawing all you have to do is leave a comment BELOW on this blog post TODAY OR TOMORROW (the deadline is 11:59 pm PST, FRIDAY, March 18, 2016)! And tell me: Will you try making a tunnel book with your Album with Arched Door? If yes, in a bunny theme or another theme? If no, what will you make?
Don't forget to leave your (hello! correct) email address, too, so I can contact the winner; your email address does not need to be made public. Note: I'm offering free shipping, too, but only within the USA. International shipping will still apply.
Please be patient! Spammers try to post crap here a lot so comments are moderated. So if you don't see your post in the comments section, be patient and check back in a few hours before re-posting it, please!
After midnight, I'll randomly pick the winner (via Random.org). So check your mailbox on Sunday morning to see who won and for the next Giveaway and Newsletter!
Hey, who won The Forgotten Garden Giveaway? That would be kate jo! Congratulations!

Posted by Leslie, March 17th, 2016