I was inspired by Rhonda's romantic couple in her Jungle Love Theatre (see theatre below with blue curtains), so I've made a new Standing Couples Gift Sheet! Sized for any of the new paper theatres (and full images of couples standing or strolling). It will be sent as a FREE gift for every order placed January 21st through 25th. All-digital orders will receive the collage sheet as a pdf file.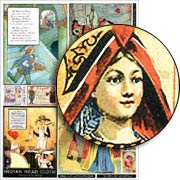 I have also put ALL Mother Goose Collage Sheets on sale for 50% off now through January 25th! Even though that sounds like "just" a children's illustrations section, there are lots of Queen of Hearts collage sheets in the Mother Goose Collage Sheet section. Which makes them perfect for either a Valentine's Day or Alice in Wonderland project. (The Queen of Hearts #2 Collage Sheet is shown at left. And another is included in the Giveaway below.) Now I'm handing this intro off the Miz Bella!


Design Team Member Rhonda Thomas has been busy creating and has come up with Paris Love & Other Theatres of Joy. Not only did Rhonda use the Amour Kit, but she also used all of the Add-On Kits as well: the Amour Add-On Kit, Cirque Facade Add-On Kit and Theatre Francais Facade Add-On Kit.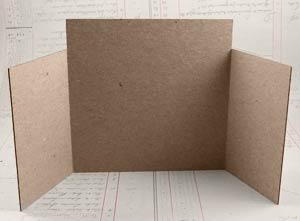 Three of Rhonda's gorgeous theatres use the 3D stages, and one uses the Square Shrine – Gatefold. The Gatefold Shrine is made to be "hinged" together (just with paper tape… or metal hinges if you're ambitious) to make a simple shrine. I have been finding that while creating the larger 3D theatres is fun, sometimes simple is better. Especially if you have an insane need to create, anything as long as you're creating something (you all know what I'm talking about!)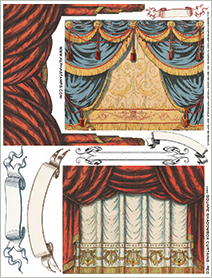 Or perhaps you want to make some sweet Valentine's to send out that will just blow the socks off whoever the recipient is — so make them a Gatefold Shrine Theatre. Why? Since you can fold the sides to make the shrine smaller, you can also very easily pop it in the mail!
If you look at Rhonda's Paris Duel Theatre, (that's the lower one in the photo at right, that uses the Gatefold Shrine) you can see how she (fabulously) decorated the front (center panel and sides) with a couple copies of the Square Shadowbox Red Curtains Collage Sheet. This collage sheet has a nice selection of curtains (including an outer set to overlay onto either of the smaller inner options) and the colors are trés dramatique.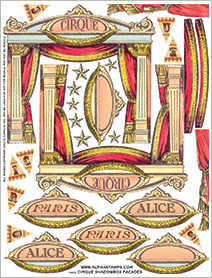 Rhonda overlaid the Paris version of the Cirque Shadowbox Facades Collage Sheet (shown at left) over the center panel (that collage sheet has options for changing the title of the facades from Cirque to Paris or Alice — and also includes a blank sign for filling in your own title).
The back of the gatefold is covered with paper from the Amour 12×12 Collection Kit. Add a few Mini Tassels and some Loop Braid to the shrine and there you have it — an easy peasy shrine to keep for yourself or to give away.
You can find other samples using the Gatefold Shrine from the past Toy Shoppe Shrine Swap in the Gallery.
Paris Duel Theatre Supply List (including those French dancers!)
Oh, feeling like an over-achiever, are you? And you're up for a challenge? Rhonda has that handled as well, with the Theatre Francais Theatre that uses the French Fairies Shadowbox Facade Collage Sheet.
She has created a step-by-step tutorial that includes her trick to cut the theatre facade outline, even getting into the teeny tiny edges; and she also tells you what basic item you probably already have that helps with other finishing touches!
Theatre Francais Theatre Supply List
Jungle Love Theatre Supply List
Love Paris Theatre Supply List
Head on over to Rhonda's blog to see more pictures, further details and the tutorial for the Theatre Francais Theatre.


Hooray for the Love Paris Theatre Giveaway!
I picked out a mix of items from THREE of Rhonda's French-Inspired Theatres to pull together this Giveaway:
– The Amour Kit (which includes the Amour 6×6 Paper Pad, 1/2 Inch Loop Braid – Red and Square Shrine – Gatefold — all used in Rhonda's theatres)
– 1/2 Inch Loop Braid – Black
– Being French #1 Collage Sheet
– Being French #2 Collage Sheet (Ooo La La!)
– Nouveau Goddess – Raw Brass Stamping (Back in Stock)
– Ombre Loop Pom Pom Fringe – Pink (I love how she turned it upside-down at the top of her theatre)
– Paris Post Collage Sheet
– Square Shadowbox – Opera Comique Collage Sheet
– Square Shadowbox Curtains – Teal Collage Sheet

PLUS (not shown in the photos at right) I'm including:
– that new Standing Couples Gift Sheet (this is the FREE gift with order sheet — so you have some couples sized for your gatefold theatre)
– the new Even Tinier Books – Set of 12 (you might need some tiny copies of Proust lying about a shadowbox)
– a new Clear Plastic Mini Cake Stand and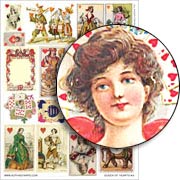 – a Queen of Hearts #3 Collage Sheet (one of the Mother Goose Collage Sheets on sale at 50% off through Monday night!)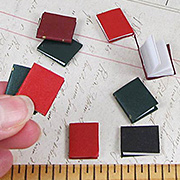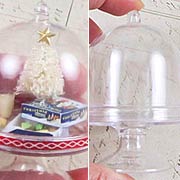 To enter the Love Paris Theatre Giveaway drawing all you have to do is leave a comment BELOW on this blog post TODAY OR TOMORROW (the deadline is 11:59 pm PST, FRIDAY, January 22, 2016)! And tell me: What creative project would you make using ALL of the items in the Giveaway? Maybe just all 9 of the items in that grid? Would you make a theatre like one of Rhonda's? Something different?
Don't forget to leave your (hello! correct) email address, too, so I can contact the winner; your email address does not need to be made public. Note: I'm offering free shipping, too, but only within the USA. International shipping will still apply.
Please be patient! Spammers try to post crap here a lot so comments are moderated. So if you don't see your post in the comments section, be patient and check back in a few hours before re-posting it, please!
After midnight, I'll randomly pick the winner (via Random.org). So check your mailbox on Sunday morning to see who won and for the next Giveaway and Newsletter!
Hey, who won the Valentine Market Stall Giveaway? That would be Christine V!
Congratulations! Check your email for more info.

Posted by Leslie, January 21st, 2016