I was inspired by Caroline's use of oval cabochon settings (with Parisian images) as footlights (see below for more info) so I've not only made a new FREE gift sheet, but have also put ALL Pendants & Ornaments Collage Sheets on sale for 50% off now through January 18th!
There are so many different styles in the Pendants & Ornaments Collage Sheets: Alice in Wonderland, Christmas elves, Valentine's Day cherubs, fairies, skeltons & black cats, Santa Claus, Paris, angels… you get the idea. And what they all have in common is these collage sheets have images sized for inchies, slides, round ornaments or oval cabochon settings.
I've extracted a few images in a few of those styles and made a new Pendants Gift Sheet! It will be sent FREE gift for every order placed January 14th through 18th. All-digital orders will receive the collage sheet as a pdf file.


We have two projects for you by two different Design Team Members that both use LED Lights; in two different ways!
Design Team Member Caroline Ouzts-Hay's project, Moulin Dude is a super cute theatre; and I'll be letting Caroline herself tell you about the highlights: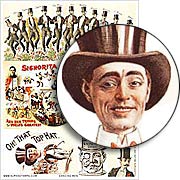 "This month over at Alpha Stamps the kit is all about love, an Amour Kit. What better way for 10 sexy dudes to show their ladies how much they love them than by facing down their stage fright and giving them a show?
This theatre uses 2 chipboard facades (Theatre Francais Shadowbox Facade and Cirque Theatre Shadowbox Facade) over an Open Front 4.5 x 5.5 Shadowbox. The curtains are a deep rich black velvet (Psych! They're just paper from the Love and Lace collection, but velvet sounds so much better) embroidered with luscious roses. And what are curtains without some Pink Sweeper Fringe? (Boring, that's what!) The stage manager didn't stop there, little Golden Hearts dangle about the performers (think Victorian disco balls).
There was no way I was going to create a stage and not have it lit up; so instead of the traditional white lights I selected Red LED Lights for a more Valentines feel.
To hide the stage lights, Oval Filigree Settings were bent to form the shape. They were then adorned with images from the French Oval Collage Sheet and covered with Diamond Glaze. Wait! the stage details don't stop there. To adorn the stage a 3/4″ Metal Deco Strip was wrapped around the box and then aged with various patinas from the Weathered Copper and Treasured Heirlooms sets."
Moulin Dude Theatre Supply List
Visit Caroline's blog for more photos and further details on her project.

Design Team Member Nichola Battilana has put together quick and adorable Fairy Lanterns with the supercalifragilously cute Chipboard Fairies. These are so fabulous! They come in a set of six (!) in three different sizes, Small, Medium, and Large. With an LED Tea Light providing the backlight, you end up with a fairy silhouette! And Nichola has put a video together (that has gone viral!) on how she made the Fairy Lanterns, you can check it out here. Note: I'd also check out her blog post (too) as she lists some tips.


Hooray for the Moulin Dude Theatre Giveaway!
I picked out a mix of items from Caroline's Moulin Dude Theatre Supply List to make this pink-and-tan Giveaway (psst! that link is to the supply list, with photos and links to all of these products):
– Open Front 4.5 x 5.5 Shadowbox
– Cirque Theatre Shadowbox Facade
– Love & Lace 6×6 Paper Pad
– Dancing Men Collage Sheet
– 3/4 Inch Metal Deco Strip
– 18x13mm Oval Filigree Settings
– 9mm Heart Charm Set
– Resin Senorita Cameo
– Pink Sweeper Fringe

PLUS (not shown in the photos at right) I'm including:
– that new Pendants Gift Sheet (this is the FREE gift with order sheet)
– the 25×18 French Ovals Collage Sheet (so you'll have images for the Oval Filigree Settings)
– a 25x18mm Oval Victorian Setting (to fit that Senorita Cameo)

To enter the Moulin Dude Theatre Giveaway drawing all you have to do is leave a comment BELOW on this blog post TODAY OR TOMORROW (the deadline is 11:59 pm PST, FRIDAY, January 14, 2016)! And tell me: What creative project would you make using ALL of the items in the Giveaway? Would you make a theatre like Caroline's? Something different?
Don't forget to leave your (hello! correct) email address, too, so I can contact the winner; your email address does not need to be made public. Note: I'm offering free shipping, too, but only within the USA. International shipping will still apply.
Please be patient! Spammers try to post crap here a lot so comments are moderated. So if you don't see your post in the comments section, be patient and check back in a few hours before re-posting it, please!
After midnight, I'll randomly pick the winner (via Random.org). So check your mailbox on Sunday morning to see who won and for the next Giveaway and Newsletter!
Hey, who won the Fairy Godmother Wagon Giveaway? That would be Traci!
Congratulations! Check your email for more info.
Posted by Leslie, January 14th, 2016