It's day FIVE of this week of While the Cat's Away Giveaways!
And today's theme is Alice in Wonderland Book Boxes!
Cute, cute cute! Teri Calia has been at it again… creating not one but TWO new sets of collage sheets to make a seemingly normal old book for your bookcase, that contains a drawer and space for a hidden scene inside!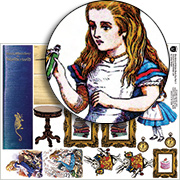 The Wonderland and Looking Glass Book Box Collage Sheets supply the faux book covers, spine, pages (and extra bits to get you started on a scene or extra decorations) to match the smaller of the Hidden Drawer Book Boxes. So you can make both Alice books by the good Reverend Dodgson.
Here's a bit of text from Teri's blog post as an introduction to her project: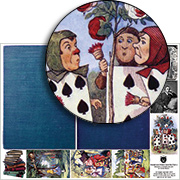 "Alice's Adventures in Wonderland is one of my all time favorite books! Along with the sequel Through the Looking Glass and What Alice Found There, you have only to pick up either book, flip to any chapter and be instantly amused by the crazy antics of Alice and friends. That is why I couldn't resist doing a couple of collage sheets for both books sized to use with the Hidden Drawer Book Box.
"I added The White Rabbit to the cover standing on a stack of books and holding a pocket watch. The White Rabbit is also standing on a pile of books on the back cover, where he is joined by a framed photograph of Lewis Carroll himself. Inside you find Alice contemplating a bottle labeled "drink me" as the Mad Hatter peers at her from behind the curtain.
"My favorite feature is the tiny key with a tassel made out of thread. I almost went blind making that tassel 🙂 but it matches the tassel on the book mark I attached to the top of the book so it was well worth the effort!"
Here's Teri's full Supply List.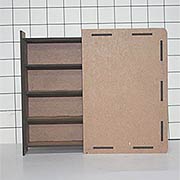 Note: Teri used the Hidden Drawer Book Box as her book's structure (with that nice big, open area to build a collage in) but today we're announcing 2 more book boxes! Both have shelves (otherwise they are the same dimensions as the 2 original books). Click the photo at left or below to get more info. And don't miss those fab new Alice in Wonderland Chipboard Silhouettes.
In honor of the today's theme, ALL Alice in Wonderland Collage Sheets are On Sale today! (Note: the new Alice Book Box Collage Sheets are on one-day sale price of 20% off; all other Alice in Wonderland Collage Sheets are on sale at 33% off.) See the Giveaway below for some highlights.
And before I forget: The winner of yesterday's Kitchen & Cookware Giveaway is Marykay Chisum! Check your email for info about your prize package!


Hooray! An All About Alice Giveaway!
In addition to ALL FOUR of the new Alice-themed book box collage sheets (!), I added these goodies that are in Teri's artwork:
– Hidden Drawer Book Box
– Bronze Playing Card Suits
– Go Ask Alice Collage Sheet
– Mini Rabbit Figurine
– Set of 3 Tiny Keys on Ring
And an Alice's Adventures Rubber Stamp Set (unmounted version, and already on sale as ALL Alpha Stamps Rubber Stamps are 35% off!)
Then I added 3 more collage sheets from today's Alice in Wonderland Collage Sheet sale:
– Mad Hatters Teaparty #1 Collage Sheet
– Tenniel's Alice Collage Sheet
– Alice Herself Collage Sheet

Reminder: Here's how these While the Cat's Away DAILY Sales and Giveaways will work: I've gathered items around a theme and put together a Giveaway Kit that will be awarded to one lucky person.
To enter the All About Alice Giveaway drawing all you have to do is leave a comment BELOW on this blog post TODAY (the deadline is 11:59 pm PST, TONIGHT, December 30, 2015).
Don't forget to leave your (hello! correct) email address, too, so I can contact the winner; your email address does not need to be made public. Note: I'm offering free shipping, too, but only within the USA. International shipping will still apply.
Please be patient! Spammers try to post crap here a lot so comments are moderated. So if you don't see your post in the comments section, be patient and check back in a few hours before re-posting it, please!
After midnight I'll randomly pick the previous day's winner. So make sure to check back tomorrow to see who won and to see what's on offer for Day 6 of the Sales & Giveaways!
More info on the Holiday Closure & Giveaway Rules (including how you can get entered twice in each day's drawing).
And please remember: Our offices are now closed. The whole "While the Cat's Away" theme is 'cause I'm the only one here! For more info about shipping (which will start when the staff are all back on 1/4/16) and the sale in general, please see the While the Cat's Away…" Daily Giveaways: Year 8! overview page.
A final note: Even though our offices are closed, orders for DIGITAL Collage Sheets and Digital Images are still fulfilled in real time!

Posted by Leslie, December 30th, 2015