Note: most of the links on this post no longer work, as we moved to a new Web site in 2018. But you can try searching on the same names (as links below) on the new site.

It's day FOUR of this week of While the Cat's Away Giveaways!
And today's theme is Miniature Cookware & Teapots!
I'm taking this chance to catch up on some 1:12 miniature kitchen things that somehow did not make it on the site this fall (which includes some adorable teapots)!
And I'm also taking this chance to catch up on showing you a beautiful assemblage that Nichola Battilana made recently (also with a tea theme): Madam Puddifoot's Tea Shop!
That Nichola! She is a wonder… just look at the beautiful PINK brick building she made from the Storefront Room Box (and the Brick Wall Chipboard Texture Sheet). Along with all the other lovely details (like the windows themselves, and all the lovely tea items seen though the windows)… don't you just want to go there and have a cup of tea?
I've shown a work-in-progress photo at left so you can visualize a bit easier how the Storefront Room Box was turned into the finished tea shop (before the addition of an awning and before the trims, dishes, furniture and florals were added).

Nichola used textures sheets, the room box itself, and bajillions of miniatures… see her blog post for more info and links to all of those items.
Now, back to these poor forgotten kitchen props! First there are tea kettles (3 colors), then big sets of cookware (that also include tea kettles… different designs than the single ones… and I might add: these cookware sets are a steal)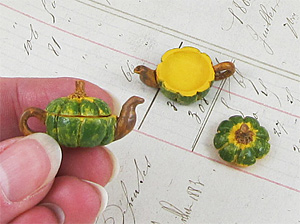 Next up, not exactly what you'd find at Madam Puddifoot's Tea Shop, but SOOO CUTE! 4 more designs in the "fruits and veg made into teapots" line (like the Orange Pumpkin Teapot announced before Halloween) that would be perfect for a fairy tea party:
– Carrot Teapot
– Japanese Eggplant Teapot
– Red Apple Teapot
– Green Pumpkin Teapot (shown at left)
See below for more photos.
And in honor of the today's theme, ALL Vintage Sewing & Cooking Collage Sheets are On Sale at 33% off today! See the Giveaway below for some highlights.
And before I forget: The winner of yesterday's Tiny Cakes & Cookies Giveaway is Susan Browning! Check your email for info about your prize package!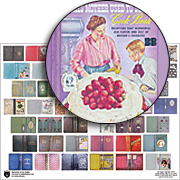 Hooray! I'm including ALL FOUR items from the first row of that table above (so Plastic Cookware Set – Black, Mini Copper Utensils with Rack, Japanese Eggplant Teapot and Copper Tea Kettle)!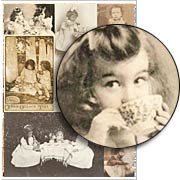 Then I'm adding these collage sheets from today's sale:
– Cabinet Card Girls with Dolls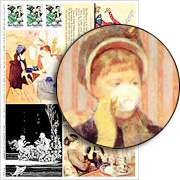 – Tea #2 Collage Sheet
– Domestic Little Books
– In the Kitchen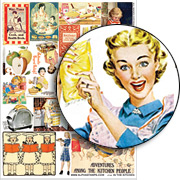 Reminder: Here's how these While the Cat's Away DAILY Sales and Giveaways will work: I've gathered items around a theme and put together a Giveaway Kit that will be awarded to one lucky person.
To enter the Kitchen & Cookware Giveaway drawing all you have to do is leave a comment BELOW on this blog post TODAY (the deadline is 11:59 pm PST, TONIGHT, December 29, 2015).
Don't forget to leave your (hello! correct) email address, too, so I can contact the winner; your email address does not need to be made public. Note: I'm offering free shipping, too, but only within the USA. International shipping will still apply.
Please be patient! Spammers try to post crap here a lot so comments are moderated. So if you don't see your post in the comments section, be patient and check back in a few hours before re-posting it, please!
After midnight I'll randomly pick the previous day's winner. So make sure to check back tomorrow to see who won and to see what's on offer for Day 5 of the Sales & Giveaways!
More info on the Holiday Closure & Giveaway Rules (including how you can get entered twice in each day's drawing).
And please remember: Our offices are now closed. The whole "While the Cat's Away" theme is 'cause I'm the only one here! For more info about shipping (which will start when the staff are all back on 1/4/16) and the sale in general, please see the While the Cat's Away…" Daily Giveaways: Year 8! overview page.
A final note: Even though our offices are closed, orders for DIGITAL Collage Sheets and Digital Images are still fulfilled in real time!

Posted by Leslie, December 29th, 2015