Note: most of the links on this post no longer work, as we moved to a new Web site in 2018. But you can try searching on the same names (as links below) on the new site.
It's day TWO of this week of While the Cat's Away Giveaways!
And today's theme is Chrysnbon Dollhouse Furniture Kits!
And we have a treat! Design Team Member Shannon Cooper has written up (and photographed) a lovely tutorial on putting together one of the new China Cabinet Kits: Itty Bitty Cabinet of Cute!
Shannon (thankfully!) covers the tiny details, like: don't lose that unimaginably tiny key when you're putting your cabinet together! (Shown at left before and after painting it gold; the second photo showing it being held by a pair of tweezers.)
Plus here's a link to all the little dishware Shannon stashed away inside (and Christmas trims… see Shannon's blog for more ideas on decorating the cabinet).
And in honor of the new kits, ALL 1:12 Dollhouse Furniture items are On Sale at 20% off today!
Note: This new cabinet kit is not only included in today's 20% off Sale but one of these fab kits is also included in today's Giveaway! More info below.
Speaking of Giveaways, the winner of yesterday's Chipboard & Ravens Giveaway is Debra Gibson! Check your email for info about your prize package!
In addition to the tutorial by Shannon, we have a recommendation by Guest Designer Teri Steele (who also made that cute Round Table & Chairs Kit shown below at left):
I will say (for being plastic) the Chrysnbon kits are surprisingly well made, and even next to my more expensive wood kits you cant tell they are plastic. The pieces always fit really well together. Very little glue is needed. I started making these in the early '90s and have loved making them and kit bashing, where you combine different kits together to make new pieces.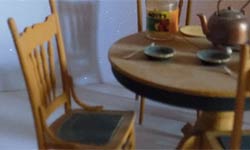 I have tried many different paint techniques on the pieces as well as paper. The best tip for very small pieces such as the vanity set is to complete them while they are still on the frame and cut off the pieces with manicure scissors or clippers. I use a small nail file to sand off any flash or sharp pieces and touch up as needed.
Note: yesterday's 35% off Sale on ALL Alpha Stamps' Rubber Stamps will continue all week! Also, since the Tim Holtz Cling Stamp Sets are already on sale at 20% off, that means ALL rubber stamps are On Sale!


Hooray! A Chrysnbon Kits Giveaway! I'm including ALL FOUR items from the first row of that table above (so 2 bookets, the cement Shannon prefers and the China Cabinet Kit with Plant Table)!

Reminder: Here's how these While the Cat's Away DAILY Sales and Giveaways will work: I've gathered items around a theme and put together a Giveaway Kit that will be awarded to one lucky person.
To enter the Chrysnbon Kits Giveaway drawing all you have to do is leave a comment BELOW on this blog post TODAY (the deadline is 11:59 pm PST, TONIGHT, December 27, 2015).
Don't forget to leave your (hello! correct) email address, too, so I can contact the winner; your email address does not need to be made public. Note: I'm offering free shipping, too, but only within the USA. International shipping will still apply.
Please be patient! Spammers try to post crap here a lot so comments are moderated. So if you don't see your post in the comments section, be patient and check back in a few hours before re-posting it, please!
After midnight I'll randomly pick the previous day's winner. So make sure to check back tomorrow to see who won and to see what's on offer for Day 3 of the Sales & Giveaways!
More info on the Holiday Closure & Giveaway Rules (including how you can get entered twice in each day's drawing).
And please remember: Our offices are now closed. The whole "While the Cat's Away" theme is 'cause I'm the only one here! For more info about shipping (which will start when the staff are all back on 1/4/16) and the sale in general, please see the While the Cat's Away…" Daily Giveaways: Year 8! overview page.
A final note: Even though our offices are closed, orders for DIGITAL Collage Sheets and Digital Images are still fulfilled in real time!

Posted by Leslie, December 27th, 2015