Note: most of the links on this post no longer work, as we moved to a new Web site in 2018. But you can try searching on the same names (as links below) on the new site.
I hope you stayed warm and dry on Christmas and had lots of yummy food with loved ones. (Yes, I hear you're all having a heat wave back east, but it is freezing out here!)
And in case Santa didn't bring you your heart's desire (or if you're just looking for a good deal in prep for 2016 projects)… It's the first day of this week of While the Cat's Away Giveaways!
And today's theme is… well we have TWO:
– ALL Die-Cut Chipboard items are On Sale at 20% off! (That's a big section… over 100 items! And the 3 new chipboard items being announced today are On Sale, too!)
– And ALL Alpha Stamps' Rubber Stamps are On Sale at 35% off! (That's a HUGE group! See below for highlights of a few I've picked out to be included in today's Giveaway!) Note: since the Tim Holtz Cling Stamp Sets are already on sale at 20% off, that means ALL rubber stamps are On Sale!
And what's that lovely new chipboard kit at right?! It's the Chipboard Steamer Trunk – Large Size! Remember the Chipboard Steamer Trunk? Well, this is a new, bigger version (8″ tall and 4″ wide), laser cut from sturdy chipboard. Assembly is required, but it's super easy with a slat and groove system.
Note: this version includes a drop-down (desk) panel and a small drawers inside! The drawers are cut from a lighter weight chipboard and are pre-scored!
Note #2: This new kit is not only included in today's 20% off Sale but one of these fab kits is also included in today's Giveaway! More info below.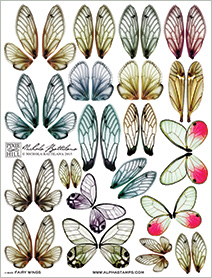 Speaking of Giveaways, we have 2 winners to announce from last Sunday's Darkness and Light Giveaway. That would be Evelyn Valencia and Carmen G!
The second winner is because we offered a digital set of all the collage sheets in the Giveaway to the most creative answer to my query "Wow… what could you make by mixing all of these items?"
Oh, that's easy….if there was ever a time for Krampus to get his drag on and channel Mariah Carey, well… this would be it. You're welcome. Heh heh
Your collage sheets are en route, Carmen! And, Evelyn, check your email for info about your prize package!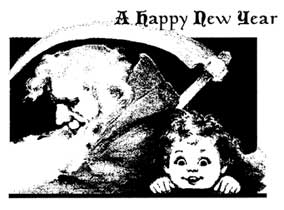 Hooray! A Chipboard & Ravens Giveaway! Beside ALL four of the chipboard items in that highlight row above and one of the new Chipboard Steamer Trunk – Large Size (whew! that's a nice package already!) I've also included these rubber stamps (chosen from the sale and all unmounted rubber… and kinda influenced by those last 2 chipboard items above):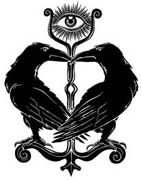 – Huginn & Muninn Rubber Stamp
– Tempus Fugit Rubber Stamp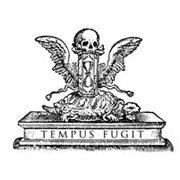 – A Happy New Year Rubber Stamp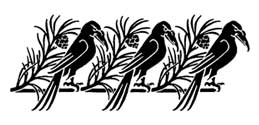 – Raven Border Rubber Stamp

Reminder: Here's how these While the Cat's Away DAILY Sales and Giveaways will work: I've gathered items around a theme and put together a Giveaway Kit that will be awarded to one lucky person.
To enter the Chipboard & Ravens Giveaway drawing all you have to do is leave a comment BELOW on this blog post TODAY (the deadline is 11:59 pm PST, TONIGHT, December 26, 2015).
Don't forget to leave your (hello! correct) email address, too, so I can contact the winner; your email address does not need to be made public. Note: I'm offering free shipping, too, but only within the USA. International shipping will still apply.
Please be patient! Spammers try to post crap here a lot so comments are moderated. So if you don't see your post in the comments section, be patient and check back in a few hours before re-posting it, please!
After midnight I'll randomly pick the previous day's winner. So make sure to check back tomorrow to see who won and to see what's on offer for Day 2 of the Sales & Giveaways!
More info on the Holiday Closure & Giveaway Rules (including how you can get entered twice in each day's drawing).
And please remember: Our offices are now closed. The whole "While the Cat's Away" theme is 'cause I'm the only one here! For more info about shipping (which will start when the staff are all back on 1/4/16) and the sale in general, please see the While the Cat's Away…" Daily Giveaways: Year 8! overview page.
A final note: Even though our offices are closed, orders for DIGITAL Collage Sheets and Digital Images are still fulfilled in real time!

Posted by Leslie, December 26th, 2015