Note: most of the links on this post no longer work, as we moved to a new Web site in 2018. However, you can see the supply lists for both projects on the new site: Laura's Round Bookmark and Oval Bookmark.
Design Team Member Laura Carson has a few ideas for you if you're stumped for a gift for the holidays or a special occasion; with Altered Corks and Bookmarks.
"The corks are great for decorating wine and champagne bottles, as an ornament on a tree or as part of your home décor; and they also make great hostess gifts. Another idea is to take a cork left over from a special occasion and alter it as a memento of the occasion. As décor they look lovely hanging from a lamp or a key in a clock or cabinet, and if nothing else, it gives you an excuse to drink a bottle of wine!"
I don't know about you, but I'm not wanting to have to fight crowds in stores or worse, be inside of a mall during the holidays and would much rather make small gifts at home. (And drinking wine so I have corks to alter… but I digress!)
Laura has created 5 corks and 2 bookmarks to cover the different seasons and special occasions. They're so easy to make, you'll be cranking them out in no time! My favorite cork is the Christmas Cork, it looks lovely on a wine bottle and would also make a beautiful tree ornament.
For this altered cork I've added a large piece of filigree to the top of the cork. This allowed me to hang several Christmas and seasonal charms from the filigree using clear, red and silver beads. At the top of the cork, I inserted one eye pin which allowed me to the beads. At the top I added a beaded chain which fits around the neck of the bottle. The final touch to the top was ribbon and a reindeer charm dangling from the bottom.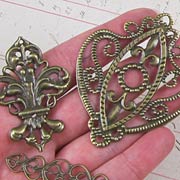 Supply Lists:
Christmas Cork
New Years Cork
Winter Cork
Valentine Cork
Fall Cork
The bronze bookmarks are fabulous and everyone can always use an extra one. The round one uses an image from Laura's new Clock Faces Collage Sheet, Glossy Accents, creating a domed glassy appearance and she added large filigree behind the base of the bookmark. To finish it, Laura used rhinestones to add a little bling and a crepe ribbon bow.
Supply Lists:
Round Bookmark
Oval Bookmark
Visit Artfully Musing and Laura will tell you how she made the other items and you can see more pictures.

Design Team Emeritus Teri Calia has created two adorable sleighs. The larger sleigh is the Steampunk Mouse Sleigh (see wide photo below) complete with a mouse driving it, decorated in gorgeous new plaid paper with plenty of assorted gears. Also worth pointing out are the pulley wheels that Teri added to the bottom of the sleigh, so it really moves! Here's the full Supply List.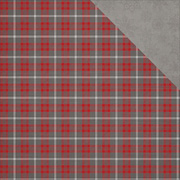 The smaller Sweet Shabby Chic Mini Sleigh is so cute! It is made from the ornament- sized sleigh. Don't you love the paper from the new Dear Santa 6×6 Paper Pad that Teri used — inside and outside the sleigh.
Visit Teri at Artistic Catnip to see more photos of both sleighs (plus more mice from her book box that was in last Thursday's newsletter).


Hooray for the It's a red plaid Christmas Giveaway!
I picked out goodies based on color today (and kept the choices narrowed down to new items announced today or things used in the featured artwork — still a lot of options!):
– Red Czech Glass 4mm Smooth Rondelles
– Clock Faces Collage Sheet
– Large Bronze Fancy Filigree Set
– Mini Champagne Glasses
– Large Silver Reindeer Pendant
– Holiday Stripes Pennant Pad
– Dear Santa Cozy Up Plaid Scrapbook Paper
– Red & Silver Christmas Bead Mix
– Wide Brass Filigree Header

To enter the It's a red plaid Christmas Giveaway drawing all you have to do is leave a comment on this blog post TODAY or TOMORROW (the deadline is 11:59 pm PST, MONDAY NIGHT, December 7, 2015).
AND TO ENTER THE DRAWING, please tell me: What would you make from the items in this Giveaway? Bonus: do they fit into your Christmas gift-making plans you've already started?
Don't forget to leave your (hello! correct) email address, too, so I can contact the winner; your email address does not need to be made public. Note: I'm offering free shipping, too, but only within the USA. International shipping will still apply.
Please be patient! Spammers try to post crap here a lot so comments are moderated. So if you don't see your post in the comments section, be patient and check back in a few hours before re-posting it, please!
After midnight, I'll randomly pick the winner (via Random.org). So make sure to check back to see who won! And check your mailbox on Thursday morning for the next Giveaway and Newsletter!
Hey, who won the Not a creature was stirring Giveaway? That would be Jen R!
And she replied to my query "How would you decorate your Book Box? Christmas themed like Teri's artwork? Something with all those crazy mice in clothes? Cinderella and her mice-drawn pumpkin coach? Something else?"
Hickory dickory dock would be the theme I would try! (Good idea, Jen!)
AND we have a special winner to announce: We've redrawn the prize for one of the Santa's Sleigh Giveaway Kits and the winner is Dorothy Mucha! Your prize will be shipped with your order. Congratulations!
Posted by Leslie, December 6th, 2015