Hey, it's Monday, the final day of the 4-day "Black Friday" sale! Today's theme is Christmas Ornaments.
Before I hand this post off to Miz Bella (Kim Ayers), here's a short recap on how these themed sale days work (and news on sale items continuing beyond today!):
I've pulled TWO lovely Christmas Ornaments Giveaway Kits. One will be for a random comment on today's blog post; and the other will be to one lucky shopper!. The Christmas Ornaments Giveaway includes pretty much everything Lora Mahaffey used in her Christmas Ornaments! I'm including the 9 items shown in the photo at right, including these in Lora's ornaments:
– Holiday Baking Stripe Scrapbook Paper
– Kriss Kringle Collage Sheet
– Santa and Children Collage Sheet
– Mini Pom Pom Fringe – Red
– Christmas Red Stickles
– Lime Green Stickles
– Black and Ivory Prints 6×6 Paper Pad (half a pad… still a TON of paper!)
– 40x30mm Bronze Neo-Classical Pendant Setting (psst… Tristan used this setting in his artwork, too!)
And I also threw in THREE more items:
– New Ornate Pocket Watch Bronze Setting Really pretty. The flipside fits a 20mm round glass cabochon. (And on sale)
– Inchie Ornaments Gift Kit (more info on that FREE gift kit is below)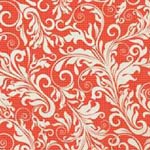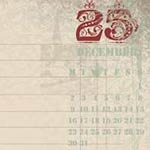 – Saint Nicholas Scrapbook Paper Set (SIX sheet set! with lots of small Christmasy prints perfect for backgrounds on ornaments — and on sale for 40% off!)
If you order on Monday you'll automatically be entered in the drawing for the Monday Giveaway Kit. PLUS: everyone who places an order during the 4-day sale will be entered into a drawing for a $100 shopping spree! Click here for more info on all the gifts & freebies going on during the sale!
Hey, and who won yesterday's TWO Santa's Sleigh Giveaway Kits? That would be Diane Petersmarck and Gail Beattie!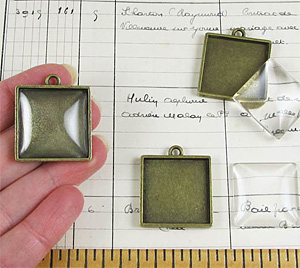 Free gift for ALL orders placed today! The "Inchie Ornaments Gift Kit" will be included as a gift in every order on Monday, November 30, 2015! The gift kit includes an Antique Bronze Square Pendant with Glass Cabochon! This is a cast metal pendant with matching glass cabochon (1″ x 1″). Nice large loop, in case you want to use this with a ribbon. AND a custom half-scale version of the Square Santas Collage Sheet so you'll have some cute Christmasy images to use in that pendant (or ornament). See below for how Lora used metal pendants in her Christmas ornaments for ideas.
Note: this is the final mini kit being announced with the Black Friday Sale. BUT I'm willing to keep this free kit on offer through THIS Wednesday, December 2, 2015 — though that metal setting selection may vary if we run out after today. No need to add anything to your cart — all orders will receive the Inchie Ornaments Gift Kit.
PLUS, I've just put the Pendant Bezels & Settings – Cast Pewter Section on sale!
AND note that the Christmas sale sections highlighted in the Thanksgiving preview (and that are repeated at the bottom of this newsletter) will remain On Sale after today!

Today's Theme: (Easy!) Christmas Ornaments

Design Team Member Lora Mahaffey has created some really cute little ornaments that one could whip up in nothing flat.
"I love making Christmas Ornaments. Working small, with cheerful Christmas papers and pretty, tiny little findings and lots of glitter is so dang fun. Here are four house-shaped (are you surprised?) Santa-themed Christmas Ornaments.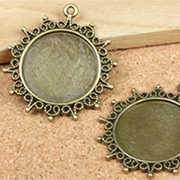 "I used wooden blanks that I cut from a template I drew, but you could easily use heavy chipboard instead of wood. I also used bits and pieces of scrap paper left over from other projects… mostly G45 Christmas papers, but any bright, cheerful papers will work!"
Lora also used 2 of the 40x30mm Bronze Neo-Classical Pendant Settings, which look so rich with the addition of red and green stickles glitter. You could make similar ornaments using a new 20mm Round Picture Frame Setting or 25mm Round Filigree Pendant Setting.
Know what else you can use the new settings for, just by themselves? Ornaments! They'd look really pretty hanging with a bit of chain off of a tree with the lights hitting them, or you could even tie them onto gifts as a little extra ornamentation.
Lora also created these adorable 3×3 ornaments using the Holiday Baking Stripe Scrapbook Paper, backed with patterns from the Black and Ivory Prints 6×6 Paper Pad and a little mini red pom pom fringe.
Visit Lora at her blog for more pictures and details.

Design Team Member Tristan Robin Blakeman has made two Pocket Letters for you today; one with a Marie Antoinette theme and the other with a Christmas theme (and Tristan gives a quick intro to Pocket Letters in his blog post).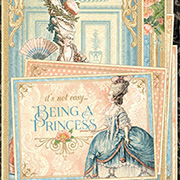 Starting off with Marie Antoinette, Tristan used the Gilded Lily collection as the base for his ATCs. Then he added all sorts of fun embellishments on each card. Worth noting are the Neoclassical Pendant Setting (there's that setting again!), an Oval Victorian Setting, the Fleur de Lis Scallop-Edged Charm and the Tim Holtz Lace Trimmings.
Marie Antoinette Pocket Letter Supply List
The Christmas themed Pocket Letter is made from the Christmas Carol collection, a bit of fringe and Dresden borders. As you can see from both of Tristan's Pocket Letters, you can really embellish your ATCs or just go more of a minimalist way and both look fabulous, either way.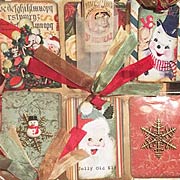 (Psst: Leslie just put the Retro Christmas ATC Pocket Page Kit on sale, too! That little snippet at right is from artwork by Miz Bella!)
Visit Tristan's blog for more pictures and details.

Highlights of Today's New Goodies – All on Sale! View All
Posted by Leslie, November 30th, 2015