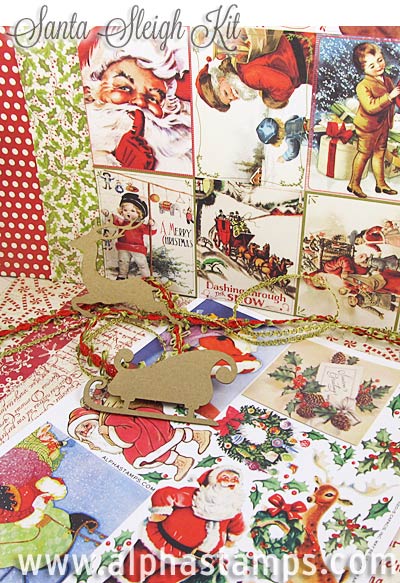 Yay! It's Sunday of the 4-day "Black Friday" sale! Today's theme is Santa's Sleigh (which is also the theme of the December Kits being announced today! (Yes, that was plural "kits": 2 kits!)
Before I explain what's in the kits, here's a short recap on how these themed sale days work:
I've pulled TWO lovely Santa's Sleigh Giveaway Kits. One will be for a random comment BELOW on this blog post and the other will be to one lucky shopper!. The Santa's Sleigh Giveaway includes the new Santa Sleigh Kit and the new Santa Sleigh Add-On Kit and one of the Pine Cone & Berries Gift Kits (more on that in just a sec).
If you order on Sunday you'll automatically be entered in the drawing for the Sunday Giveaway Kit. PLUS: everyone who places an order during the 4-day sale will be entered into a drawing for a $100 shopping spree! Click here for more info on all the gifts & freebies going on during the sale!
Hey, and who won yesterday's TWO Hidden Drawer Book Box Giveaway Kits? That would be Sunny and Shane Hawkins!
Free gift for every order over $25! The "Pine Cone & Berries Gift Kit" will be included as a gift for every order over $25 on Sunday, November 29, 2015! The gift kit includes some of the new Medium Pine Cones, plus either some red or gold glittered berries. Perfect additions for filling one of the new 3D Chipboard Sleighs! (See below for more info and photos.)
And even if you place a smaller order, I'll include a little gift in every order placed November 29, 2015! It will be a nice surprise!

Today's Theme: Santa's Sleigh

We've jumped ahead about a century from the vintage Santa Claus images in last month's kit, to more kitschy mid-20th-century Santas (and reindeer).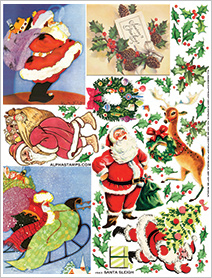 The main December kit includes some lovely trims and a chipboard sleigh (and a jumping reindeer). And a new Santa Sleigh Collage Sheet was designed specifically to match the size of those chipboard items (with Santas sized to be sitting in or standing near the sleigh).
And how could I forget, 3 large (double-sided) scrapbook papers from the new Christmastime line, with some cute little prints that will be useful for decorating projects from sleighs to ATCs or cards.
Check out that adorable Retro Santa Wall Art by Shannon Cooper; Shannon captures the fun and colorful theme in her grid of ATCs perfectly! And I love those reindeer flying across the entire piece. Here's a link to Shannon's Supply List. And read more (and see more photos) on her blog.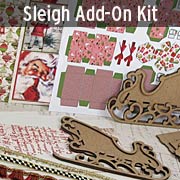 Next up: 3D Sleighs!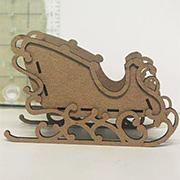 Both the Add-On Kit and a flurry of fabulously festive artwork by the Design Team (snippets below and lots more photos in the Gallery) are all about 3D Sleighs in two sizes: a tabletop size (perfect for a centerpiece or to hold Christmas cards) and a smaller ornament size!

New Goodies & Highlights – All on Sale!


Chipboard Sleigh Die-Cut Shapes*
Posted by Leslie, November 29th, 2015