Before Miz Bella introduces TWO Halloween Projects by Kristin Batsel(!!), there's are 2 announcements:

– FIRST, the Tiny Alice Gift Sheets announced in last Thursday's newsletter are still on offer! And did you see all those Alice in Wonderland Miniatures?!

NEXT, it's that time of year… Only 2 weeks until Laura Carson's annual Halloween event, and this year is a Haunted Village!! See Laura's site for a free collage sheet offer starting now!


Zooming in with two projects is Design Team Member Kristin Batsel.
Kristin's first project is a set of ADORABLE vintage-styled Zombie Cars that are inspired by an idea purely out of nowhere. Yes, nowhere.
"Do you ever just get a weird idea right out of nowhere? It happened to me for this last project for Alpha Stamps. When I saw these Paper Mache Coffin Boxes and then the rubber Zombie Finger Puppets (also in the Cemetery Kit), for some crazy reason, I immediately thought "soapbox derby cars with dead drivers!" When I told Leslie (fearless leader of Alpha Stamps) my idea, she found me the perfect 1-1/2″ Spoked Wheels for these vehicles."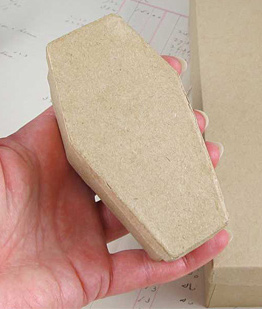 That Paper Mache Coffin — I need about a dozen of them but of course the Evil Queen won't let me order that many to hoard. The coffin with lid measures approx 4″ long x 1-1/2″ tall x 2″ wide and is so cute in its little size. Plus those wheels — gets the ones in my head turning. Perhaps she won't notice if I only maybe order just three coffins…
How sweet are those Red Demon Eyes on the Wood Skull Cut-Outs grill? Kristin also created a box to look like a vintage game box that was found in an old attic, way in the back in an old suitcase. Open it up and there are the two roadsters nestled inside complete with a fabulous Churchyard Cemetery scene (inside the box lid) where they're ready to go racing between the tombstones!
Race on over to Kristin's blog to find out how she set up the Red Demon Eyes and how she created the Zombie Cars.

Kristin's second project is an ATC Halloween Countdown project that is SUPER easy and SUPER fun to make!
"The calendar consists 31 ATCs, bound together with a Bind It All, and mounted on a collapsible cardboard frame."
Kristin's ATCs are made of playing cards (and she left the backs plain as she likes the pattern). So… what about using the new Alchemy Playing Cards for this project? It's a full deck of playing cards with artwork by tattoo artists. Beside being a cool deck, the Evil Queen thought the skull on the backs of the cards (which is actually an illustration of a woman holding a rose) would make for a great set of Halloween ATCs (gesso over the fronts and use the cards as ATCs), which is perfect for this project. OR cover the backs with scrapbook paper or gesso and have the cool artwork showing for the backsides; double the artwork!
Kristin used assorted collage sheet images from Crepe Paper Halloween, Halloween Children, Hello Pumpkin (and lots of Poe) as well as other images from our Halloween Collage Sheets (that are ALL on Sale!).
Visit Kristin's blog for more pictures and information on how she put the calendar together (and to see all 31 cards)!

New and On Sale! Ground Espresso Distress Color! While snooping through the new items I found a new release for Distress! I'll also order this because I think it will have quite a few uses around here. Of this new color Tim Holtz says:
"Let your creativity brew with the latest addition to the Distress palette; available in Ink Pad, Reinker, Paint, Stain, Spray Stain, and Marker. This rich roasted brown reminiscent of your favorite cup of joe is my absolute favorite. With it's robust dark tones, the new Ground Espresso will have your inner-artistic barista brewing with creativity."
And you can see Tim Holtz introduce the color (and compare it to other shades of tan and brown in the Distress line) in this video.


Hooray for the Zombie Cars Giveaway!
I started with a:
– Cemetery Kit (and that gives you bunches of items beside the Zombie Finger Puppet — including 3 collage sheets, bats, cats, and a wrought-iron fence)
Then moved on to these items from Kristin's Zombie Cars:
– Paper Mache Coffin Box
– Spoked Wheel Set – 1-1/2 Inch
– 1/8 Inch Wooden Dowels (not shown in the photo at right, but the size you'll need for axles for those wheels)
– Wood Skull Cut-Outs
– Red Demon Eyes – LED Lights – Large (perfect for making glowing red headlights from those skulls!)_
Then finally to a couple new or just put on clearance(!) items:
– A set of Alchemy Playing Cards (note: not a full deck… about a dozen: more than enough to use as the backs of ATCs in an ATC Pocket Page!)
– Salvaged Antique Spoon Hooks Just Put On Sale!
(And note: a bunch of really cool Halloween things just got put on clearance)

To enter the Zombie Cars Giveaway drawing all you have to do is leave a comment on this blog post TODAY or TOMORROW (the deadline is 11:59 pm PST, Monday Night, August 24, 2015. AND tell me what you'd make (other than zombie cars!) from this collection! AND most creative comment wins 2nd set of cards!
Don't forget to leave your (hello! correct) email address, too, so I can contact the winner; your email address does not need to be made public. Note: I'm offering free shipping, too, but only within the USA. International shipping will still apply.
Please be patient! Spammers try to post crap here a lot so comments are moderated. So if you don't see your post in the comments section, be patient and check back in a few hours before re-posting it, please!
After midnight, I'll randomly pick the winner (via Random.org). So make sure to check back to see who won! And check your mailbox on Thursday morning for the next Giveaway and Newsletter!
Hey, who won the Tiny Alice Dollhouse Giveaway? That would be Kristie Norman! (And she replied to my question "Tell me what you would make with all of these tiny supplies. And/or is 1/4 Scale a size you use or you'd like to see more of?": Quarter scale miniatures is my world. I build quarter scale houses, and this giveaway is a perfect complement for my miniatures. I would love to see more quarter scale items. Love it!!!) Please check your email for my message about getting your mailing address.
Posted by Leslie, August 22nd, 2015