It's back! FREE Collage Sheet with every order! Your choice from ALL of the Collage Sheets! (Just specify which collage sheet you'd like in the comments section of your order — cardstock collage sheets only.) And remember: all the collage sheets are on sale for 15% off. Note: next Sunday will be the announcement of the June Kit… there will be a new Free Collage Sheet offer linked to the June kit theme starting on Sunday. You can still pick your own gift from any collage sheet theme from now through Saturday! AND, see below for info on a new Freak Show Cameo FREE Gift Kit!

I did not realize how (adorably) tiny Design Team Member Nichola Battilana's Side Show Ballyhoo Stages were when I first saw them: the two stage platforms are each made from half of a Chipboard Steamer Trunk! And that tiny little pulpit is made from parts of shelves from the same trunk! And the fringe on those little flags? Each is one tassel from the Gold Sweeper Fringe!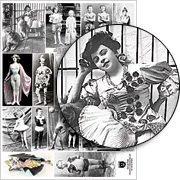 And with THREE new Sideshow Collage Sheets by Teri Calia, Nichola had lots of characters to choose from for her "sensational uproar" (each hand-tinted by Nichola):
– Circus Folk
– Tattooed Ladies
– Sideshow Folk
Check out Nichola's supply list. Then head on over to her blog post for more photos AND a link to her tutorial!

New Siamese Twins Cameos And Freak Show Cameo FREE Gift Kit!

I was inspired by the whole sideshow freaks theme, so I'm giving away one of these cool new Siamese Twins Cameos (AND a 40x30mm Black Resin Setting) for all orders over $50! Sale items are eligible, too (toward meeting the $50 requirement, but shipping and taxes are not).

There's nothing you need to do (no coupon to enter). Beginning today (May 28, 2015) through Sunday, May 31st, we'll include a FREE kit in all qualifying orders!

Note: the sample shown with Gilder's Paste is not how your 2 items will arrive… it's just an idea for how to decorate the pieces.



40x30mm Halloween Siamese Twins Cameo
(New and On Sale!)


Sample decorated with Violet and African Bronze Gilder's Paste

Hooray for the Sideshow Giveaway!
Wow… between the collage sheets in the Add-On Kit and the new ones and the ones in Nichola's artwork: NINE collage sheets (!) so there's an extra photo below to show them all.
I started with these goodies from Nichola's Side Show Ballyhoo Stage (note: that's a link to photos of ALL the supplies… even more than this list):
– Run Away and Join the Circus Add-On Kit Just Put On Sale!
– Vintage Magician Posters Collage Sheet
– Aerialists Collage Sheet
– Chipboard Steamer Trunk
– Gypsy Coin Mix
And ALL THREE of the new collage sheets
– Circus Folk
– Tattooed Ladies
– Sideshow Folk
And finally, the decorated sample made from a new 40x30mm Halloween Siamese Twins Cameo in a 40x30mm Black Resin Setting.

To enter the Sideshow Giveaway drawing all you have to do is leave a comment BELOW on this blog post TODAY OR TOMORROW (the deadline is 11:59 pm PST, FRIDAY, May 29, 2015)! AND tell me which of Teri's new Sideshow Collage Sheets you like best OR what you'd make with one of the 40x30mm Halloween Siamese Twins Cameos.
Don't forget to leave your (hello! correct) email address, too, so I can contact the winner; your email address does not need to be made public. Note: I'm offering free shipping, too, but only within the USA. International shipping will still apply.
Please be patient! Spammers try to post crap here a lot so comments are moderated. So if you don't see your post in the comments section, be patient and check back in a few hours before re-posting it, please!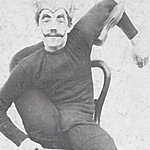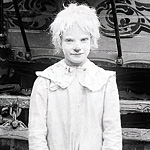 After midnight, I'll randomly pick the winner (via Random.org). So check your mailbox on Sunday morning to see who won and for the next Giveaway and Newsletter!
Hey, who won the Curio Shoppe Props Giveaway? That would be Mary! (And she commented: "I love the Masquerade mask on the top. Eye-catching and I love golden items. My favorite is the suitcase of wands… and a bicycle that is smaller than the wands. That makes me think it is all very magical, and that makes me smile.") Please check your email for my message about getting your mailing address.

Posted by Leslie, May 28th, 2015