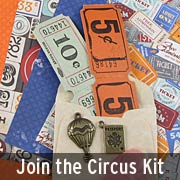 A reminder before getting to the beautiful artwork by Laura Carson (and Gilder's Paste Sale), the Half Price Sale on Circus Rubber Stamps and Circus Collage Sheets (and FREE collage sheet offer) announced in Sunday's Newsletter continues through Friday, May 15th. And why an extra week… because of the May Kit Theme: Run Away and Join the Circus. Note: the Tim Holtz stamp sets are on sale for 20% off — still a great deal!

Design Team Member Laura Carson has a special treat for you today, and It's All About Shoes!
"What can I say, a girl has gotta have her shoes! And for those of you who also love shoes, I have some shoe themed projects to share with you."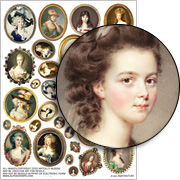 Laura created mini-shoe picture stands that are simple to make with endless style and theme possibilities; using her her two new collage sheets, Elegant Shoes (which has also has a Download Set) and Portraiture.
Gorgeous embellishments abound from the twinkling Bronze Slider Beads, the Fern Fronds Die-Cut Chipboard Set, and the stunning Calla Lily Leaf Charms that Laura used throughout her frames.
Also used on assorted frames are the Silicone Molds Oval Mirror Frames and Royal Icons. So many different uses, and with a bunch of projects brewing I can't wait to use the Oval Mirror Frames to make a Mirror Mirror on the Wall for a haunted house!
"The inspiration for this shoe (at left) is the Die-Cut Black Wrought Iron Fence Wrap. It's been sitting on my work desk for a couple of months waiting for inspiration to hit. At the same time I've been thinking about making some paper shoe patterns (I know some of you have been asking for me to do paper shoes). As I was working on a pattern I started thinking "why not make this really simple so that more people will want to give it a try". By using the wrap it takes away some of the complexity of cutting and fitting together a pattern."
The Eiffel Tower Die-Cut Chipboard makes quite the fabulous heel don't you think? As always Laura paid infinite attention to detail and stamped the Eiffel Tower with the French Floral Collage Rubber Stamp for a little extra French flair.
It's All About Shoes Supply List for your review and then high step it on over to Laura's blog for a ton of pictures and tutorials on how to make it all!


Hooray for the Pretty and Peach Giveaway!
I've included these goodies from Laura's It's All About Shoes (note: that's a link to photos of ALL the supplies… even more than this longish list):
– Elegant Shoes Collage Sheet (New!)
– Portraiture Collage Sheet (New!)
– Bouguereau #2 (Spinning) Collage Sheet
– Go Away, I'm Reading – Banner Collage Sheet
– 18th Century Chipboard Shoe
– Eiffel Tower Die-Cut Chipboard (New!)
– Almanac 6×6 Paper Pad — yes, a whole, fat pad! See below right for another photo of some of the yummy pages in this set (Back in Stock!)
– Antique Gold Square Filigree
– 20mm Leaf Sprigs (New!)
– Calla Lily Leaf Charms (New!)
– Bronze Tassel Charms
– Die-Cut Black Wrought Iron Fence Wraps (New!)
– 1/2 Inch Pale Pink Paper Roses
– Mulberry Paper Lily Mix
– Light Tan Wide Lace
– 1 Inch Natural Cotton Lace
– White Seam Binding
And a couple more things while I was in the ribbon room (yes, there is one!):
– Grecian Pink Seam Binding
– Printed Canvas Ribbon – Crowns

To enter the Pretty and Peach Giveaway drawing all you have to do is leave a comment BELOW on this blog post TODAY OR TOMORROW (the deadline is 11:59 pm PST, FRIDAY, May 8, 2015)! AND tell me which of the techniques in Laura's tutorial (or supplies she used) you want to try out.
Don't forget to leave your (hello! correct) email address, too, so I can contact the winner; your email address does not need to be made public. Note: I'm offering free shipping, too, but only within the USA. International shipping will still apply.
Please be patient! Spammers try to post crap here a lot so comments are moderated. So if you don't see your post in the comments section, be patient and check back in a few hours before re-posting it, please!
After midnight, I'll randomly pick the winner (via Random.org). So check your mailbox on Sunday morning to see who won and for the next Giveaway and Newsletter!
Hey, who won the Run Away and Join the Circus Giveaway ? That would be DebR! (And she commented: "That is so much fun, love Kristin's amazing circus. Have to say my very favourite performers from her circus are the lions, can't resist those critters!") Please check your email for my message about getting your mailing address.

Posted by Leslie, May 7th, 2015