Just one announcement before getting to the eye candy (artwork today by TWO Design Team Members, and lots of pretty miniatures)!
We have a NEW FREE collage sheet offer starting today: a FREE Fairies Collage Sheet with every order! Your free sheet will be Leslie's choice from the Fairies Collage Sheets. PLUS: that section is ON SALE for 50% off for this week only (and remember: all the collage sheet are on sale for 15% off). Note: if you order any of the Fairies Collage Sheets, we'll try to give you a free one that doesn't duplicate your order (so you'll have a surprise). Fairies Collage Sheets Sale ends Friday night, May 1st.

Fairies? How did I possibly pick out the Fairies Collage Sheets section for this week's sale, with new artwork by Design Team Member Nichola Battilana? The little imps on Nichola's awards may not have wings, but the sweet children with wands, "potted" in moss and paper flowers just feel like fairies to me!
"I'm not too proud to admit that this year has been a bit difficult for me creatively. I've been creating work. I've even made some things that were quite nifty… but I've kinda felt 'disconnected' with my work.
Anyway, I finally feel as though I'm getting back on track. I've got one or two projects I can't show off just yet, but I also made something just for the hell of it that I think you'll like. Some Very Important Altered Awards"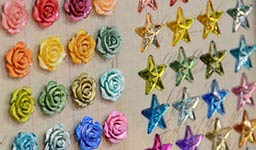 Very Important Altered Awards are made from simple, plastic trophy cups, similar to the Tim Holtz Mini Trophy Cups. You can do some great faux finishes using Alcohol Inks and Distress Paints. As you can see the Mirrored Stars give just the right amount of sparkle and shine. By the way — those Mirrored Stars are faceted AND they take Alcohol Inks really well!
More pictures of the Altered Awards are on the Pixie Hill Blog.
And check below because Leslie has picked out some impish collage sheets (and butterflies & ladybugs) for the Fairy Luggage Giveaway, to make your own version of Nichola's awards!

Next up we have The Doll Collector by Design Team Member Rhonda Secrist Thomas, using the Steamer Trunk Mini Kit (plus the Mini Striped Grosgrain Ribbon, Tiny Gold Buckles and Tiny Vintage Letters & Postage Collage Sheet from the Vintage Vagabond Kit). I love the choice of using the sage green paper from the Sweet Paris 8×8 Paper Set on the outside of the trunk.
The Doll Collector travels the world, collecting beautiful old dolls to bring home and keep her company in her art studio. She needs plenty of room because no doll can be left behind.
The Doll Collector has many letters and postcards from all around the world. Her contacts let her know when they have found more darlings for her to collect. It was super easy to create this bundle of letters. All I did was cut, fold, and glue images from Tiny Vintage Letters & Postage Collage Sheet. Some letters are even double sided!
Here is Rhonda's Supply List and see her blog for more info (like some tips on aging that clasp (on the outside of the trunk — from the Shabby Chic Metal Door Locks) and on burning the edges of the ribbon to stop fraying).


Hooray for the Fairy Luggage Giveaway!
This list of goodies jumps around a bit but I think they all get along well.
First, a couple collage sheets from Rhonda's The Doll Collector artwork:
– Dolly & Me Collage Sheet
– Dolls in the Attic Collage Sheet
Then, a few things I think would make fun Very Important Altered Awards:
– Tim Holtz Mini Trophy Cups (sitting on two 1-1/2 Inch Wooden Cube Blocks and a 1-1/4 Inch Wooden Cube Block}
– Colorful Butterfly Buttons (the same ones Nichola used)
– Little Imps Collage Sheet
– 9x13mm Ladybugs
– 1 Inch Miniature Chickadee
– Fairy Vial
– 12mm Acrylic Rose Beads – Mixed Colors
And FOUR of the new items:
– Miniature Metal Purse Tin
– Miniature Metal Suitcase Tin
– 3D Bronze Pointing Hands (two)
– 3/4 Inch Lightweight Skeleton Keys (a set of 5)
And from the Fairies Collage Sheet Sale:
– Just Wings Collage Sheet
– M for the Magpie Collage Sheet
– Vintage Postcard Fairies Collage Sheet
– Fairy Labels and Ads Collage Sheet (which brings us up to 7 collage sheets… so many I had to take another photo below to show them all)

To enter the Fairy Luggage Giveaway drawing all you have to do is leave a comment BELOW on this blog post TODAY or TOMORROW (the deadline is 11:59 pm PST, MONDAY NIGHT, April 27, 2015). AND tell me which parts of this mix of supplies you'd use together — and what you'd like to make.
Don't forget to leave your (hello! correct) email address, too, so I can contact the winner; your email address does not need to be made public. Note: I'm offering free shipping, too, but only within the USA. International shipping will still apply.
Please be patient! Spammers try to post crap here a lot so comments are moderated. So if you don't see your post in the comments section, be patient and check back in a few hours before re-posting it, please!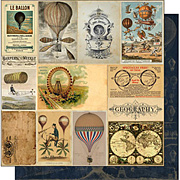 After midnight, I'll randomly pick the winner (via Random.org). So make sure to check back to see who won! And check your mailbox on Thursday morning for the next Giveaway and Newsletter!
Hey, who won the Time Keeper Giveaway? That would be Helen! Please check your email for my message about getting your mailing address. (And Helen commented, "It is so hard to pick a favorite! I pick the Exploratorium Time Keeper Scrapbook Paper. I love the hot air balloons, but the diver's helmet is just too perfect to use for a gift I want to make my husband!")

Posted by Leslie, April 26th, 2015