Just one announcement before getting to the eye candy…
The Collage Sheet Sale and FREE Collage Sheet offer from Thursday's Newsletter is still on offer! And if you missed that Newsletter, you can still view the lovely little Fairy Gazebo by Nichola Battilana!

It's time to announce the March Kit: Marie in Wonderland!
This kit's theme took a last-minute swerve and has landed on "Marie in Wonderland" (though "Marie Antoinette at a Tea Party" may be closer to the theme). But who knows: you may think up a project with Alice & The Mad Hatter meeting up with Marie at a tea party!
Look at that clever (and beautiful!) artwork by Design Team Member Kristin Batsel! I designed the (New!) Die-Cut Chipboard Panniers Dress to fit some of the dresses on the (New!) Marie Takes Tea Collage Sheet (with that cut-out in the skirt, you can layer papers or fabrics underneath for some sumptuous pattern-play… or back the opening with a Tiny Paper Mache Box for a tiny shadowbox scene — like in that little photo at left).
But Kristin went a step farther and turned the chipboard dress into curtains at the top of her "sweets shoppe"! I love that little flag she made with a snippet of pink striped paper from the Homemade With Love 12×12 Collection Kit (topped with one of the new (swoon-worthy) Aqua Blue Flower Stamen — and there are 10 new colors of Flower Stamen!).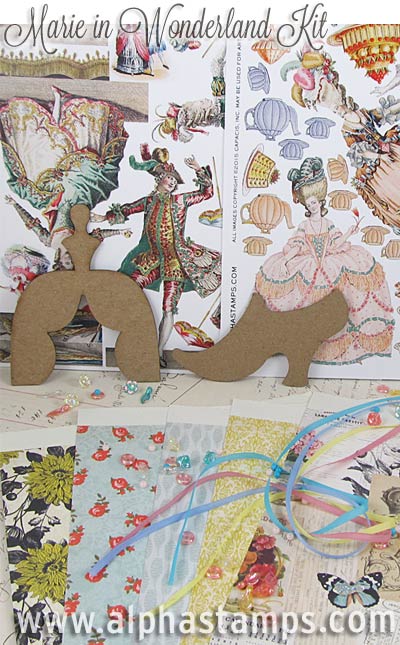 You'll want to see all the tips Kristin shares on her blog post, like making the 3D bows on the sides of her curtains from Paperclay and the (New and On Sale!) Mini Bows Silicone Mold (and how she made little cherries for the top of the Ceramic Cupcake Beads with seed beads).
Ooh, and another tip, see that aqua Tea Party Heart Doily at the top of her artwork (and a close-up at left)? She just used a black marker to emphasize the raised areas on the lace border and the "Tea Party" lettering… clever!
There are TWELVE sheets of coordinating 6″ x 6″ papers in the kit — all 12 designs in the Harmony 6×6 Paper Pad. A few show in the bottom of the kit photo at right. From birds (and feathers and birdcages) to butterflies and damask prints and multiple styles of flowers; all in a nice small scale to fit with the size of the ladies (and some satin-clad gentlemen!) in the new collage sheets.
See the Marie in Wonderland Kit page for more kit details. Note: all the papers, die-cut chipboard, ribbons and collage sheets in the kit are On Sale, too!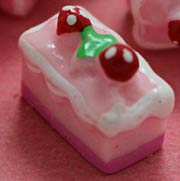 And there are more new paper sets from the Harmony Collection, too — and more tiny cakes and trims not in the kit (see below for more info).
And don't forget to scroll down to check out today's Giveaway that includes bunches of the goodies Kristin used in her Teas & Treats artwork!

New Goodies (not included in the kit) – ALL On Sale! View All (Yes, there's more!)

TEN New Colors of Flower Stamen! View ALL

Hooray for the Marie in Wonderland Giveaway!
I started with all of these goodies from Kristin's Teas & Treats (note: that's a link to photos of all the supplies):
– A Marie in Wonderland Kit (everything in the kit, including these items used in Kristin's artwork: Die-Cut Chipboard Panniers Dress, Marie Takes Tea Collage Sheet, French Ballet Costumes Collage Sheet)
– Mini Strawberry Cake
– Mini Heart Tart Cake
– Ceramic Cupcake Beads
– Flower Stamen – Aqua Blue
– 27mm Resin Tea Party Heart Doilies
– White Dresden Border Sampler Set (Kristin cut out half-circles from the strip of Half-Round Dresden Borders and made tiny doilies under the cakes in her shoppe!)
– Tiny Paper Mache Box Set (actually, 2 little boxes so you can make a little cake shoppe like Kristin's!)
And, I am also adding these items not specifically in Kristin's artwork (And ALL On Sale!):
– Alice Pink Eat Me Cookies (New! And see the close-up below for a better look)
– Harmony 6×6 Paper Pad (New and also included in the March Kit!)
– Mad Tea Spot of Tea Scrapbook Paper (that pink, cream & gold paper in upper left of photo)
– Metal Flowers (Roses) – 6mm Magenta
– Metal Flowers (Roses) – 6mm Green
To enter the Marie in Wonderland Giveaway drawing all you have to do is leave a comment BELOW on this blog post TODAY or TOMORROW (the deadline is 11:59 pm PST, MONDAY NIGHT, March 2, 2015).
Don't forget to leave your (hello! correct) email address, too, so I can contact the winner; your email address does not need to be made public. Note: I'm offering free shipping, too, but only within the USA. International shipping will still apply.
Please be patient! Spammers try to post crap here a lot so comments are moderated. So if you don't see your post in the comments section, be patient and check back in a few hours before re-posting it, please!
After midnight, I'll randomly pick the winner (via Random.org). So make sure to check back to see who won! And check your mailbox on Thursday morning for the next Giveaway and Newsletter
Hey, who won the Fairy Gazebo Giveaway? That would be Heather! Please check your email for my message about getting your mailing address.

Posted by Leslie, March 1st, 2015