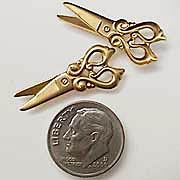 A couple quick announcements before Miz Bella (Kim Ayers) introduces an adorable sewing project by Caroline Ouzts-Hay.

TODAY is the final day of the Sale on ALL Buttons, Vintage Sewing & Cooking Collage Sheets AND Household Charms — all On Sale through Sunday night, February 15th!

See last Thursday's Newsletter for new mushrooms that inspired the Garden Fairy Home FREE Gift Kit (still available). And artwork by Rhonda Secrist Thomas AND a big bunch of new Tim Holtz products… More info


I've been in a sewing mode lately. Something about the cold weather and sewing seems to go hand-in-hand for me and then I saw Design Team Member Caroline Ouzts-Hay's Cute As A Button Kit project. It's sew perfect! (Pun quite intended!)
Caroline's adorable Mini Victorian Kittens Needle Book measures just 3-3/4 x 4-1/4 inches. She says: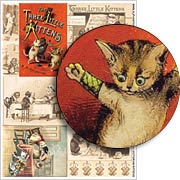 "The Victorian Kittens Collage Sheet images did not come on fabric so I tea stained some white cotton, ironed it onto some freezer paper and then ran it through my printer (only praying a little bit!) If that's not for you, Alpha Stamps carries some ready made, Fabric Printer Sheets. I really love the vintage look that I achieved!
Inside I created a pocket to hold scissors etc. and stamped it with the sewing machine from the (New and On Sale!) Sewing Notions Unmounted Rubber Stamp Set (images from this set are also stamped on the front and back covers).
The (New and On Sale!) Colorful Leaf Stick Pins are a quick way to add color (and peeking out from behind that felt page is one of the Painted Cat Head Buttons).
Look at that little (Back in Stock) Antique Silver Birdcage Charm that is sewn onto the 'page' with the Printed Burlap. Even more sweet images from the Sewing with Kitty Collage Sheet, (and my favorite) tiny 6mm Heart Buttons — the entire book is just ridiculously over-the-top cute. Sorry, can't think of another word for it!
Here's Caroline's supply list, and you can mosey on over to Caroline's blog to see more pictures and a few more details at her blog.


Hooray for the Fabric Needle Book Giveaway!
I may have gone a bit crazy with ribbons for this Giveaway (see below for more ribbons than would fit in the main photo — and the photo on the blog post version of this newsletter can be clicked on to view a larger photo), but first…
Here are all of the items I included from Caroline's Mini Victorian Kittens Needle Book (note: that's a link to photos of all the supplies):
– Victorian Kittens Collage Sheet (just put On Sale!)
– Rayon Cording – Solids (Siam Red)
– Crocheted Cotton Lace Trim
– Wood Mini Spools
– 6mm Heart Buttons
– Doll Buttons – 6mm Mix
– Seam Binding – Art Nouveau Colors (Grecian Pink)
– Velvet Ric Rac – Sweet Pea
– Sewing with Kitty Collage Sheet
– Painted Cat Head Buttons
– Colorful Leaf Stick Pins (New!)
Then, I added these goodies:
– Yellow Measuring Tape Twill
– Printed Burlap Ribbon – Snowflakes
– 1/8 Inch Red Railroad Stripe Ribbon
– Printed Canvas Ribbon – Bees
– 3/16 Inch Blue Denim Ribbon
– 1/8 Inch Linen Braid
– Mini Wooden Clothespins
– Resin Button Set (just put On Sale!)
– Butterfly Garden Gift Kit (an extra from last week but the Butterfly Buttons are still on sale)

– Mittens Collage Sheet (just put On Sale!)
– plus a few bits of lace & ribbons
To enter the Fabric Needle Book Giveaway drawing all you have to do is leave a comment BELOW on this blog post TODAY or TOMORROW (the deadline is 11:59 pm PST, MONDAY NIGHT, February 16, 2015). AND… tell me if you've printed on fabric with your home printer or rubber stamped on fabric (or both).
Don't forget to leave your (hello! correct) email address, too, so I can contact the winner; your email address does not need to be made public. Note: I'm offering free shipping, too, but only within the USA. International shipping will still apply.
Please be patient! Spammers try to post crap here a lot so comments are moderated. So if you don't see your post in the comments section, be patient and check back in a few hours before re-posting it, please!
After midnight, I'll randomly pick the winner (via Random.org). So make sure to check back to see who won! And check your mailbox on Thursday morning for the next Giveaway and Newsletter
Hey, who won the Kittens & Mushrooms? That would be Ginette! Please check your email for my message about getting your mailing address.
Posted by Leslie, February 13th, 2015