A couple quick announcements before Miz Bella (Kim Ayers) introduces some beautiful new artwork from the Design Team.

First: the artwork for the Home for the Holidays Swap is in the Gallery! (And that adorable house at left is by Teri Steele!)

Second: there's a new FREE Gift Kit: Juliet Cards, which includes an exclusive, mini collage sheet with images sized for making your own Juliet cards (inspired by Rhonda's artwork… read more below). More info


Design Team Member Rhonda Secrist Thomas is here with a gorgeous set of cards as her offering for the Star Crossed Lovers Kit and Add-On Kit. About her cards Rhonda said:
"How will the man make the woman's heart feel today? Will he be passionate, absent, loving, needy, missing, or short? Leave her wondering what the heck is going on or make her feel high on a cloud? Well, my cards can't tell her that but they sure do look beautiful."
Yes indeed they are! Majestic roses from the Red Roses Collage Sheet and the lovely contrast of the green and turquoise from the New Yesterday Beautiful Past Scrapbook Paper are the base of Rhonda's Love Her, Love Her Not Fortune Cards. Gilt, flowers and a bevy of babes — what more could you ask for?
Rhonda and her fortune telling cards have me thinking I should make my own set with the Blank Playing Cards. Making your own set would be quite fun, don't you think?
You'll want to have all of the fabulous supplies Rhonda used, so here's her Supply List. After you take a look at the supplies, swoon on over and see Rhonda. She will walk you through how she created the sweet holder for her cards on her blog.
(And then come back! 'Cause Leslie has pulled a loverly Giveaway with lots of the items Rhonda used… and the Back in Stock Square Paper Mache Box is a perfectly-sized substitute for the found box Rhonda decorated… AND there's a New Juliet Cards FREE Gift Kit inspired by Rhonda's artwork!)


Hooray! A Juliet & Roses Giveaway!
I started by picking out a few (?!) items from Rhonda's Love Her, Love Her Not Fortune Cards (Psst! that's a link to see all the items in Rhonda's supplies, with photos):
– Yesterday Beautiful Past Scrapbook Paper
– Black Sweeper Fringe
– Blank Playing Cards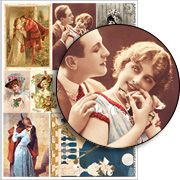 – Vaguely Valentine Collage Sheet
– Flower and Leaves Dresden Borders – Antique Gold
– Gardenias – Cream-Pink-Brown
– Gold Zig Zag Dresden Borders
– Juliet Collage Sheet
– Queen of Hearts #3 Collage Sheet
– The Balcony Collage Sheet
– Red Floral Dresden Hearts
– Red Roses Collage Sheet
– Spanish Crowns Collage Sheet
– Matte Acrylic Heart Bead Mix*
– Thin Fleur Dresden Borders – Turquoise
– Vintage French Ads Collage Sheet
– Narrow Gold Fleur Dresden Borders
Then I grabbed a couple of the New items:
– 9mm Heart Charm Set
– Cherub Metal Box Feet Set (love these!)
And one of the Juliet Cards Gift Kits!
To enter the Juliet & Roses Giveaway drawing all you have to do is leave a comment BELOW on this blog post TODAY OR TOMORROW (the deadline is 11:59 pm PST, FRIDAY, January 9, 2015)!
Don't forget to leave your (hello! correct) email address, too, so I can contact the winner; your email address does not need to be made public. Note: I'm offering free shipping, too, but only within the USA. International shipping will still apply.
Please be patient! Spammers try to post crap here a lot so comments are moderated. So if you don't see your post in the comments section, be patient and check back in a few hours before re-posting it, please!
After midnight, I'll randomly pick the winner (via Random.org). So check your mailbox on Sunday morning to see who won and for the next Giveaway and Newsletter!
Hey, who won the Star-Crossed Lovers TWO-Kit Giveaway? That would be Debra Gibson! Please check your email for my message about getting your mailing address.
Posted by Leslie, January 8th, 2015