Wow. There is a whole lotta air blowing around outside. I know, with this drought, we've become unaccustomed to storms, but this one seems like it will be a doozy. So, just a couple quick announcements before Miz Bella (Kim Ayers) introduces artwork from TWO Design Team Members.

First: TODAY (December 11th) is last day to order if you need to receive your order by Christmas eve.

Second: FLASH Sale! Today only, I've put the ENTIRE Tools and Dies Section on sale for 25% off!

Third: there's a new FREE Gift Kit: Holiday Gift Box Trims! I've put together three different little sets of ribbons and shiny bits for making art or for decorating a gift. More info


Baby it's cold outside! Just look at the crisp clear star lit night and you can see for yourself the temperatures have dropped. So step inside the antique candle lantern where we'll be snug and warm, and the weather will be outside. Our house is sparkling with diamond dust and prettily decorated for the season with bulbs and a warm glow from the lights inside. How could we be more snug? If we peek outside we can see Santa is up on the roof about to come down the chimney, and look, there's even a sweet little deer passing through the snow. I think I hear sleigh bells…
How adorable is Design Team Member Jeanne Draachreider's snug and cozy Glitter House inside a vintage candle lantern?
Using the December 2014 – 3D House Ornament Kit and the Glitter Houses Add-On Kit along with a little bit of Jeanne's magic she created the little winter scene inside of a thrifted candle lantern.
Jeanne has also created a tutorial for you! Here's just a bit from it:
"I painted my house white, used the Gold Zig Zag Dresden Borders from the December Kit for some shine, a little piece from the Christmas Stocking Stripes Collage Sheet as a decoration in the top center of the house, and Stickles Dry Fine Glitter – Christmas Red to glitter up the decorative windows and doors. I covered the chimney in decorative red paper, and will use the corrugated paper for the roof."
Sadly for us, this will be Jeanne's last project with us as an Alpha Stamps Design Team Member. Damn that real-life for cutting into our fun! We've greatly enjoyed having Jeanne on the Design Team and her creations, amazing tutorials and hope to have her come back as a future Guest Designer from time-to-time. Best wishes and lots of love to you Jeanne!

Show Jeanne some of your love after you check out her Supply List, and head on over to her blog to view her tutorial and tons of photos!
Next up is the super cute and sparkly Tiny Little Glitter House by Design Team Member Caroline Ouzts-Hay.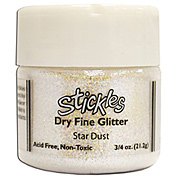 "I built everything on top of a Medium Craft Shadowbox so that I could hide all the light components inside the box. The house is built out of the Christmas Collage Flurry Paper that I then coated with Stickles Dry Fine Glitter – Star Dust (also included in today's Giveaway).
"Normally I would have used Dresden Borders to outline the windows and roof; but I wanted everything on the house to be glittered so I created strips of gold glitter. The doors and windows come with frames designed on them so I just covered those with the glitter and added them to the house."
Caroline also got to play with some Snow-tex (Dimensional Snow) and discovered that it is a lot lighter than modeling paste. It really looks like the fence and house have snow banks all around! It can also be used to write or draw on wood, plastic, paper, glass, resin, foam, fabric and more.
You can find more pictures and details about Caroline's Tiny Little Glitter House on her blog And here's a link to Caroline's Supply List. (And check below for a Giveaway Leslie picked out that includes supplies from both of these projects!)


Hooray! A Glitter Houses Giveaway!
I started by picking out a few items from Jeanne's Glitter House:
– December 2014 – 3D House Ornament Kit (That's twelve items all by itself!)
– Glitter House Template Collage Sheet
– 28mm Santa Claus Cabochon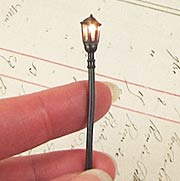 Then I picked out a few more items from Caroline's Tiny Little Glitter House:
– Stickles Dry Fine Glitter – Star Dust
– Santa is Outside Collage Sheet
– Lamp Post with Light (two of them!)
And a set of the Holiday Gift Box Trims!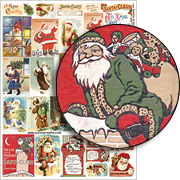 To enter the Glitter Houses Giveaway drawing all you have to do is leave a comment BELOW on this blog post TODAY OR TOMORROW (the deadline is 11:59 pm PST, FRIDAY, December 12, 2014)!
Don't forget to leave your (hello! correct) email address, too, so I can contact the winner; your email address does not need to be made public. Note: I'm offering free shipping, too, but only within the USA. International shipping will still apply.
Please be patient! Spammers try to post crap here a lot so comments are moderated. So if you don't see your post in the comments section, be patient and check back in a few hours before re-posting it, please!
After midnight, I'll randomly pick the winner (via Random.org). So check your mailbox on Sunday morning to see who won and for the next Giveaway and Newsletter!
Hey, who won the Santa's Village Giveaway? That would be Gerri Herbst! Please check your email for my message about getting your mailing address.
Posted by Leslie, December 11th, 2014