Note: most of the links on this post no longer work, as we moved to a new Web site in 2018. However, you can see the supply list items from Caroline's and Teri's projects that are still available on the new site.
Before I hand off the first bit of this intro to Miz Bella (Kim Ayers), I have to say the variety and colorfulness (?) of all the artwork today is amazing. And for those of you blanketed by early snow, I hope it will warm you up a bit.

Reminder: This Sunday, November 16th is the final day of the Paper Dolls & Models Collage Sheets Sale! (On sale in honor of the mini cigar box paper models in the November 2014 – Cigar Box Sweeties Kit.)


Design Team Member Caroline Ouzts-Hay has created a very clever Cigar Box Book with Nesting Boxes with components from the November 2014 – Cigar Box Sweeties Kit and Add-On Kit.
Tiny Cigar Boxes within a cigar box within a book. How fabulous! You all know how much I love secrets, places to hide secrets and this creation would be most perfect. Caroline said:
"I used a ton of different papers on this project from the Cigar Box Secrets Paper Collection. The papers are so rich and coordinate so well. To hold the tiny cigar boxes I built up two openings. You can take the tiny cigar boxes out to use or just keep them inside this book."
Beautiful Red Roses Dresden Scraps and rich Gold Dresden add a Victorian touch to the boxes. I really like how Caroline used the Gypsy Coin Mix on her piece as well, giving it an even more 3D effect. Here's Caroline's full Supply List.
You'll want to make your own, you know you will! Caroline has created a tutorial for you, so now you must let your creative muse out to play. This project would be great if you are giving out gift cards at the holidays instead of just putting them into a boring card. Or! How about making one and putting bits of ephemera inside each box for a friend who shares the same madness as we all do for creating? Valentines Day is coming up — what sort of sweet nothings could be housed inside?
While the wheels are spinning, grab your glitter and head on over to Caroline's blog to see more pictures and the tutorial.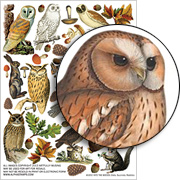 Before we move on to the new items (and the Giveaway!) just peruse the lovely artwork by Laura Carson and Teri Calia — both using the New Into the Woods Collage Sheet, designed by Laura! Such varied artwork inspired by the same source!
So clever of Laura to coat the Dead Tree Cut-Outs with Diamond Dust. And I love the Woodland Storage Tower Teri made from the New and On Sale! Paper Mache Box Mini Tower! The new Forever Green – and Autumn FREE Gift Kit is also inspired by Teri's artwork (one is included in today's Giveaway, too).
Note: click on either photo below to go to Laura and Teri's blog posts to learn more and see more photos.


Hooray! A Forever Green Tower Giveaway!
In addition to these goodies from Teri's Woodland Storage Tower (note: that's a link to the supply list with links and photos):
– Forever Green Scrapbook Paper – Botanical Garden
– Forever Green Scrapbook Paper – Orchard Fresh
– Forever Green Scrapbook Paper – Spread Your Wings
– Into the Woods Collage Sheet
– Paper Mache Box Mini Tower
(Psst! All of those Forever Green Scrapbook Papers are On Sale!!)
I also added:
– Falling Leaves Collage Sheet (That Laura used in her artwork above — and that coordinates beautifully with this fall palette)
– Kraft House-Shaped Gift Tags
– And TWO Squirrel Collage Sheets that I just put On Sale!!:
– S for the Squirrel Collage Sheet
– More Squirrels Collage Sheet
(see the wide photo below for all of the collage sheets)
And a Forever Green – and Autumn Gift Kit! Plus, I included all 6 of the paper options from the Forever Green 6×6 Paper Pad (that's part of that gift kit — and the Mini Oak Leaves in Bag that are scattered about in my photo are in the gift kit, too)
To enter the Forever Green Tower Giveaway drawing all you have to do is leave a comment BELOW on this blog post TODAY OR TOMORROW (the deadline is 11:59 pm PST, FRIDAY, November 14, 2014)!
Don't forget to leave your (hello! correct) email address, too, so I can contact the winner; your email address does not need to be made public. Note: I'm offering free shipping, too, but only within the USA. International shipping will still apply.
Please be patient! Spammers try to post crap here a lot so comments are moderated. So if you don't see your post in the comments section, be patient and check back in a few hours before re-posting it, please!
After midnight, I'll randomly pick the winner (via Random.org). So check your mailbox on Sunday morning to see who won and for the next Giveaway and Newsletter!
Hey, who won the Christmas Swap Giveaway? That would be Marty P! Please check your email for my message about getting your mailing address.

Posted by Leslie, November 13th, 2014