What a colorful, artwork-packed newsletter in store today! I'm going to hand this off to Design Team Coordinator Miz Bella (Kim Ayers), to introduce two lovely projects using the November kit, then I'll take back the reins to announce our Annual Christmas Ornament Swap (yay!) including some artwork by Miz Bella herself!
To get you ready for the swap, all the Christmas Collage Sheets and Christmas Rubber Stamps are On Sale!

Design Team Members Lora Mahaffey and Jeanne Draachreider have two fabulous projects for you today from the November 2014 – Cigar Box Sweeties Kit.
Lora's 3 lovely, Cigar Box Beauties Plaques are inspired by the gorgeous women who graced old-time cigar boxes. Lora used some scrap wood cut into ATC-sized blocks. They're about 1/2 an inch thick, but you could also use a couple of the Masonite ATCs glued together with the ribbon sandwiched between them, or use an ATB Wood Block and make them stand alone pieces.
Don't you think that the trim from the Gold Ric Rac Dresden Border Trim Set looks like it could have come off of a real cigar box or cigar band? Lora used White Adhesive Foam on Roll on the back of the beauties to make them stand out a bit, glued ribbon on the sides of the plaques and added some pretty Paper Roses to dress up the ends of the ribbon and add some extra ornament. I think that they'd look fabulous hanging off of a Christmas tree (yes! I said the C word and not "holiday"), off of a door handle for just an extra special decor touch, or even off of a drawer knob.
Check out Lora's Supply List!
Jeanne has created a mahhvelous Trinket Chest with a full, step-by-step tutorial so that you can make your very own. Love, love, love how Jeanne used the Tiny Cigar Boxes as "drawers" and set them off center from one another. Jeanne said:
"Let's get a little non-traditional with this trinket chest, shall we? As many of you know Laura Carson already makes the most beautiful Matchbox Chest and Writing Desk tutorials, and who can follow that act? I knew I wanted to build a chest, but how could I make it different than the traditional stacked drawers?
Well, what if I made it a-symmetrical? Offset the boxes with and drawers in a non-traditional stack. AND… what if I then stair-stepped to recede back as they went up? Well, that's what I did. It really wasn't any more challenging than the traditional stacking boxes or drawers… well, almost. I sketched it out on graph paper first to be sure it could be done so now you have the benefit of a visual guide to go help you with your own build."
Take a look at Jeanne's components.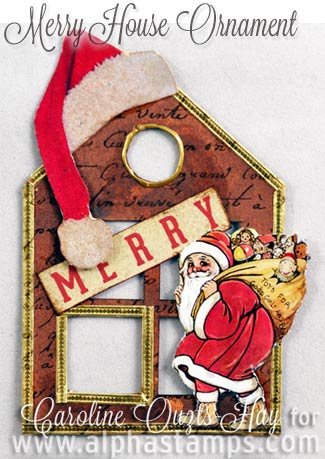 We're hosting a Home for the Holidays Swap! It's time for our annual Christmas ornaments swap!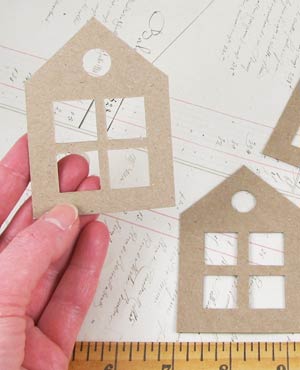 The Home for the Holidays Swap requires that you create 3 festive houses using our Die-Cut Chipboard Houses with Windows and at least one image from any Alpha Stamps Collage Sheet or Rubber Stamp.
AND all the Christmas Collage Sheets and Christmas Rubber Stamps are On Sale!
This swap will be 3 for 3: create 3 houses and receive 3 in return, each from a different artist! Please do not send in more than ONE set (aka: maximum of three houses).
Artwork should be postmarked no later than December 10th.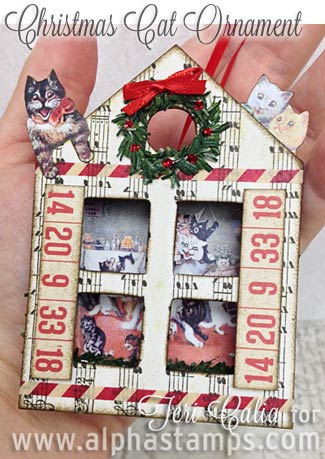 Eye Candy!
Merry House, at right, is by our swap hostess Caroline Ouzts-Hay (and more info about everything Caroline used to create her colorful sample is on the Die-Cut Chipboard Houses with Windows page). And the samples below (in that long, horizontal row) are by Miz Bella.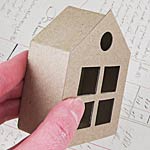 And a bit more about the new chipboard: though not exactly desireable in a swap (because they might get damaged in transit) but fabulous as tiny shadowboxes or 3D ornaments: the new chipboard is designed to fit two of the small paper mache boxes we already carry: Small Paper Mache House and Tiny Paper Mache Boxes (and both the box and the lid can be used, so you could get 2 shadowbox ornaments from one box).
And look at that wonderful Christmas Cat Ornament by Teri Calia at left! Teri makes good use of (just!) the lid of a Tiny Paper Mache Box to make an ornament with a bit of depth. See a list of Teri's Supplies then scoot over to her blog for more photos!

(Just a few of the) NEW Christmas Goodies – ALL On Sale!
Posted by Leslie, November 9th, 2014