Hee! Design Team Member Jeanne Draachreider's Little Red Riding Hoodlum Artwork is a kick! I didn't even have room to show the other panel from the Paper Mache House Accordion Shrine (but that wolf is a pretty sophisticated animal, who is not prepared for the hunter at his door).
And Jeanne provides a great tutorial for how to make a similar shrine, including that hand-crafted wolf skull on the coffin (see lower right of the photo at right).
I'll let Jeanne explain her project:
Once upon a time there was a sweet little girl named Little Red Riding Hood… who had an evil twin! This is the story of Little Red Riding Hoodlum, a self-appointed Wolf Hunter. An evil wind always whirls about her causing her red cape (red from blood?) and ribbon ties to stream in the wind. Even as she walks through a happy forest her evil aura turns the trees black and gnarled. A black gargoyle watches over her every move, and a vulture has discovered following her a worthwhile endeavor! Meals on wheels! She skulks through the dark forest in her black mask (incognito) hunting down wolves. She pulls a little red wagon (sweetly childlike) with a coffin (how demented) along with her. There is a wolf skull on top and she's marked off how many wolves have fallen prey to her relentless hunt already. She is well equipped for her task with bloody axe and knife… and as she tap tap, taps on the wolf's door with her bloody knife… Oh wait… don't worry! Fairy tales have happy endings, don't you know? It's really Halloween night and she's playing a trick on Monsieur Wolf, and won't he be amused. Yeah, that's it… Halloween… sure.
Here's the link to Jeanne's Supply List. And Jeanne's tutorial, too!
And a reminder: TODAY (August 21st) is the final day of the Brothers' Grimm Collage Sheet Sale!
I also want to mention the New Spooky Skulls FREE Gift Kit! Plus, don't forget to enter the new Giveaway (more info below)!

New FREE Gift Kit

And the winners of the Dragonfly Chipboard Tabbed Albums!

WINNERS of the Special Dragonfly Chipboard Tabbed Album Giveaway
(for TEN lucky winners — randomly chosen from all orders placed August 14th through 18th):
Joan Allard
Suzy Bee
Rita Juran Johnson
Sarah Dressler
Terry Webster
Julie Snow
Tawnya Payton
Corry Bouland
Daisy McGillvrey
Denise Abell
Congratulations! Your albums are shipping with your orders.



Spooky Skulls FREE Gift Kit!
I've put together this little exclusive Alpha Stamps' mini kit containing FIVE scrapbook papers (with a mix of patterns in a dark, moody palette) AND 2 each of the New Gold and Silver Tiny Skull Beads! More info.




Hooray! A Bloody Red Riding Hood Giveaway!
In addition to these goodies from Jeanne's Little Red Riding Hoodlum Artwork (that's a link to the supply list with links and photos):
– Little Red Riding Hood Kit
– ATC Hutch and ATC Box Shrine Fence (New)
– Coffin Shrine Kit (Traditional Casket)
– Dazzles Black Thin Lines Sticker
– Miniature Red Wagon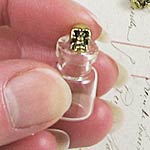 I included
– A Ceramic Ghost Bead (New!)
– Tiny Skull Beads – Gold (New!)
– Tiny Skull Beads – Silver (New!)
– A set of Even Tinier Bottles (see the photo at right showing a bottle with one of those tiny skull beads on top).
And one of the New Spooky Skulls FREE Gift Kits.
AND all 3 of the New Clearance Items:
– Odd Black Cat Postcard
– Midnight Stitched Leaves
– Haunted House Stickers
(Yes! All of these goodies, including the new clearance items in the photo below, are included in the Giveaway!)
To enter the Bloody Red Riding Hood Giveaway drawing all you have to do is leave a comment BELOW on this blog post TODAY OR TOMORROW (the deadline is 11:59 pm PST, FRIDAY, August 22, 2014).
Don't forget to leave your (hello! correct) email address, too, so I can contact the winner; your email address does not need to be made public. Note: I'm offering free shipping, too, but only within the USA. International shipping will still apply.
Please be patient! Spammers try to post crap here a lot so comments are moderated. So if you don't see your post in the comments section, be patient and check back in a few hours before re-posting it, please!
After midnight, I'll randomly pick the winner (via Random.org). So check your mailbox on Sunday morning to see who won and for the next Giveaway and Newsletter!
Hey, who won the Dr. Raven's Halloween Giveaway? That would be Bonnie! Please check your email for my message about getting your mailing address.

Posted by Leslie, August 21st, 2014