Note: most of the links on this post no longer work, as we moved to a new Web site in 2018. However, you can see the supply list items from Lora's and Rhonda's projects that are still available on the new site.
Zombies?! Before I hand over this introduction to Miz Bella, I want to point out the the New Zombie Attack Scrapbook Papers! (And oddly, with all that tan and red and black, they kinda work with the current Little Red Riding Hood Kit theme.) And the New Halloween Charms FREE Gift Kit! Plus, don't forget to enter the new Giveaway (more info below)!

Ahhhh, Little Red Riding Hood, one of my favorite fairy tales. There is also a song of the same name from 1966 — sung by Sam the Sham & the Pharoahs — that plays in my head. Repeatedly. Every time I think about the Little Red Riding Hood August Kit. I'd much rather have it be something else, such as a video of Jim Morrison dancing, naked, than that song.
However! Design Team Member Lora Mahaffey has created an ATB (Artist Trading Block) worthy of being placed on your mantle despite the never ending song making the rounds in my head. This would be a great, quick gift to put together or to make as part of your Halloween decor! Really. When you think about it, a crazed wolf eating Grandma, dressing in drag as Granda with plans to eat a sweet little girl — that's kind of creepy don't you think? Why not be different and create an entire Halloween theme around Grimm using the Grimm Fairy Tales Collage Sheets?
After covering the ATB with Double Dot Vintage Ocean Scrapbook Paper, Lora added images on both sides of the block from Red Riding Hood #1 and Red Riding Hood #3 Collage Sheets. Add some Black Zig Zag Dresden Border, 1/2 Inch Red Paper Roses and the ATB is ready to be placed on a stand and embellished!
Who doesn't love the Creepy Chipboard Tree Cut-Outs? There's so much you can do with these — and Lora will tell you how she achieved the great texture and color on hers.
Before you run off to see how she decorated the tree and made the stand for the ATB, check out her Supply List. OK, now you can run on over to Lora's blog to see how easy it is to finish this project up. Oh, and by the way — Lora is giving away the ATB so be sure to enter!

Have you heard who is in town? The Freak Show, that's who! No big surprise here folks that the resident Design Team Freak herself, Miz Rhonda Secrist Thomas created a circus with wonderfully weird characters.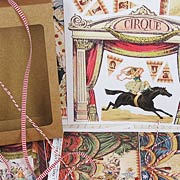 Rhonda used the July 2014 – Cirque Paper Theatre Kit as the starting point to create her circus (with a bunch of extra goodies, too, as the stage at left is only one of three in her show).
Plus she made good use of the Back in Stock and On Sale! Gold Sweeper Fringe along the edge of all 3 of her circus stages.
Ooh… see those three snippets along the bottom of the photo at left? They're my attempt to explain something clever Rhonda did: using the Tim Holtz Letterpress Wood Letters as printing blocks (by stamping onto White Crushed Silky Ribbon then flipping it over so the letters would be right-way round).
Take a peek at Rhonda's Supply List and then visit Rhonda's blog to read her fantastic descriptions and habits of the 4-Legged Lady (shown at left), Dragon Girl and the World's Smallest Drama Queen!


Hooray! A Zombie Attack Giveaway!
This Giveaway is (almost) all drawn from new items in today's newsletter! In addition to the FOUR Zombie Attack Scrapbook Papers, I've added these new goodies:
– A Zombie Hand Candy Mold (Lightweight plastic candy mold. The hands are approx 2-1/4″ tall (and about 3/8″ deep).)
– Chalkable 12×12 Black Cardstock (This heavy cardstock has a velvety touch and a matte finish. It is very porous so chalk will adhere. Best used with a spray fixative.)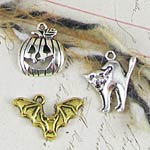 – Halloween Charms FREE Gift Kit (plus ALL of the charms from the New Gold and Silver Halloween Charm Sets that the Gift Kit includes parts of)
– TWO yards each of 1-1/2 Inch Orange Tulle and 1-1/2 Inch Black Tulle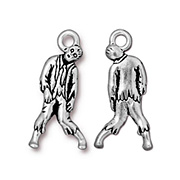 (Not a new item, but definitely fitting) A Zombie Charm
AND TWO new Clearance Sale items:
– Haunted Wax Treat Bags (Nicely designed food-safe bags with labels for spiders, flies or eyeballs. Includes 12 bags, 4 each of 3 designs. Also includes 12 clear seals.)
– Kraft Coin Envelopes (Tiny little envelopes with a gummed flap. 2-1/4″ x 3-1/2″.)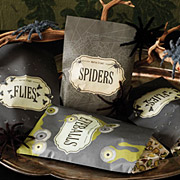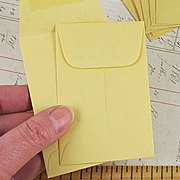 To enter the Zombie Attack Giveaway drawing all you have to do is leave a comment BELOW on this blog post TODAY OR TOMORROW (the deadline is 11:59 pm PST, FRIDAY, August 8, 2014).
Don't forget to leave your (hello! correct) email address, too, so I can contact the winner; your email address does not need to be made public. Note: I'm offering free shipping, too, but only within the USA. International shipping will still apply.
Please be patient! Spammers try to post crap here a lot so comments are moderated. So if you don't see your post in the comments section, be patient and check back in a few hours before re-posting it, please!
After midnight, I'll randomly pick the winner (via Random.org). So check your mailbox on Sunday morning to see who won and for the next Giveaway and Newsletter!
Hey, who won the Little Red Riding Hood Giveaway? That would be Ann Nye! Please check your email for my message about getting your mailing address.
Posted by Leslie, August 7th, 2014