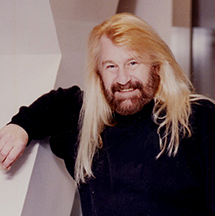 We are beyond delighted to have the Glitter King himself, Tristan Robin Blakeman, as a Guest Designer this month. If you've never seen Tristan's work he is oh-so-clever and makes the most amazing paper theatres. It is rumored that I secretly stalk him but it's no secret — he knows that I do! How could I not?
I am the world's oldest child, still getting the same thrill I got as a boy playing with colors, shapes and textures. I loves to create miniature stages, merry-go-rounds, dancers, faeries, storybook characters and tributes to old movie stars. Long believing more is more when it comes to color and dazzle, I think I would be happy if I were a wedding cake! Often I prefer working with my dog, Brando, snuggled at my feet. When it comes to collecting, favorites are "Wizard of Oz" and "Alice in Wonderland" memorabilia, as well as water ballet portraits of Esther Williams. Lastly, I live life according to my credo to the fullest: "Sparkle! Shimmer! Glimmer! Gleam!"
Using the July 2014 Kit – Cirque Paper Theatres, plenty of Dresden and images from an assortment of Circus & Clown Collage Sheets, Tristan has created an amazing circus gazebo complete with a 4-stage theatre atop for you to covet and admire.
I asked Tristan about how he created the gazebo base of his theatre because, really, the more I look at it the more I'd like to create one that has half-naked Burlesque dancers with pasties hanging off of the pillars. Wouldn't that be fabulous? Glitter, Tinsel, Rhinestones & Shiny (hineys) all over it too! But I digress in my own mind which of course we all know is a steel trap. Perhaps he even used some strange common object in his creations. Could he also be a carpenter and did he build it from scratch?
The gazebo was actually a deconstructed birdfeeder and the base is a deconstructed found bowling award plaque. I really didn't use too much weird stuff — almost everything came from the box of supplies that I was sent. Now I wish I hadn't gone so crazy and I had more of it left over! (Crafting greed and hoarding knows no bounds).
Ah Tristan, we ARE so similar in our crafting greed and hoarding! However, due to my insane need for art supplies I will be working for Alpha Stamps for at least another 50 years.
Readers, won't you join us in our greed? You don't have to go as grand as Tristan has gone — if you take a look at the top part of his circus it is 4 of the Small Paper Theatre Boxes attached to one another with a different circus scene in each one. With over 800 different Collage Sheets in stock, I'm sure you could dream up your own grand paper theatre scene. Halloween IS coming up! So are the Holidays or perhaps you would like to make whimsical theatre with Anthropomorphic Animals! If you do please be sure to email me pictures — I'm always asking yet no one ever does. Hmph.
Anyways, you must get your glitter on and sashay on over to Tristan's Web site, to see more of his over-the-top theatres. OR here on his blog to read more about this theatre! And beside the close-ups below, you can also visit the Gallery to see additional photos of the fabulous theatre he created for us!

Posted by MizBella, July 27th, 2014