Short — but very sweet! I'll let Miz Bella introduce Kristin Batsel's adorable Halloween Peg Dolls, then she'll hand the newsletter back to me to cover her own Cinderella Theatre (and some tiny books by Nichola Battilana — a follow-up to her Potter-ish Trunks from last Thursday).
Oooh that clever goil, Design Team Member Kristin Batsel. Look how flippin' cute these Halloween Peg Dolls are that she's made for Halloween! Yes, I said Halloween. Because, as you know, around here at Alpha Stamps that's our most favorite holiday and we get on it early!
Kristin started by using old-fashioned Wooden Clothespins (on Wooden Doll Stands and capped off with Wooden Doll Heads) — and all of those items are New and On Sale!
Now — for the arms! Those are easy peasy! Kristin says:
"Their arms are pipe cleaners, wrapped in embroidery floss. The clothespins don't come with holes in them to thread the pipe cleaners through. It's possible someone could wrap the pipe cleaners around the body of the doll, but it looks better if you drill a hole and poke the arm through."
Once the doll was painted Kristin used some awfully cute embellishments for each doll! Some of my favorites are the Masquerade Mask Cut-Outs, the too-cute-for-words Miniature Jack-o-Lantern Pail, the Bat Wings Cut-Outs and the Resin Skull Beads. Oh, and the eensie-weensie Halloween Micro Buttons! How could I have forgotten those?
Here's a list of components that Kristin used if you'd like to sneak a peak. Treat yourself and visit Kristin's blog to see more pictures and how Kristin decorated each doll. (Psst… scroll down to see the new FREE gift kit inspired by Kristin's dolls!)

Speaking of clever… Design Team Coordinator Miz Bella (Kim Ayers) tucked one of the Small Paper Theatre Boxes inside of a Tim Holtz Diary Worn Book Cover for her Happily Ever After Paper Theatre!
She also used one of the New and On Sale! Ever After Die-Cut Chipboard Frames on the front cover, and it perfectly frames sweet Cinderella (you'll have to trust me on that one… or click on that die-cut chipboard frames link to see a photo, or visit Bella's blog to see lots more photos and read about her project).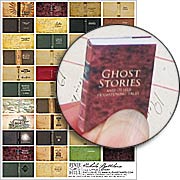 Hey, you remember those charming Potter-ish Trunks in last Thursday's newsletter by Design Team Member Nichola Battilana? Well, Nichola received a lot of requests for a collage sheet to make books in a similar style… and she has not disappointed! Not only has she included images for Potter-ish potion books, but also included titles for a library of Jane Austin and Grimms' Fairy Tales!


Hooray! A Skulls and Tiny Books Giveaway!
In addition to these goodies from Kristin's Halloween Peg Dolls (that's a link to the supply list for pics and links to all of these items):
– Bakers Twine – Black
– Miniature Jack-o-Lantern Pail
– Plastic Skeletons
– Resin Skull Beads
– Ruffled Tulle – Orange
– Thin Orange/Black Stitched Ribbon
– Wooden Clothespins for Dolls
– Wooden Doll Stand
– Wooden Doll Head (whew!)
AND FOUR of the new items from the Clearance Sale (that's 80% off!!):
– Skull Beads – Horizontal Hole
– Elf Rubber Stamp
– Nursery Checkerboard Rubber Stamp
– Dwarf with Box Rubber Stamp
AND a new Trick or Treat FREE Gift Kit, I included some random items I thought fit in with the theme (or were new today and too cute to pass up):
– Set of Miniature Books New and On Sale!
– Little Library Collage Sheet New!
– Black Tulle Fringe On Sale!
– Vintage Tinsel Ribbon – Orange & Purple (Just put On Sale!)
To enter the Skulls and Tiny Books Giveaway drawing all you have to do is leave a comment BELOW on this blog post TODAY OR TOMORROW (the deadline is 11:59 pm PST, FRIDAY, July 11, 2014).
Don't forget to leave your (hello! correct) email address, too, so I can contact the winner; your email address does not need to be made public. Note: I'm offering free shipping, too, but only within the USA. International shipping will still apply.
Please be patient! Spammers try to post crap here a lot so comments are moderated. So if you don't see your post in the comments section, be patient and check back in a few hours before re-posting it, please!
After midnight, I'll randomly pick the winner (via Random.org). So make sure to check back to see who won! And check your mailbox on Sunday morning for the next Giveaway and Newsletter!
Hey, who won the Elegant Eggs & Halloween Giveaway? That would be Brenda Henderson! Please check your email for my message about getting your mailing address.
Posted by Leslie, July 10th, 2014