What a lovely creation by Design Team Member Jeanne Draachreider to sit down and sigh over! How many times would you just love to tell someone while you're trying to read, Go Away, I'm Reading?! (Even if you're not reading you'd like to just tell them to go away… oh wait. That's me who fantasizes about that.)
Jeanne has created a gorgeous group of scenes contained within a New and On Sale! Paper Mache Book Box in her "Go Away, I'm Reading" Romantic Book Box. And she has also created FIVE new Go Away, I'm Reading Collage Sheets (and a Digital Download Set) along with a tutorial to walk you through creating one for yourself.
(Psst… ALL of Jeanne's collage sheets have just been gathered together into a new section AND all of them are On Sale! But only through Thursday, June 26th!)
There's A LOT to take in with this gentle madness of a piece. The cover starts off being primed and layered with lots of a great staple to have — White Gesso. New and On Sale! Chipboard Shabby Layered Frame and Leafy Chipboard Page Accents (with Gardenias – Cream-Pink-Brown and a nice, fat Giant Brass Bee) pull together the cover of the book.
Before we delve into the inside of the book, check out the book spine. New and On Sale! Fancy Chipboard Corners and Dazzles Gold Stacked Flourishes Stickers make it look pretty fancy-schmancy, don't you think? Speaking of fancy-schmancy: look how lovely the back of the book is with Molding Paste and a 6×6 Damask Stencil. (And see that close-up of the top of the book… Jeanne made faux pages with molding paste, too!) The book itself even without all the loveliness of the inside would make a wonderful gift.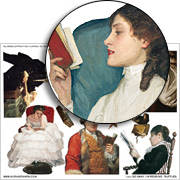 OK, NOW you can open the book because beauty abounds inside! How incredible is this? On the inside left features a lovely Madame de Pompadour from the Go Away, I'm Reading – Madame de Pompadour Collage Sheet enjoying her books (trust me on this… but I'm running out of room so you'll have to check out more photos on Jeanne's blog to see). She looks so comfortable on her settee, and it looks like she doesn't want to be disturbed. Inside is a diorama of a couple in their sitting room from the Go Away – I'm Reading Banner Collage Sheet. A chandelier hangs as a lovely compliment to the elegantly appointed furnishings, including a dimensional table and vase of Mini Rose Buds in Pale Pink and Red. Details, details it's always the details! I won't tell you how she did it — but that chandelier! Sooooo easy!
Check out the Supply List before you peruse Jeanne's blog for the full tutorial (and I'd grab a cup of coffee and plan for a relaxing few minutes)! If you make a book box — don't forget I want to see it and we'll post it on the Alpha Stamps Blog if you do!
Oooh! And that Jeanne! She's graciously offered one of her stationery layouts as a FREE downloadable collage sheet! A beautifully-collaged layout to print as a collage background or to actually use as stationery.
Hey, don't forget to scroll down for today's Giveaway! It includes elements from Jeanne's artwork plus some related items (some just put On Clearance Sale)! (And the announcement of who won the last Giveaway!)
Note: last Thursday we announced a FREE Gift Kit, and that offer is still on: a Venetian Baubles Gift Kit is FREE for all orders over $20! More info and a photo are below.


Hooray! A Go Away Giveaway!
In addition to a ton of goodies from Jeanne's Supply List AND everything in that photo below right that was just added to the Clearance Sale (including a bunch of jewels and glass beads I think would make a good chandelier!), this Giveaway has a some random items I thought fit in with the theme:
– Satin Edge Organza Ribbon – Old Gold New and On Sale!
– Die-Cut Chipboard Chairs Set
– Miniature Potted Red Roses On Sale!
– Jeweled Oval Pendant Frame On Sale! (and another chandelier possibility)
– Go Away, I'm Reading – Stationery (Hey, that's the only one not used in Jeanne's artwork, but ALL FIVE of Jeanne's new collage sheets are in the Giveaway!)
Note: those 5 new collage sheets are On Sale but only through next Thursday, June 26th
To enter the Go Away Giveaway drawing all you have to do is leave a comment BELOW on this blog post TODAY OR TOMORROW (the deadline is 11:59 pm PST (that's Pacific Standard Time!!), MONDAY NIGHT, June 23, 2014).
Don't forget to leave your (hello! correct) email address, too, so I can contact the winner; your email address does not need to be made public. Note: I'm offering free shipping, too, but only within the USA. International shipping will still apply.
Please be patient! Spammers try to post crap here a lot so comments are moderated. So if you don't see your post in the comments section, be patient and check back in a few hours before re-posting it, please!
After midnight, I'll randomly pick the winner (via Random.org). So make sure to check back to see who won! And check your mailbox on Thursday morning for the next Giveaway and Newsletter!
Hey, who won Thursday's Venetian Theatre Giveaway? That would be Pat Tillery! Please check your email for my message about getting your mailing address.

Posted by MizBella, June 22nd, 2014