We have projects for you today by Teri Calia and Design Team Member Rhonda Secrist Thomas; and they couldn't be more different from each other!
First up are Teri's Bitch Boxes. Aren't these the sweetest things evuh? I could think of quite a few people I'd like to gift with these snarky little boxes. One right here in Roswell, GA, but I'm quite sure she's covered head-to-toe in the horrible chocolate she makes so let's not bother with her since these boxes are way too sweet for her. Bless her heart!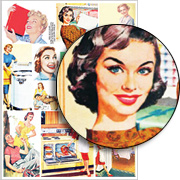 So taken with the crazy, silly and retro-housewife theme that crazy person herself, Miz Teri Calia has created FOUR new collage sheets around this theme! Sexy Vintage Housewives, Vintage Housewives, Happy Vintage Housewives and (oh my gawd, my favorite of the bunch!!) Bitchy Words. Loads of fun images and phrases to play and create with. What could be better? (Hey, here's better: Leslie has put all 4 On Sale! But only through June 18th.)
Using NEW Chipboard Shadowboxes, Teri covered each one with really swell paper from the Homemade With Love 12×12 Collection Kit. Then Teri added Red 3/8 Ric Rac Ribbon on one and 3/8 Inch Ivory Looped Lace on the other box. And note: Leslie just put ALL of the Ric Rac Ribbons on Clearance!
The nice thing about these NEW SIZES of Small Chipboard Shadowboxes (aside from how flipping cute they are) is that it doesn't take much to make them so adorable. (Both are similar to the boxes in the Paper Theatres Kit, but in a smaller size.) For instance the Small White Apple Blossoms and the Tea Time Buttons are the perfect additions to the box with wishful thinking Betty, dreaming about cake going to her boobs instead of her arse. Yeah, if only. Right?!
Next up… Go Ask Alice – I'm Sure She'll Know the Answer by Rhonda Secrist Thomas. As Rhonda points out: a lot of artists certainly seem intrigued by Alice. Especially the ones at Alpha Stamps!
Rhonda has taken an old bottle and using 2 favorites around here, Alice's Adventures and Alice Tea Party Rubber Stamp Sets (both On Sale!) has created a bottle of wonder that any Alice fan would appreciate, and not mind dusting off from time to time either.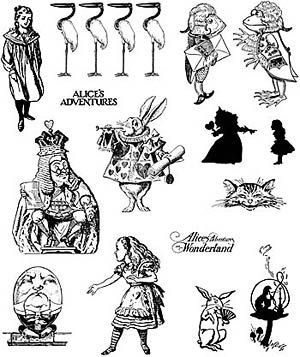 Sometimes I think a lot of people forget that we have an amazing selection of Rubber Stamps and some are Alpha Stamps' Exclusives Rubber Stamp Sets! I love rubber stamping, especially on muslin for sachets and also on dolls that I make. Sometimes I even stamp Slim Daddy's forehead when he's sound asleep after he's made fun of me for my Ancient Aliens obsession but I digress!
Aren't the colored, stamped images on the bottle too cute? I keep expecting the Mad Hatter to peek out from the side and offer me a cup of tea! If you remember, (or maybe you don't but hey, that's ok too!) Rhonda did a Stamping On Ribbons Tutorial a few weeks or so back and has used the same techniques on the Pink 7/8 Inch Satin Ribbon for the bottle.
Look at all of the beautiful beads dangling off of the bottle! Also, if you look at the top of Rhonda's bottle you'll see quite a beautiful topper. Bet you'd like to know what it is, wouldn't you? No! I am not telling you because you know must go and fall down the rabbit hole yourself to find the extra pictures and additional tips at Rhonda's blog. (Psst… you can see lots of the goodies Rhonda used here on her Supply List. AND lots of them — and things from Teri's boxes, too — are in today's Giveaway!)


Hooray! An Alice & Housewives Giveaway!
In addition to a bunch of the supplies from all of today's artwork (see above for links), and the new Buttons and Shiny Beads FREE Gift Kit, I included some random items I thought fit in with the theme (and put them all On Sale!):
– Baking Border Strips Scrapbook Paper
– Sexy Vintage Housewives Collage Sheet
– Canning Jar Rub-Ons
– White Crushed Silky Ribbon (hey, you'll get 2 yards, including my stamping sample!)
– Alice in Wonderland Playing Cards
– Kitchen Mini Chipboard Set
– Knave Blackheart Rubber Stamp
– Light Blue Floral Crochet Trim
AND 4 items (in addition to the ric rac mentioned above) just added to the Clearance Section (that's 80% off!!):
– Heirloom Keepsake Button Mix
– Sewing Machine Buttons
– Tiny Sewing Button Mix
– Fire Engine Red Tape Measure Trim
Note: the FOUR NEW Housewives Collage Sheets are on sale but only through next Wednesday, June 18th.
To enter the Alice & Housewives Giveaway drawing all you have to do is leave a comment BELOW on this blog post TODAY OR TOMORROW (the deadline is 11:59 pm PST, FRIDAY, June 13, 2014).
Don't forget to leave your (hello! correct) email address, too, so I can contact the winner; your email address does not need to be made public. Note: I'm offering free shipping, too, but only within the USA. International shipping will still apply.
Please be patient! Spammers try to post crap here a lot so comments are moderated. So if you don't see your post in the comments section, be patient and check back in a few hours before re-posting it, please!
After midnight, I'll randomly pick the winner (via Random.org). So make sure to check back to see who won! And check your mailbox on Sunday morning for the next Giveaway and Newsletter!
Hey, who won the Silver & Pearls Giveaway? That would be Laura! Please check your email for my message about getting your mailing address.

Posted by MizBella, June 12th, 2014