French lingerie and a window box tutorial by Lora Mahaffey! And a Giveaway inspired by Lora's artwork. Plus new items (with some fabulous textures) and a FREE Gift Kit with textures, too! First, I'll let Bella take the lead and introduce Lora's project.
Well here we are wrapping up the month of May and Springtime in Paris with a flirty little creation by our hoot of a Design Team Member Lora Mahaffey.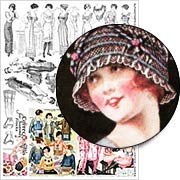 Paris and underwear… There's a place in France where the naked ladies dance… and I'm sure it is at The House of Underwear! Now tell me. Where else will you find such a fabulous creation called "The House of Underwear" except at Alpha Stamps? Exactly… nowhere but with us and you love it!
Lora has taken a simple sheet of 12×12 Chipboard (trimmed down to 8″ x 10″) and turned it into a whimsical view into a Maison des Culottes. Using the Double Dot Decaf Scrapbook Paper to cover the outside "wall" of the house, Lora created the "roof" with the Glamour & Grunge Scrapbook Papers. How appropriate that the name of the collage sheet that Lora used for the curtains in each window is called Room With A View. Oh I bet there's quite a view on Friday nights after a few drinks! Oh my, there I go again. You know. Digressing!
OK, ready? Aside from the name of the project, here's my favorite part. The 3-D windows and window boxes! How cute are the ATC Windows (with the girls inside, from the New and On Sale! Vintage Lingerie Collage Sheet that Lora hand-tinted with Copic Markers!) and the window boxes that Lora created and edged with the White Dresden Border Sampler Set? Of course you know that every House of Underwear must have gorgeous Tiny Paper Roses planted in each window box. It just wouldn't be Paris without roses!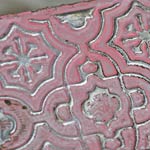 If you love the window boxes and want to know how to make your own House of Underwear, guess what? Lora created a quick tutorial on how to make them! First here is a listing of all the supplies Lora used and then after you put on your best pair of underwear, head on over to Lora's blog. I won't tell if you peek in!


Hooray! A Vintage Lingerie Giveaway!
This Giveaway is heavily-influenced by Lora's artwork. But beside many of the Lora's supplies, I also added:
– 5 Inch French Doilies
– Resin Hand Mirror
– 1/2 Inch Pink Paper Roses
– the New Satin Ribbon Sampler Set
– Tiny Paper Roses – Red White Variegated
– Have a Seat Collage Sheet (the photo below right shows all 3 collage sheets)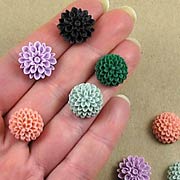 AND 3 items just added to the Clearance Section (the photo below left shows all 3):
– Air Mail Ephemera Stickers
– Whimsy Flowers
– Yours Truly 6×6 Paper Pad
To enter the Vintage Lingerie Giveaway drawing all you have to do is leave a comment BELOW on this blog post TODAY OR TOMORROW (the deadline is 11:59 pm PST, FRIDAY, May 30, 2014).
Don't forget to leave your (hello! correct) email address, too, so I can contact the winner; your email address does not need to be made public. Note: I'm offering free shipping, too, but only within the USA. International shipping will still apply.
Please be patient! Spammers try to post crap here a lot so comments are moderated. So if you don't see your post in the comments section, be patient and check back in a few hours before re-posting it, please!
After midnight, I'll randomly pick the winner (via Random.org). So make sure to check back to see who won! And check your mailbox on Sunday morning for the next Giveaway and Newsletter!
Hey, who won the Pink Shrine Giveaway? That would be Liane Ceglar! Please check your email for my message about getting your mailing address.

Posted by Leslie, May 29th, 2014