Wow! I love all the tips and samples of tinting lace and ribbons in Jeanne's tutorials! Plus new items (perfect for tinting lace!), tons of new goodies added to the clearance section, and two FREE offers! First, I'll let Bella take the lead and introduce Jeanne's project.
Design Team Member Jeanne Draachreider has put together a lovely French Perfume Display for you to not only adore, but with a tutorial for you to make your own display!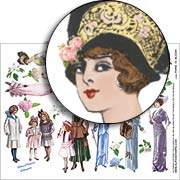 Ah, Springtime in Paris! Walking by the parfumerie you think, "WHAT is that smell? I must have been kissed by angel wings!" You're lured in by the sillage of perfume… wrapping it's seductive arms around you… whispering "buy the biggest bottle of me no matter how expensive I am…" So you temporarily lose your mind and you buy the biggest bottle forgetting that your rent is due. Oh wait. That was me in my 20s. Now I just make my own mind-altering perfumes, but I digress!
Continuing on with the Springtime in Paris Kit theme, Jeanne has taken On Sale! Paper Mache House Accordion Shrine to make the Perfume Display. Yes, I know. There's only ONE panel not 3 in Jeanne's display but guess what? You'll have 2 extra panels to make something else out of with the other two you don't use. I just love art supplies that can be used for multiple projects, don't you?
Jeanne covered her display with Glamour and Grunge Scrapbook Papers then added images from the New! Paris in Bloom Collage Sheet (that Jeanne designed!) and the Romantic Perfume Labels Collage Sheet. To make things easy, Jeanne ran her images and scrapbook paper through the Xyron 510 – Creative Station. So handy-dandy that Xyron 510, I must get myself one!
The Pink Rose Garland is intertwined with the Cherry Blossom Garland and draped across the back wall of the display and check out that cute little Eiffel Tower that came from the I See Paris Cling-Mounted Stamp Set that's right up front. (Noticing that I don't have this stamp set. How can that be?!)
My favorite part of the whole display, as far as technique goes, is the 3/8 Inch Looped Ivory Lace. Why? Well because it is SO easy to do and you can color the lace (or muslin, or trims) in just about any color with Distress Stains or with the Lindy's Stamp Gang Products.
Oh, but I'm not going to tell you how to create lace in the colors of your dreams: Jeanne is! You're in for a special treat with not only a tutorial on how she made her Perfume Display, but Jeanne has also created a fabulous tutorial on how to color, stain and ink a myriad of items.
Check out the listing of components that Jeanne used, then head on over to her tutorial and/or see more photos in the Gallery.
After you've seen the first tutorial, then come on back over here and get ready to get your hands full of color with Jeanne's Tinting Lace Tutorial.
Psst… Leslie taking over again. It's not like me, but I went a little wild with pink in the Pink Shrine Giveaway below (I'm actually one of those designers who only wears black… not always the best choice in 100 degree California heat!)
And some of the pink papers (and the whole Flora Paper & Sticker Set!) that I added to the Giveaway, I also added to the Clearance Section (which means they're 80% off)!
Note: last Thursday we announced a FREE Gift Kit, and that offer is still on: a Little Metal Bits FREE Gift Kit is FREE for all orders over $20! More info and a photo are below.
Even though this is a holiday weekend, we'll all be here Monday… catching up and getting ready for the June kits to be announced next Sunday!


Hooray! A Pink Shrine Giveaway!
I started with many of Jeanne's perfume shrine supplies:
– 3/8 Inch Looped Ivory Lace
– Cherry Blossom Garland
– Jolie Red Chrysanthemum Scrapbook Paper
– Paper Mache House Accordion Shrine
– Paris Collage Collage Sheet
– Paris in Bloom Collage Sheet
– Pink Rose Garland
– Red Birdcage Scrapbook Paper
– Romantic Perfume Labels Collage Sheet
– Crystal Stick Pins
(Here's a repeat of Jeanne's Supply List so you can get links/photos of all of those things… plus there are close-up of the scrapbook papers and the collage sheets below.)
Then, as I mentioned above, something came over me and I added a bunch more pink items:
– Mulberry Paper Carnations – Pink
– Mauve/Red Bead Mix (Now on Clearance!)
– Summer Picnic Scrapbook Paper (Now on Clearance!)
– Flora Paper & Sticker Set (A big set! And Now on Clearance!)
– Distress Stain – Peeled Paint (ok, not pink! and not used in the shrine, but Jeanne did some pretty samples in her Lace Tinting Tutorial using this color of stain)
– 7/8 Inch Fancy Fan Ivory Lace
– Key To My Heart – Dreamy Scrapbook Paper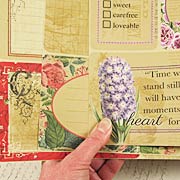 – Key To My Heart 6×6 Paper Pad (Yes! Another paper set!)
– Mini Rose Buds – Cream-Pink-Brown
Note: all of those items I just mentioned are ALL On Sale! They may not be on 80% Clearance, but they are all marked down!
To enter the Pink Shrine Giveaway drawing all you have to do is leave a comment BELOW on this blog post TODAY OR TOMORROW (the deadline is 11:59 pm PST, MONDAY NIGHT, May 26, 2014).
Don't forget to leave your (hello! correct) email address, too, so I can contact the winner; your email address does not need to be made public. Note: I'm offering free shipping, too, but only within the USA. International shipping will still apply.
Please be patient! Spammers try to post crap here a lot so comments are moderated. So if you don't see your post in the comments section, be patient and check back in a few hours before re-posting it, please!
After midnight, I'll randomly pick the winner (via Random.org). So make sure to check back to see who won! And check your mailbox on Thursday morning for the next Giveaway and Newsletter!
Hey, who won Thursday's Bees & Bookmarks Giveaway? That would be Brenda Cerny! Please check your email for my message about getting your mailing address.

Posted by Leslie, May 25th, 2014