Note: most of the links on this post no longer work, as we moved to a new Web site in 2018. But you can try searching on the same names (as links below) on the new site.
We really love the look of rubber stamping on ribbon and fabric; there's just so much that one can do with a rubber stamp and an assortment of items to go crazy on. Cotton, muslin, ticking, canvas and assorted ribbons are just a few ideas off the top of my head. Since Design Team Member Rhonda Secrist Thomas is one of the (quite) mad stamping queens at Alpha Stamps she created a Stamping on Ribbons & Fabric Tutorial for you today!
Rhonda starts out by inking her stamps with VersaCraft Chalk Pigment Pads which work so well on fabric. (And all those pads are On Sale!, as is everything in the Rubber Stamps Supplies Section!) Rhonda also shows how to use a brayer to get an even image with a really large stamp (the Boho Paisley Clear Stamp in this case: one of two gorgeous New and On Sale! clear stamps with repeating patterns inspired by vintage wallpaper)!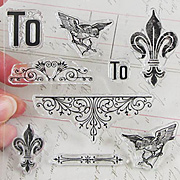 Rhonda also demonstrates in her tutorial how fast and easy it is to stamp on the New and On Sale! Satin Ribbons using a small Fleur de Lis image from the (New and On Sale!) Fleur De Lis Bird & Arrow Clear Stamp Set. You can instantly turn a plain ribbon from drab to fab for a variety of uses with this technique.
Need a little glint to whatever fabric you're stamping on? Lumiere Metallic Acrylic Paint – Metallic Gold is a gorgeous metallic paint that spreads smoothly and stays flexible. It's a perfect choice for fabric, but also stunning on paper. The high pigmentation provides excellent coverage, even on dark backgrounds.
By the way, do you remember the French Floral Overlays Collage Sheet (part of the Springtime in Paris Kit)? Well… guess what?! There are now not one, but TWO ATC-sized rubber stamps revamped from images on that collage sheet! Both of the new collaged stamps are just a bit larger than an ATC (so you can stamp a full bleed off the edges of your ATC).
The first one is the French Bees Collage Rubber Stamp and the second one is the French Floral Collage Rubber Stamp. They're quite gorgeous, oui? Rhonda used portions of these stamps to create even more stamped ribbon (that she's going to wrap a present for me with!) and also used them to create larger strips with the full images.
(Psst… both of those new stamps are On Sale! as part of the ongoing French Vintage Theme Sale (which ends on May 22nd)! And if you scroll down in this newsletter, both are also included in today's Giveaway!)
So much to cover in this newsletter I almost forgot — additional images also come from the Nest Amour Clear Stamp Set (New and On Sale)! For more pictures, details, tips to stamp on fabric and ribbons grab your stamp pad and head on over to Rhonda's blog.
And if you'd like a little ribbon and stamp set to try your hand at stamping on ribbons, there's a New FREE Stamping on Ribbons Gift Kit!
AND there's some fabulous new Halloween ribbons that have a similar screenprinted look (see below)… or you could rubber stamp your own Halloween ribbons with the On Sale! Poison Rubber Stamp Set!


Hooray! A Stamp on Ribbons Giveaway!
This should be a fun kit to start playing with stamping on ribbons (or just stamping separately from using the ribbons)!
I started with 1 yard of each of the SIX New Ribbons.
And I included the three collage sheets from the Springtime in Paris Kit.
Plus BOTH of the New French Collage Rubber Stamps based on the French Floral Overlays Collage Sheet from the Springtime in Paris Kit.

And THREE more rubber stamps that either Rhonda used in her samples or that were just added to the Clearance Section:
– Scroll/Leaf Border Rubber Stamp
– Clio Card
– Primo Mobile Card
AND EVERYTHING in the Giveaway is now On Sale!
(Note: All the rubber stamps are unmounted… but you can mount them yourself with Cling Mounting Foam (also On Sale). AND in addition to those last two stamps being put on sale, the ENTIRE Alchemy/Fortune Rubber Stamps Section is On Sale!)
To enter the Stamp on Ribbons Giveaway drawing all you have to do is leave a comment BELOW on this blog post TODAY OR TOMORROW (the deadline is 11:59 pm PST, FRIDAY, May 16, 2014).
Don't forget to leave your (hello! correct) email address, too, so I can contact the winner; your email address does not need to be made public. Note: I'm offering free shipping, too, but only within the USA. International shipping will still apply.
Please be patient! Spammers try to post crap here a lot so comments are moderated. So if you don't see your post in the comments section, be patient and check back in a few hours before re-posting it, please!
After midnight, I'll randomly pick the winner (via Random.org). So make sure to check back to see who won! And check your mailbox on Sunday morning for the next Giveaway and Newsletter!
Hey, who won the Wood Shrines Giveaway? That would be Nelda Johnson! Please check your email for my message about getting your mailing address.
Posted by Leslie, May 15th, 2014