It's almost April, and time to announce a new monthly theme and kit: Vintage Voyage — but not necessarily the chic Art Deco voyage you might expect. Instead we're in the 1910-15 timeframe, the era of Edwardian fashion and the Titanic.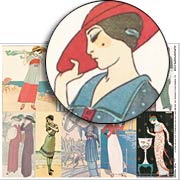 The kit includes 3 sheets of scrapbook paper from the New Maritime Collection, 3 new collage sheets (including a sheet with miniature book covers for creating a travel album), lots of little envelopes for stashing treasures in the pages of your album (like that cute diagonal stripe kraft envelope at right), die-cut sand dollars, and a coordinating set of fibers for binding your album (perfect for adding some seashell charms or even real seashells).
The adorable Mini Travel Album, at right, is by Design Team Member Kristin Batsel (with pages cut from the Maritime Collection scrapbook papers — and sized to match the larger covers from the New Travel Album Covers Collage Sheet — also included in the kit). Here's a link to her full supply list. More photos are on Kristin's blog. More photos are also in the Gallery. Note: more artwork will be added to the Gallery throughout the month.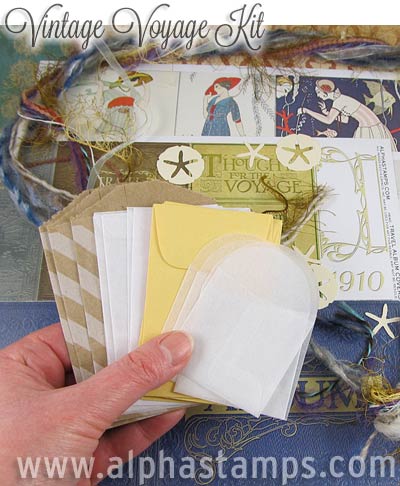 More info on the Travel Album Covers Collage Sheet: 3 covers are large enough to be covers for a book of ATCs, and the larger, wide, blue covers (the ones Kristin used) can accommodate all the sizes of envelopes included in this kit (like those tiny square glassine envelopes on another page from Kristin's album, shown at right).
And, in honor of this month's theme, I've put the ENTIRE Beach Theme Section On Sale! That's a HUGE section including charms, papers, rubber stamps, (a lot of) collage sheets… catch it quick as the sale ends April 13th.
And, Design Team Member Caroline Ouzts-Hay is hosting a related swap! More info is in the Yahoo Group.
Beside more new goodies related to the theme, see below for info about today's Giveaway!

More New Items in the Vintage Voyage Kit – All on Sale!

Hooray for the April Vintage Voyage Kit Giveaway!
Wow! Not only is there an:
– April Vintage Voyage Kit
– (plus the New Hobble Skirts Collage Sheet),
– and ALL 6 of the Scrapbook Papers from the New Maritime Collection
– (and all of the MANY beachy collage sheets Design Team Member Kristin Batsel used in her Mini Travel Album)
– but also the beach-themed charms Kristin used (see pics above in the "new" section plus also a Brass Ship Wheel and Small Brass Starfish),
– the New Wooden Album Covers,
– the back in stock Gold Shell Dresden Border Strips,
– an on sale Deco Swimmer Rubber Stamp
– and some extra fibers from the on sale The Sea Fiber Set!
To enter the April Vintage Voyage Kit Giveaway drawing all you have to do is leave a comment BELOW on this blog post TODAY (the deadline is 11:59 pm PST, March 30, 2014).
Don't forget to leave your (hello! correct) email address, too, so I can contact the winner; your email address does not need to be made public. Note: I'm offering free shipping, too, but only within the USA. International shipping will still apply.
Please be patient! Spammers try to post crap here a lot so comments are moderated. So if you don't see your post in the comments section, be patient and check back in a few hours before re-posting it, please!
After midnight, I'll randomly pick the winner (via Random.org). So make sure to check back to see who won! And check your mailbox on Thursday morning for the next Giveaway and Newsletter!
Hey, who won the Purple and Gold Giveaway? That would be Lori Wilczek! Please check your email for my message about getting your mailing address.

Posted by Leslie, March 30th, 2014