I'm letting Design Team Coordinator Miz Bella (Kim Ayers) take the reins today, though I've added a few tidbits about related sale items (!) to her prose.
Oooooh that cagey girl Teri Calia has been busy creating in her mad art lab! Teri has taken the New and On Sale! Dress Form Art Doll Shrine Kit and made it into a beautiful shrine she calls Fostering Dreams. It is pretty dreamy; don't you think? In her nest is the word "dream." Hanging within her scarf of cherry blossoms is the phrase "day dream." And "dream of the future" and "tomorrow" are entwined in her cage skirt which all came from the Words Collage Sheet.
After painting the doll form, she added a New and On Sale! 3/8″ Wooden Dowel, a 1-1/8 Inch Wood Bead with Hole and a 4″ Round Wooden Plaque to form a base to stand her doll.
I love all of the fresh, Spring colors floating all over the doll form. Some Cherry Blossom Garland is draped around the front and back of the doll, the Mulberry Paper Carnations – Pink, and the Small Mulberry Paper Blossoms – Mixed Pink peppered throughout remind me that, Hey! We're still waiting for Spring to arrive over here on the East Coast… but oh how I digress!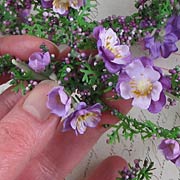 Sadly the manufacturer is out of stock of the Cherry Blossom Garland for at least another month. However, we have a New and On Sale! color: Violet. Equally lovely (and also included in today's Giveaway!)
The angel wings from the On Sale! Tim Holtz Regal Adornments are simply perfect on her and I need to order some of that New and On Sale! Vintage Lace Tape – Antique Pink that is around the base. (Ok, hoard it is more likely… you got me!)
(Speaking of those Regal Adornments being on sale: TODAY is the final day of the BIG Tim Holtz Products Section Sale!)
Here is Teri's Supply List; and visit her blog to see more pictures.

Next up today, Design Team Member Shannon Tuttle has created a fabulous, frilly book made from the Die-Cut Chipboard Corset and the On Sale! Die-Cut Chipboard Scallop Shells.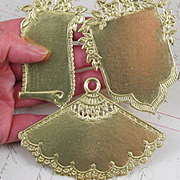 The book is decorated with images from The Secret Out At Last, Decorum, and My Graceful Figure Collage Sheets, as well as a few others you can find in her Supply List. There is a lot to oohhh and aaahhh over in Shannon's book; especially the New and On Sale! Gold Dresden Fan & Banners Set and the Gold Dresden Doily Frame. If you love Dresden you will flip out over these pieces! They are much thicker than regular Dresden, are very luscious, ornate and of course, shiny… you know that I'm like a crazy magpie over things like this. I just can't help myself!
(Which brings me to another aside: ALL Metallic Dresden

is now On Sale! Today through Sunday, March 30th only!)

Shannon's book is very girly — and who doesn't like that? My favorite part of the book is all of the textures. Printed Burlap Ribbon – Roses, soft and drapey Beige & Pink Seam Binding, frilly Pink Ruffled Ribbon, and my favorite, the Sheer Pleated Ribbon.
You really need to bustle on over to Shannon's blog to see what techniques she used in creating her book and to see more gorgeous pictures!
Finally, in our eye-candy intro, are 2 fun digital collages by Design Team Member Jeanne Draachreider, with images from the Decorum and The Secret Out At Last Collage Sheets.
We've about wrapped up our month of French Corsets (and this Sunday is the next kit announcement), but I bet these images will get used for months to come.


Hooray! A Purple and Gold Giveaway!
Nice! Bits and pieces of the supplies from all three pieces of today's artwork, including these new items:
– Gold Dresden Fan & Banners Set
– Dress Form Art Doll Shrine Kit
– Violet Cherry Blossom Garland
– Fern Garland
And these goodies:
– The Secret Out At Last Collage Sheet
– Decorum Collage Sheet
– My Graceful Figure Collage Sheet
– Words Collage Sheet
– White Foam Stamen
– Mulberry Paper Cherry Blossoms
– 4 Inch Gold Doilies
– 2 Die-Cut Chipboard Scallop Shells
Plus some random items I thought matched the set:
– Sheer Pull Flowers Ribbon – Purple
– Dress Form Cut-Outs
– Acrylic Flower Mix – Pink Grapefruit
– Purple Zig Zag Dresden Borders
And finally (in honor of the ENTIRE Metallic Dresden section being on sale), a ton of gold dresden! Really… check that lower left photo!
To enter the Purple and Gold Giveaway drawing all you have to do is leave a comment BELOW on this blog post TODAY (the deadline is 11:59 pm PST, March 27, 2014).
Don't forget to leave your (hello! correct) email address, too, so I can contact the winner; your email address does not need to be made public. Note: I'm offering free shipping, too, but only within the USA. International shipping will still apply.
Please be patient! Spammers try to post crap here a lot so comments are moderated. So if you don't see your post in the comments section, be patient and check back in a few hours before re-posting it, please!
After midnight, I'll randomly pick the winner (via Random.org). So make sure to check back to see who won! And check your mailbox on Sunday morning for the next Giveaway and Newsletter!
Hey, who won the Steampunk Dress Giveaway? That would be PurpleFigment! Please check your email for my message about getting your mailing address.

Posted by Leslie, March 27th, 2014