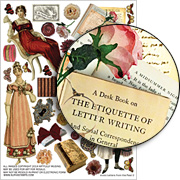 Let me start by saying I don't get Daylight Savings Time. It just makes no sense to me and come Monday morning, there'll be a lot of grumpy commuters.
Lucky for me (and you) Design Team Member Laura Carson ran (really — marathon style) with the theme and color palette from the New and On Sale! Stationer's Desk Paper Collection and created a gorgeous, timeless project — a writing chest. Made from humble cigar boxes but both useable and beautiful!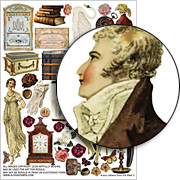 And Laura has made TWO New Collage Sheets (and a HUGE (!) 98 file set of png files to download) in the "Letters from the Past" theme.
All 3 have images of beautiful books, letters and writing paraphernalia, plus some costumed folks from the Regency era. And the downloadable png set had the silhouetted images from the collage sheets, plus a ton of extra files for Romantic (capital R!) collages with Regency-era style.
(Plus these new images coordinate with the recent Days Gone By Set Download and Days Gone By Collage Sheet, also by Laura.)
So, onto the goods: here is Laura's supply list and not only does Laura share more photos and a tutorial on her blog, but also free trim to download!
At left is a photo of me holding papers from the Stationers Desk 6×6 Paper Pad with the New Collage Sheets in the background.
But at right… ooh, some more sample art by the talented Design Team! That's a snippet from a digital collage by Design Team Member Jeanne Draachreider called Beloved, made with images from the Letters from the Past Set. (And the text above that lovely lady's head says "I am tired, Beloved, of chafing my heart against the want of you; of squeeing it into little inkdrops, and posting it.") Here's the full image in the Gallery.
But before you run off to the Gallery OR become entranced by Laura's tutorials (Yes, that's plural! Click that photo at right for a separate "Design Your Own Stick Pin" tutorial), scroll down to see what's new, what's back in stock (tons!), and what's in today's Giveaway! (Psst… those 2 sample stick pins are also included in the Giveaway!)

Thursday Newsletter Recap: Romantic Steampunk Triptych & Bird's Nest Tutorial!


Don't Forget Thursday's Newsletter with artwork by Caroline Ouzts-Hay and Rhea Freitag


Small Antique 3D Gold Crowns


Robins Nests with Eggs On Sale!

Hooray! A Stationer's Desk Giveaway!
I ran around like a magpie, attracted by shiny bits, and gathered quite a few of the items from Laura's Writing Chest (here's a reminder of her supply list), plus these extra goodies that just seemed to be calling out to be included:
– All 8 Stationer's Desk Scrapbook Papers — full size, as Laura mainly used the 6×6 pad, but that's in the kit, too! (Hey, On Sale! because of the ongoing Scrapbook Paper Sale!)
– Victorian Cameo Buttons
– The 2 sample stick pins from the No Time to Spare – Make A Stick Pin! Blog Post — check the bottom of that post for links to the beads and rondelles used on the samples!
To enter the Stationer's Desk Giveaway drawing all you have to do is leave a comment BELOW on this blog post TODAY (the deadline is 11:59 pm PST, March 9, 2014).
Don't forget to leave your (hello! correct) email address, too, so I can contact the winner; your email address does not need to be made public. Note: I'm offering free shipping, too, but only within the USA. International shipping will still apply.
Please be patient! Spammers try to post crap here a lot so comments are moderated. So if you don't see your post in the comments section, be patient and check back in a few hours before re-posting it, please!
After midnight, I'll randomly pick the winner (via Random.org). So make sure to check back to see who won! And check your mailbox on Thursday morning for the next Giveaway and Newsletter!
Hey, who won Thursday's Steampunk Triptych Giveaway? That would be Kathie Morgan! Please check your email for my message about getting your mailing address.
Posted by Leslie, March 9th, 2014