Note: most of the links on this post no longer work, as we moved to a new Web site in 2018. However, you can see the supply lists for both projects on the new site: Kristin's Bird Toy, Teri's Art Box.
A special treat for you today! Not one, but THREE pieces of artwork from Teri Calia and Design Team Member Kristin Batsel!
First up is this absolutely adorable Bird Toy by Kristin. What is not to love about it, especially since it is a real working toy?! Don't you love the wonky wheels and the sweet crown on top of the bird's head? (Using that popular and On Sale! Shadow Box Shrine Kit – Bird for the bird!) And I love the distressed vintage look Kristin achieved by using Copic markers and sandpaper. And we've created a New and On Sale! Copic Sketch Markers Set based on Kristin's color selections!
Oh, what would an old toy on wooden wheels be without a it's own Winding Key? (And that key is On Sale! — with the ENTIRE Lock & Key Charms Section!)
I happen to know that Kristin used the New! 3/4 Inch Wooden Wheels for the back of the bird and the New! 1-1/4 Inch Wooden Wheels for the front. And both these wooden goodies are On Sale! — as is the ENTIRE Wood Knobs & Feet Section!
You can fly over here to see a list of supplies Kristin used. Now roll yourself on over to Kristin's blog for more details and photos!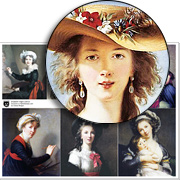 Teri Calia has been most busy creating two lovely pieces, the first is a gorgeous Bird's Eye View Ornament, using the On Sale! Chipboard Bird Cage Tags (with an image from the New! Elisabeth Vigee La Brun Collage Sheet that Teri designed herself). Teri embellished the ornament with Tiny Orange Roses and On Sale! Mini Butterflies Clear Stickers. You can find a list of the supplies Teri used here.
Don't you want to just sit with a nice cup of tea and browse through Teri's For the Love of Art Box & Book? (See the photos below.) Teri started with the Back in Stock and On Sale! 3 Inch Chipboard Memory Box, added some feet, and used the chipboard cards included in the box to make a book. And Teri used lots of the colorful papers from the New and On Sale! Motley Scrapbook Papers!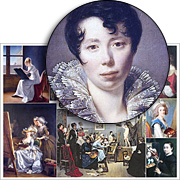 I love all of the layered elements; especially the On Sale! Dress Form Cut-Outs. Personally I think these would make aaahhhdorably cute ornaments! Just imagine them embossed, embellished and hanging from scrumptious ribbons! The beautiful images from the New! Women Artists Collage Sheet are used throughout the book and adorned with Petite Teastained Autumn Pansies. Just lovely!
You can find a list of the supplies Teri used for her Art Box here. Grab your tea and head on over to Teri's blog to see more pictures!
Before you wander off to learn more about these projects, scroll down to see what's new (including those colorful New Motley Scrapbook Papers), what's back in stock, a recap of all the New Tim Holtz items from Thursday's Newsletter, and what's in today's Giveaway!


Hooray! A A Bird's Eye View Giveaway!
Sweet! Miz Meghan gathered a mix of supplies from both of Teri's projects (Bird's Eye View Ornament and For The Love of Art Box and Book) and Kristin's Bird Toy (click on those links for a reminder of their supply lists), plus these extra goodies that just seemed to be calling out to be included:
– All Motley Scrapbook Papers (Hey, On Sale! because of the ongoing Scrapbook Paper Sale!)
– Victorian Ads #1 Collage Sheet
– Victorian Ads #2 Collage Sheet
– Bicycles Collage Sheet (see additional photos of the 6 collage sheets and 5 Motley Scrapbook Papers below)
– Dress Form Brads On Sale!
To enter the A Bird's Eye View Giveaway drawing all you have to do is leave a comment BELOW on this blog post TODAY (the deadline is 11:59 pm PST, February 23, 2014).
Don't forget to leave your (hello! correct) email address, too, so I can contact the winner; your email address does not need to be made public. Note: I'm offering free shipping, too, but only within the USA. International shipping will still apply.
Please be patient! Spammers try to post crap here a lot so comments are moderated. So if you don't see your post in the comments section, be patient and check back in a few hours before re-posting it, please!
After midnight, I'll randomly pick the winner (via Random.org). So make sure to check back to see who won! And check your mailbox on Thursday morning for the next Giveaway and Newsletter!
Hey, who won Thursday's Garden Gate Giveaway? That would be P boszko! Please check your email for my message about getting your mailing address.

Posted by Leslie, February 23rd, 2014