Yay! The new items announced at the recent CHA trade show are (finally!) beginning to ship! And after viewing the beautiful projects by TWO Design Team Members, you can scroll down to view 8 new items from Tim Holtz! (Plus some very pretty back in stock items… and today's Giveaway!)
Design Team Member Laura Carson was inspired by the New Garden Gate Die-Cut Chipboard and using only half of the gate set (!) created the beautiful, layered Secret Rendezvous — or maybe not so secret at right!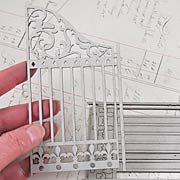 As Laura explains, "I imagined two young lovers meeting in a garden unbeknownst to anyone. As I began work, I started thinking about what if they weren't alone, maybe they were being watched. Did you notice the gentleman standing on the other side of the gate? Is he there by chance or perhaps a rival for the ladies affections, you decide."
And if you're wondering what are all of those bees and birds and keys and birdcages woven into the New and On Sale! Yellow Flower Garland, here's a link to her supply list. And see more photos and instructions on Laura's blog post.
But wait, there's more! Design Team Member Lora Mahaffey turned that same sweet (and On Sale!) Shadow Box Shrine Kit – Bird from last week's newsletter into two sweet-as-pie plaques!

(A close-up of the Odd Bird is at left… see larger photos and the coordinating Strange Bird in the Gallery.) Plus more info from Lora on her blog post.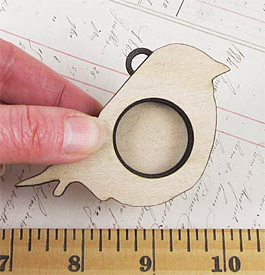 From that perfect edging of Velvet Ric Rac to the use of the New and On Sale! Brilliance Pigment Ink Pad – Pearlescent Olive to recolor and antique the Double Dot Vintage Island Mist Scrapbook Paper, I love all the thought and details in these pieces! And with all the laser-cut pieces in that shrine kit (normally stacked up to create the depth for the shrine, but left as separate pieces in Lora's plaques), you could make 4 little bird pieces.
And, of course, the focal point: the cutie from the More Cab Card Cuties Collage Sheet!


Hooray! A Garden Gate Giveaway!
Sweet! A mix of supplies from both Laura and Lora's projects (click on both/either of those links for a reminder of their supply lists), plus these extra goodies that just seemed to be calling out to be included:
– Orange Daisies
– Small Leaves Clear Stamp Set
– Art (Text) Rubber Stamp
– Woodland Floral Glittered Scrapbook Paper
– Noxious Fumes Fiber Set
– Steampunk Gear Mix
– Bird On A Branch (Hey, On Sale! because of the ongoing Bird Theme Sale!)
– Small Brass Swallow Charms
– Large Brass Swallow Charm
To enter the Garden Gate Giveaway drawing all you have to do is leave a comment BELOW on this blog post TODAY (the deadline is 11:59 pm Pacific Standard Time, February 20, 2014).
Don't forget to leave your (hello! correct) email address, too, so I can contact the winner; your email address does not need to be made public. Note: I'm offering free shipping, too, but only within the USA. International shipping will still apply.
Please be patient! Spammers try to post crap here a lot so comments are moderated. So if you don't see your post in the comments section, be patient and check back in a few hours before re-posting it, please!
After midnight, I'll randomly pick the winner (via Random.org). So make sure to check back to see who won! And check your mailbox on Sunday morning for the next Giveaway and Newsletter!
Hey, who won the Steampunk Bird Giveaway? That would be Gail Klein! Please check your email for my message about getting your mailing address.
Posted by Leslie, February 20th, 2014