I adore the steampunk creations that Design Team Member Rhea Freitag makes! And that definitely includes the gorgeous pieces Rhea has made for us today: A Steampunk Bird (at right, and using the New and On Sale! Chipboard Steampunk Bird Set) and two embossed tags (both using a new, wider manila tag that's a perfect size for both the New and On Sale! Chipboard Bird Cage Tags and Layered Chipboard Nest Cut-Outs).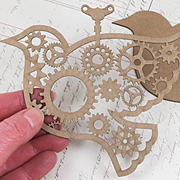 Starting with that Chipboard Steampunk Bird Set: Each is a set of 2 pieces (a lacy, cut-out bird and a solid back), laser-cut from 1/16″ chipboard. Approx. 5″ wide. The hole in the largest gear is 1″ diameter (which Rhea cleverly overlaid with a metal gear, so the hole is left open). Here's a link to Rhea's Supply List (complete with her favorite: Gilders Paste, in two colors for this project; plus, one tin is included in today's Giveaway).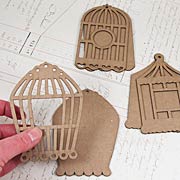 Rhea only used one of the front pieces of the Chipboard Bird Cage Tags for her manila tag at far left (there's actually 6 pieces in the set — 3 different bird cages, each with cut-out bars/details and a matching solid back). I love the little windows (I guess they're doors from the bird's viewpoint), about inchie sized so big enough to put a figure inside.
And on that right manila tag, Rhea embossed one of the Layered Chipboard Nest Cut-Outs: That's a set of 5 pieces (3 top pieces and 2 solid back pieces). The smaller nests measure just under 1-1/2″ x 2-1/2″ and the larger nests just under 1-3/4″ x 3-1/4″. They were designed especially to fit ATCs both vertically and horizontally (shown against black ATCs at near left).
Here's the Supply List for all the goodies in both of those manila tags. More photos of all of Rhea's pieces are in the Gallery.
Before you wander off to learn more about these projects on Rhea's blog post, scroll down to see what's new (including those luscious Nirvana Scrapbook Papers), what's back in stock, that FREE Gift Kit from Thursday's Newsletter, and what's in today's Giveaway!


Hooray! A Steampunk Bird Giveaway!
Miz Meghan gathered part from both the Steampunk Bird and the Embossed Tags by Rhea! Lots of new stuff, like:
– Chipboard Steampunk Birds
– Chipboard Bird Cage Tags
– Manila Tags – Extra Large
And some older things:
– Antique Brass Clock Charm
– Gilders Paste – Silver
– Curiosity – One of a Kind Scrapbook Paper
– Finches Collage Sheet
Plus I added the new Curious Bird Seam Binding Set and all three of the Nirvana Scrapbook Papers.
Here's the full list (with photos and links) of all 22 items in the Giveaway.
To enter the Steampunk Bird Giveaway drawing all you have to do is leave a comment BELOW on this blog post TODAY (the deadline is 11:59 pm PST, February 16, 2014).
Don't forget to leave your (hello! correct) email address, too, so I can contact the winner; your email address does not need to be made public. Note: I'm offering free shipping, too, but only within the USA. International shipping will still apply.
Please be patient! Spammers try to post crap here a lot so comments are moderated. So if you don't see your post in the comments section, be patient and check back in a few hours before re-posting it, please!
After midnight, I'll randomly pick the winner (via Random.org). So make sure to check back to see who won! And check your mailbox on Thursday morning for the next Giveaway and Newsletter!
Hey, who won the Shadowbox Bird Shrine Giveaway? That would be Kathlene Ford-Walters! Please check your email for my message about getting your mailing address.

Posted by Leslie, February 16th, 2014