How cute is that! Design Team Member Jeanne Draachreider turned the New and On Sale! Shadow Box Shrine Kit – Bird (adorable by itself) into a stacked shrine (and left out the clear acrylic window and the solid back so that the center niche became a hole (with a tiny bird nest)! I love it!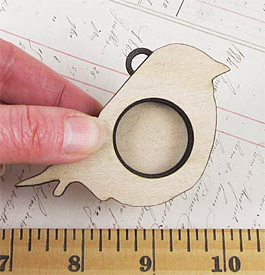 I also love the dimensional colored dots Jeanne used on the bird shrine (and a few other pieces) so much, that I had to order some Viva Decor Pearl Pens — in lots of bright colors. Links/photos of some of the hues (and the crackle medium Jeanne used) are below.
And if you're wondering what are all of those objects Jeanne has stacked up in a gravity-defying manner, here's a link to her supply list. And see more photos in the Gallery.
Plus, it you wander over to the gallery, you'll also see some gorgeous new digital collages Jeanne made, like the close-up of the fab The Famous Lukens below! (I'm seeing a theme of items balanced on balls…) I love how Jeanne merged the birds from the Oiseaux De Mode and Parrots Collage Sheets with the vintage circus performers.
But wait, there's more! I've got two more enticing bits of news before the new items (and today's Giveaway!)
First: today is the final day of the Valentine's Day Sale.
Second: this has to be the most colorful kit I've ever put together! It started with tulips and then just got a bit out of control! Ribbons, resin flowers, 10 (10!) different scrapbook papers, and… a brand new, exclusive collage sheet of Spring Bulb Inchies!
This mini kit is FREE for all orders over $20! More info (and more photos) on the Spring Bulbs Gift Kit page.


Hooray! A Shadowbox Bird Shrine Giveaway!
Miz Meghan picked out a nice mix of items from Jeanne's digital collages and her bird shrine:
– Shadow Box Shrine Kit – Bird
– Days Gone By Collage Sheet
– An Odd Bird Inchies Collage Sheet
– Spanish Crowns Collage Sheet
– Parrots Collage Sheet
– Oiseaux De Mode Collage Sheet
– Curiosity – Intrigue Scrapbook Paper
– Sheet Moss
Here's the full list with links of all 14 items in the Giveaway.
To enter the Build Your Own Shrine Giveaway drawing all you have to do is leave a comment BELOW on this blog post TODAY (the deadline is 11:59 pm Pacific Standard Time, February 13, 2014).
Don't forget to leave your (hello! correct) email address, too, so I can contact the winner; your email address does not need to be made public. Note: I'm offering free shipping, too, but only within the USA. International shipping will still apply.
Please be patient! Spammers try to post crap here a lot so comments are moderated. So if you don't see your post in the comments section, be patient and check back in a few hours before re-posting it, please!
After midnight, I'll randomly pick the winner (via Random.org). So make sure to check back to see who won! And check your mailbox on Sunday morning for the next Giveaway and Newsletter!
Hey, who won Days Gone By Love Birds Giveaway? That would be Julie F.! Please check your email for my message about getting your mailing address.
Posted by Leslie, February 13th, 2014