Note: most of the links on this post no longer work, as we moved to a new Web site in 2018. But you can try searching on the same names (as links below) on the new site.

I love the color palette in this new kit! I saw those silly birds on the Curiosity – Intrigue Scrapbook Paper and thought… hm, I can do something with that! And one thing led to another, and now there's An Odd Bird Kit.
I designed a New! collage sheet specifically for this kit: An Odd Bird Inchies Collage Sheet that has a mix of birds (in clothes and hats) and humans because I thought you could interpret "an old bird" to mean an actual bird or an eccentric person (and quite a few of the Design Team samples include people who have moved into the birdhouses included in the kit).
Plus I've included the New! Spanish Crowns Collage Sheet, that has tons of vintage crowns in various sizes. And the lovely Finches Collage Sheet as the colors are just perfect for this set.
An Odd Bird Kit also includes a Chipboard Birdhouse Shape (actually, 3 of them) and a gorgeous New! Copper Dresden Border Sampler Set. Plus 3 nice, big, full-size (and beautiful!) scrapbook papers (see below for more photos).
Plus there are lots of extra goodies below that would be fun trims for this kit or just (!) gorgeous papers from the Curiosity and Looking Glass collections to included in your stash.
And, in honor of this theme, I've put the ENTIRE Birds Theme On Sale! That's a HUGE section with everything from charms and embellishments to paper pads and collage sheets!
Check out the fun artwork by the Design Team on this page (or more in the Gallery).
And, An Odd Bird is also the theme of the related swap that Design Team Member Caroline Ouzts-Hay is hosting! More specs on the swap are on the Yahoo Group.
AND, see below for info about the FREE Gift Kit announced on Thursday's newsletter that's still available! And today's An Odd Bird Giveaway!

February 6th Update: An Odd Bird
Giveaway Winner is Roxanne!
Hooray!
An Odd Bird Giveaway
!
Miz Meghan looked at all the artwork the Design Team created using the New! February 2014 Kit – An Odd Bird and (appropriately) added more Poe collage sheets (and black trims)! (Plus one of the kits is in the Giveaway package, too!)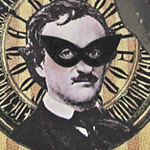 That snippet from Nevermore at right is by by Design Team Member Kristin Batsel.
Here's the full list (with photos and links) of all the goodies in the Giveaway (tons of stuff… like the little dragonfly and hands Nichola included in her artwork, and the Medium Wooden Finials used as a stand for Lora's Fancy Place Card Holder).
To enter the An Odd Bird Giveaway drawing all you have to do is leave a comment BELOW on this blog post TODAY or Monday (the deadline is 11:59 pm PST, February 3, 2014).
Don't forget to leave your (hello! correct) email address, too, so I can contact the winner; your email address does not need to be made public. Note: I'm offering free shipping, too, but only within the USA. International shipping will still apply.
Please be patient! Spammers try to post crap here a lot so comments are moderated. So if you don't see your post in the comments section, be patient and check back in a few hours before re-posting it, please!
After midnight, I'll randomly pick the winner (via Random.org). So make sure to check back to see who won! And check your mailbox on Thursday morning for the next Giveaway and Newsletter!
Posted by Leslie, February 2nd, 2014