How about some color to sweep those Winter blues away? We've got lots of pink (and red) in all of today's photos; from Design Team Member Shannon Tuttle's Lady of the Garden to a Hearts & Flowers Gift Kit to today's Hearts and Roses Giveaway!
Shannon's Lady of the Garden has a lovely mix of flora and fauna that her lady cares for. I particularly like using the mushrooms and stamen in a boquet (at the top of her netting bustle).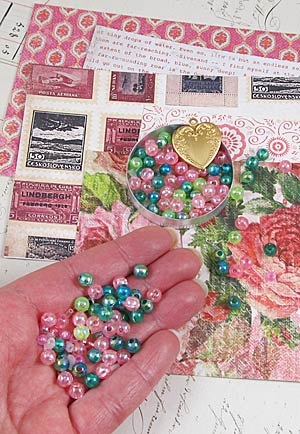 And I also like Shannon's tip about running a rough-cut collage sheet image through her Xyron Machine before backing with other paper (and before carefully trimming the edges — so you'll trim the back of your tag or silhouette at the same time. More info is on Shannon's blog post.
Wait! Back up… did you say FREE kit? Why, yes, I did! An exclusive Alpha Stamps' Hearts & Flowers Gift Kit of (mainly) pink papers, shiny beads & a brass heart charm — in time for Valentine's Day projects (and/or to cheer you up in the midst of Winter). This mini kit is FREE for all orders over $20! More info (and more photos) on the Hearts & Flowers Gift Kit page.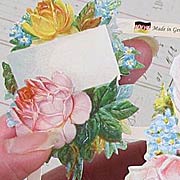 Hey, and while we're on the subject of roses, there are 3 New Dresden Scrap Sheets (and one of them, the Mixed Color Roses Dresden Scraps shown at left, is also in today's Giveaway) and I've just put ALL of the Dresden Scraps On Sale!
(Psst! ALL of the Valentine Collage Sheets, Cherubs/Hearts Rubber Stamps and Scrapbook Papers are On Sale! See the Sale Section for more info.)

Hooray! A
Hearts and Roses Giveaway
!
In addition to a Hearts & Flowers Gift Kit, Miz Meghan added these three New and On Sale! goodies:
– Mixed Color Roses Dresden Scraps
– Miniature White Stand
– Miniature Potted Red Roses
(And also one of the Sweetness Chipboard Books being used in the current Lovesick — A Sweetheart Book Swap — and remember, the due date for the swap has been extended to February 21st. More info.)
Here's the full list of all TWENTY items in the Giveaway.
To enter the Hearts and Roses Giveaway drawing all you have to do is leave a comment BELOW on this blog post TODAY (the deadline is 11:59 pm PST, January 30, 2014).
Don't forget to leave your (hello! correct) email address, too, so I can contact the winner; your email address does not need to be made public. Note: I'm offering free shipping, too, but only within the USA. International shipping will still apply.
Please be patient! Spammers try to post crap here a lot so comments are moderated. So if you don't see your post in the comments section, be patient and check back in a few hours before re-posting it, please!
After midnight, I'll randomly pick the winner (via Random.org). So make sure to check back to see who won! And check your mailbox on Thursday morning for the next Giveaway and Newsletter!
Hey, who won the Wonderland Madness Giveaway? That would be Beth W! Please check your email for my message about getting your mailing address.
Posted by Leslie, January 30th, 2014