Note: most of the links on this post no longer work, as we moved to a new Web site in 2018. However, you can see the supply list items from Caroline's project that are still available on the new site.

Whew… that's a long headline! But I couldn't omit any words 'cause there are so many announcements and freebies today!
Let's start with Caroline's Project, with an introduction by Miz Bella:
The lovely, glitter-covered Southern Belle, Caroline Ouzts-Hay, has created a video tutorial for her No Sew Ribbon Doll Tutorial. The best part about this is that you don't have to break out a needle and thread: it's very easy to make!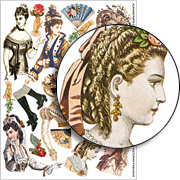 Caroline used a skirt line-drawing from a template that Leslie provided — with 2 skirts (in very different styles) that fit pretty much all of the ladies on the Victorian Fashions or The Lady In Blue Collage Sheets! (Both of the collage sheets included in the January Romantic Women Kit.) Click on that preview picture below for the link to the FREE pdf template.
Personally, I've always loved the vintage paper dolls that had ribbon skirts and Caroline's is so reminiscent of those.
Here's a link to view Caroline's supply list. (And wouldn't you know it… all those goodies, plus a bunch more that could be used on a ribbon-skirt project, are included in today's Giveaway!)
You can find Caroline's blog post here and the video tutorial here.
What? A new Digital Design Team Member?!
YES! And what wonderful things she makes!
So much so that there's whole separate blog post to introduce… Jeanne Draachreider!
So stop by and learn more about her and see what lovely art she's made with the digital collage sheets from the January Kit! (And for the entire image of the Surely I Misunderstand collage shown at right!)

Hooray! A
Ribbon Skirt Giveaway
!
In addition to the collage sheet and background scrapbook paper that Caroline used in her artwork and tutorial (and 10 yards of Cream Seam Binding for all of those ruffles), Miz Meghan added a whole garden's worth of paper roses, and continuing on a rose theme:
– Modern Romance Mini Floral Bags
and
– The New Pink Roses Clear Stickers
Here's the full list of all the goodies in the Giveaway.
To enter the Ribbon Skirt Giveaway drawing all you have to do is leave a comment on this blog post TODAY (the deadline is 11:59 pm PST, January 16, 2014).
Don't forget to leave your (hello! correct) email address, too, so I can contact the winner; your email address does not need to be made public. Note: I'm offering free shipping, too, but only within the USA. International shipping will still apply.
Please be patient! Spammers try to post crap here a lot so comments are moderated. So if you don't see your post in the comments section, be patient and check back in a few hours before re-posting it, please!
After midnight, I'll randomly pick the winner (via Random.org). So make sure to check back to see who won! And check your mailbox on Sunday morning for the next Giveaway and Newsletter!
Hey, who won the "Off to the Park" Giveaway? That would be Karen N!
Posted by Leslie, January 16th, 2014