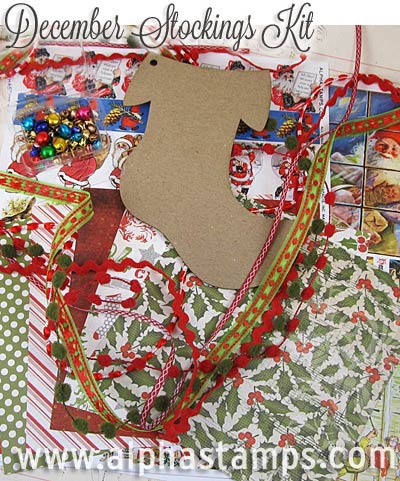 Hey, it's Sunday of the 4-day "Black Friday" sale! Today's theme is Christmas Stockings.
And since it's also the first of the month, we've got a new monthly kit!
This kit began with a request from Design Team Members Kristin Batsel and Lora Mahaffey for a stocking large enough to add a pocket to (to hold a gift card). So a decorated stocking with gift card could be the gift, plus could be an ornament in the future.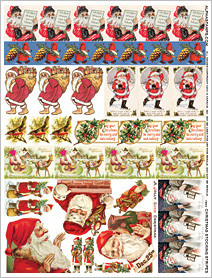 Then I tracked down some colorful bells and trims (and designed the Christmas Stocking Stripes Collage Sheet to fit the stockings. Beside the rows of images (wide enough to use as a stripe across the full width of the stockings, or as a cuff at the top), there are 3 larger Santa images at the bottom of the sheet (large enough to peek out of the top of the stocking… or to sit atop a pocket or window you could add to the stocking).
The kit includes:
– 3 colorful collage sheets,
– a custom set of five 6″ x 6″ papers,
– 6 yards of ribbons,
– a little package of jingle bells and
– an exclusive chipboard stocking!
See the bottom of the Kit Page for links to each of those papers, the chipboard stocking, and the collage sheets. Here's a link for more info or for purchasing the ribbons separately.
The adorable stocking at right is by Design Team Member Kira Nichols. More stocking by the Design Team are in the gallery!
More new goodies, perfect for making Christmas cards (or decorating a stocking) are below.
Back to this 4-day Sale: Here's a short recap on how these themed days work:
Each day I'll gather new (and current) items around a theme. And I'll pull together a lovely Giveaway Kit made from those goodies that will be awarded to one lucky customer.
If you order on Sunday you'll automatically be entered in the drawing for the Sunday Giveaway Kit, which is: A December Kit plus a few extra chipboard stockings, trims and papers! (Click on the row of 3 photos, below, to see larger photos of today's Giveaway Kit.)
Free gift for every order over $20! The photo at left is a preview of the mini kit for the "Stockings" theme that will be included as a gift for every order over $20 on Sunday, December 1, 2013! No need to add anything to your cart — all orders over $20 (before tax or shipping) placed December 1, 2013 will receive the "Stocking Trims" mini kit.
Hey, and who won yesterday's Giveaway Kit? That would be Helen Potter! Click here for more info on all the gifts & freebies going on during the sale!

Posted by Leslie, December 1st, 2013