Before Miz Bella waxes poetic about Laura Carson's timely Advent Calendar project (December 1st is right around the corner!), just a reminder to scroll down for the related new products & Giveaway.
Needless to say, Laura Carson has been at it again!
Last year Laura showed you how to make an Advent Calendar from Match Boxes. This year she's showing you how to make an Advent Calendar from New and On Sale! 2 Inch Cube Kraft Boxes!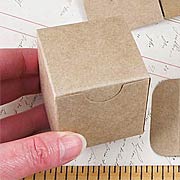 Each box (which is plenty roomy for little goodies for little kiddie hands) is adorned with beautiful paper from the New! Silver and Gold 6×6 Paper Pad. Don't you love the gorgeous, classic color palette of the paper? How about that New! Mini Pine & Berry Garland and the sweet New! Gold Star Ornaments? Rudolph, bring me my slippers! I'm so ready for the holidays!
Laura (as we all know, is from another planet) does not really ever do things on a very small scale. The overall size of the Advent Calendar is 19" tall (with ribbon) and 9" wide AND Laura created a New! Advent Calendar Collage Sheet for this project! You say that you don't want single use collage sheet? Well guess what? Laura also created a New and On Sale! Advent Calendar Set Download (with some additional images not on the collage sheet version)! I'm thinking that if I had 1/4 of Laura's energy I could rule the world in a Pinky & The Brain sort of way. But I digress!
Now don't go getting all freaked out that you can't possibly make an Advent Calendar like Laura's because once you see how easy it is — you'll be cranking them out to give as holiday gifts! So hop into your glittered-up, rhinestoned-out sled (with wine glass in hand) and head on over to Laura's blog to see the tutorial.
Check out all the supplies that Laura used here.
And don't forget to look below for the Giveaway Miz Meghan chose, based on Laura's artwork!


Yay! An Advent Calendar Giveaway! Beside the items that Laura used in her artwork (see photo below), Meghan pulled a few (!) extra items she thinks would be fun to mix into your own Advent Calendar! (See larger photo at right… and don't you think we're all benefiting from Meghan being a bit of a frustrated artist?) And remember: you can click on the Giveaway photos here in this blog post to see more details.
See the FULL List of items in the Giveaway! (I'm going to have to have a contest at some point to find all the items in a Giveaway photo…) Note: I included 6 sets of the 2 Inch Cube Kraft Boxes so you'll have enough to make a whole tree!
To enter the Advent Calendar Giveaway drawing all you have to do is leave a comment below on this blog post by midnight, November 15, 2013 (Friday night PST).
Don't forget to leave your (hello! correct) email address, too, so I can contact the winner; your email address does not need to be made public. Note: I'm offering free shipping, too, but only within the USA. International shipping will still apply.
Please be patient! Spammers try to post crap here a lot so comments are moderated. So if you don't see your post in the comments section, be patient and check back in a few hours before re-posting it, please!
By Sunday morning's newsletter, I'll randomly pick the winner (via Random.org). So make sure to check back Sunday to see who won!
Posted by MizBella, November 14th, 2013