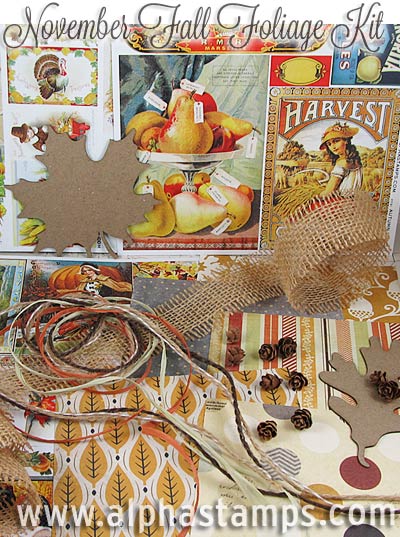 I love Autumn and the colors and textures in the Fall Foliage Kit will inspire you to create some warm art for the Fall season. And wait till you see what colorful tags the Design Team have made using this kit!
Whether you want to participate in the swap, or you'd just like to make some tags or ornaments (or a gift tag), this kit is a great start.
The kit includes:
– 3 colorful collage sheets,
– a custom set of five 6″ x 6″ papers,
– a Fall Fiber Set, also available separately (1 yard each of 6 natural fibers is a Fall palette, including a 1-1/2″ wide burlap ribbon with a raw/fringed edge),
– a little package of adorably tiny pine cones, and
– two exclusive oak and maple leaf die-cut chipboard shapes! (See the bottom of this page for links to each of those items.)
The swap will be to make and exchange two (2) embellished Harvest Tags (using the new chipboard leaf shapes) and receive two in return — each by a different artist. No more than THREE sets will be accepted (for a total of 6 Harvest Tags).
Ok, enough said; if you'd like more swap info (or to get more details on the goodies in the kit), visit the Fall Foliage Kit page. And now… on to the eye candy!
I couldn't decide amongst all Design Team artwork so below are teasers for 8! Click on any of them to find out who made what and what the entire piece looks like in the Gallery.
And there's a new Autumn Theme Section where I've collected lots of papers, charms, and other embelllishments perfect for adding to your Harvest Tags — and that entire section is also On Sale!

Posted by Leslie, November 3rd, 2013