Note: most of the links on this post no longer work, as we moved to a new Web site in 2018. But you can try searching on the same names (as links below) on the new site.
Nice job,
Laura Carson
! She came up with an idea for 3D tents with solid sides and shows how to cut a variety of door shapes in one side (like that little, unfinished red and white striped tent at right) or just cutting a slit and turning back the edges for that fancy gypsy tent in the larger photo at far right.
There are TWO On Sale! collage sheets with all the pieces needed for 2 styles of tents. (Note: You will need to print (or purchase) either collage sheet twice to make 1 complete tent.) Or you can buy the On Sale! digital set and get FOUR different tents with extra characters and embellishments (and then you can resize the tent, too).
Plus Laura has created a video tutorial so you can see how the pieces go together.
And see those luscious colors and patterns in the turned-back curtains on the gypsy tent (and on the little platform the babe is sitting on)… they're from the Autumn Song 6×6 Paper Pad! It's a lovely collection of Autumn prints.
I also want to point out the lanterns on the sides of the tent (from the Halloween Carnival #4 Collage Sheet) and the Brass Man in the Moon Charms serving as "finials" on the "tent poles." (And all 3 of those items I just highlighted are in today's Giveaway!)
For more info (and a video tutorial), see Laura's blog.
Hey, and since a week from today is HALLOWEEN, remember that the BIG SALE on both the Halloween Theme and Halloween Carnival Event Supplies Sections ends October 31st!
Plus don't forget to look below for the Giveaway Miz Meghan chose, based on Laura's artwork!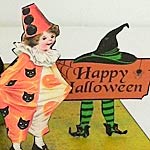 Yay! A Tent Giveaway! And beside the items Laura used when making her tents (the first list below), Meghan went on a tear around the warehouse and pulled a huge group of goodies that could be used to embellish circus, Halloween or gypsy-themed tents!
Remember: you can click on the Giveaway photos on the blog post to see more details. Psst… lots of the following are on sale as part of the Halloween Sale, which will be ending on Halloween!
First, things that Laura used in her tents:
– 3D Halloween Tent Collage Sheet – 2 copies!
– 3D Circus Tent Collage Sheet – 2 copies!
– Elephants #2 Collage Sheet
– Halloween Carnival Games #4 Collage Sheet
– Halloween Carnival #4 Collage Sheet
– Game Spinners Collage Sheet
– Gypsy Fortune Teller #2 Collage Sheet
– Skeleton Slides Collage Sheet
– Hello Pumpkin Collage Sheet

Hello Pumpkin Collage Sheet
– Crepe Paper Halloween Collage Sheet
– Aerialists Collage Sheet
– Crystal Stick Pins
– Man in the Moon – Raw Brass

– Metal Hands
– Autumn Song 6×6 Paper Pad
Next, Meghan's choices for other goodies:
– Antique Pewter Eyeball Charms New!
– Silly Circus Scrapbook Paper
– Vintage Ephemera Mini Garland (at right)
– Fun House Rub-Ons
– Tiny Trims Rub-Ons – Gold
– Martha Stewart Halloween Animal Masquerade Phrases
– Baroque Dresden Borders – Black
– Clear Adhesive Acrylic Round Jewels
– Onion Dome Die-Cut Chipboard
– Valance Curtain Die-Cut Chipboard
– Noxious Fumes Fiber Set

– Deco Gold Sequins Mix
– Iridescent Crescent Moon Beads
– Wooden Bingo Tiles – Red
– Bakers Twine
– Fire Engine Red Tape Measure Trim
– Crepe Ribbon – Olive
– Crepe Ribbon – Orange
– Tinsel – Gold & Silver
– Mixed Faceted Teardrops – Orange
– Halloween Acrylic Bead Mix
– Kraft Mini Tickets (don't you need a ticket to get into the circus tent?)
– Mini Treasure Chest Charm
– Flag Buttons – 2 copies!
– Elsie The Elephant Buttons
– Jack-o-Lantern Erasers – 2 copies!
– Tiny Glass Spheres in Bottles – Lavender
– Tiny Glass Spheres in Bottles – Red
– Woodcut Hands Rubber Stamp Set
To enter the Tent Giveaway drawing all you have to do is leave a comment below on this blog post by midnight, October 25, 2013 (Friday night PST).
Don't forget to leave your (hello! correct) email address, too, so I can contact the winner; your email address does not need to be made public. Note: I'm offering free shipping, too, but only within the USA. International shipping will still apply.
Please be patient! Spammers try to post crap here a lot so comments are moderated. So if you don't see your post in the comments section, be patient and check back in a few hours before re-posting it, please!
By Sunday morning's newsletter, I'll randomly pick the winner (via Random.org). So make sure to check back Sunday to see who won!

Posted by Leslie, October 24th, 2013