Cute! Not only is there a New and On Sale! Chipboard Cat Album, but Teri Calia made three projects using just one of these new albums! Teri used two pages from the new album to create a 3D cat shrine ("Cemetery Cat Shrine" shown at right); she used half of an Altoids Tin to create a niche for her little cemetery scene (in the center of the cat shape). And she used cardboard strips as spacers to hold the rest of the cat shape apart. Here's a description from Teri: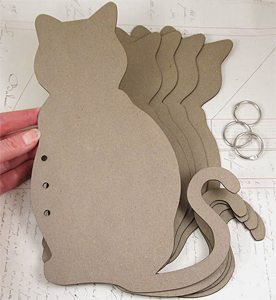 When I saw the adorable new Chipboard Cat Album I knew I just had to make a shrine out of it. I took two of the cat shaped book pages and cut enough 1.5″ strips of chipboard to "outline" the cat shape. I then traced the bottom, larger, half of my Blank Altoids Tin onto one of the cats and cut out the hole. I folded .25″ of each side of the 1.5″ strips of chipboard up forming a "U" shape. I notched the .25″ sides of the 1.5″ strips of chipboard at half inch intervals so they would be flexible and then I created a sandwich of the cat shapes and 1.5″ strips of chipboard using lots of white glue to keep it together. I also glued the Blank Altoids Tin into the hole cut to fit it. After everything dried I used Creative Paperclay to sculpt a cat's face and to line the edge of the Blank Altoids Tin that stuck up above the cat shape. Once that dried I covered everything with a liberal layer of Black Gesso followed by a layer of Golden Garnet Gel for texture and black paint. The fun part was finishing up with hand painted details, Craft Wire whiskers and fun doodads from Alpha Stamps.
Nice job, Teri! And I think we're going to need to badger her a bit to create a tutorial for any future projects this complicated! By the way, here's a list of all the products Teri mentions using.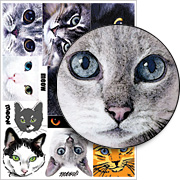 Plus Teri created two more cats from the extra album pages! A snippet of one is at far left ("Pumpkin Patch Cat") which looks like a cat in footed pajamas! That cute tabby cat face (drawn by Teri) and a slew more cat faces all sized to fit the album are on the New and On Sale! Cat Faces Collage Sheet.
And another Cheshire cat-like project by Teri is here, using the Black Mesh Rhinestone Ribbon for a fancy collar.
But before you run off to look at those cat items, check below for some New and On Sale! Christmas items (yes, I can't wait any longer!) plus some Back in Stock Halloween goodies (and a recap from Thursday's newsletter with artwork by Guest Designer Kathryn Nowosielski)!

Posted by Leslie, October 13th, 2013