Hee! Look at those hungover skeletons (or are they drunk? deceased from drinking expired poison? can a skeleton die?) by Design Team Member Lora Mahaffey!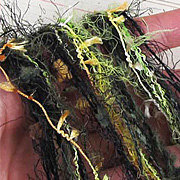 You might recognize those skeletons, as Lora created a tutorial on how to make poseable skeletons last year, using the On Sale! Plastic Skeletons.
But now she's used them with the New and On Sale! Noxious Fumes Fiber Set! (An Alpha Stamps exclusive!) I love the mix of black, acid green and just a bit of dark orange. And nice and fuzzy, so it works well for fumes coming out of a cauldron (or in this case: the On Sale! Chipboard Potion Bottles)!
And beside the new fiber set, see below for a ton of New! Halloween items (New and On Sale!, as the ENTIRE Halloween Theme Section (and Halloween Rubber Stamps and Halloween Collage Sheets) are still On Sale! — so you can gather your materials for the Halloween Mini Hutch Swap!




More New Goodies (not quite Halloween themed)
Posted by Leslie, August 25th, 2013