The Design Team has done an amazing job this month, thinking up different ways to use the Four Chipboard Shapes designed for the Arabian Nights Kit. At right is a beautiful Musique Céleste Hutch Shrine by Rhonda Secrist Thomas (ingeniously using 2 Onion Domes and 3 Valance Curtains — and I love the gold and aqua blue palette).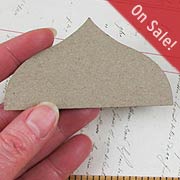 More photos are in the gallery. And here's a list of products used.

An exclusive Alpha Stamps' mini kit of papers and beads, inspired by the colors in both Rhonda's and Bella's Shrines (more on Miz Bella's shrine is below.. and the Gift Kit is also inspired by the papers in today's Giveaway)!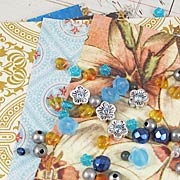 Free for all orders over $25! Sale items are eligible, too (toward meeting the $25 requirement, but shipping and taxes are not).
There's nothing you need to do (no coupon to enter). Beginning today (August 15th), and until the kits are gone, we'll include a free kit in all qualifying orders!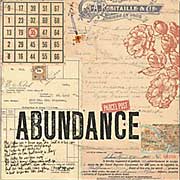 Design Team Coordinator Miz Bella (Kim Ayers) has made something entirely different: A Black Cat Halloween Shrine (using 2 sets of the On Sale! Side Curtains, attached on either side in a "V" to form a stand).
And the Lille: Abundance Scrapbook Paper is also On Sale! and in Today's Giveaway!
Miz Bella has posted a bit more about her project on her blog. And here's a list of products used.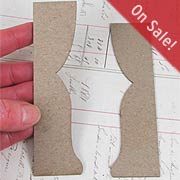 Wow… even more (varied) art samples using the same basic components are linked below (that row of 5 thumbnails, directly below: click each one to go to a larger photo in the gallery, to see who the artist is and what other items they used).
But don't forget to come back and see some New! goodies (including a Giveaway that incorporates parts of both Rhonda's and Bella's projects, and that Sun and Moon Gift Kit)!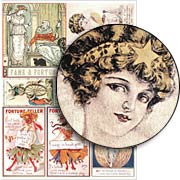 Hooray for the Night and Day Giveaway! Lots of contrasts here (drawing inspiration from both Rhonda and Bella's Shrines) but they somehow all work together beautifully!
Here's just a few highlights (and even more items with photos are below — and a link to the full list of 30 (!) goodies in the Giveaway):
SEVEN Scrapbook Papers (or 12″ x 12″ stickers):
– Happy Haunting – Jolly Jack-O-Lantern Scrapbook Paper (now sold out… the back side with stars against a blue background in the photos)
– Pure Ceiling Tiles Scrapbook Paper
– Tis the Season Scrapbook Paper (odd sounding, I know, but that gold pattern on the back…)
– Lille: Abundance Scrapbook Paper
– Curio Upholstery Scrapbook Paper
– Irresistible Allure Scrapbook Paper
– Curio Sticker Elements (now sold out)
FOUR Collage Sheets:
– Halloween Divination Collage Sheet
– The Black Cat Collage Sheet
– Red Slide Mailer Curtains Collage Sheet
– Venus Collage Sheet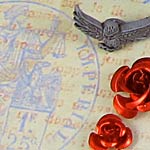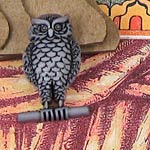 To enter the Night and Day Giveaway drawing all you have to do is leave a comment (below) on this blog post by midnight, August 16, 2013 (Friday night PST). (Don't forget to leave your email address, too, so I can contact the winner; note, your email address does not need to be made public. Note: I'm offering free shipping, too, but only within the USA. International shipping will still apply.)
By Sunday morning's newsletter, I'll randomly pick the winner (via Random.org). So make sure to check back Sunday to see who won!

Posted by Leslie, August 15th, 2013